Entertainment
Dominique McElligott Married Or Dating? Old-School Girl Keeping It Private
You have probably seen the beautiful and talented Irish actress Dominique McElligott getting married for her role few times. But, the actual relationship status of Dominique in real life is the question hovering around her fans and followers, and you too must be curious to know where she stands.
So, today we present you some details about Dominique's low-key life behind the camera. Dig in below to find out more about the Irish beauty!
Dominique McElligott's Low Key Life
Dominique McElligott, who portrays the role of Hannah Conway in the TV series 'House of Cards,' plays the wife of the New York Governor and Republican presidential nominee, Will Conway.
However, when it comes to her real life, her relationship status remains mysterious, as she has kept things close to her chest. So it remains unclear if she is dating a possible boyfriend or already has a husband.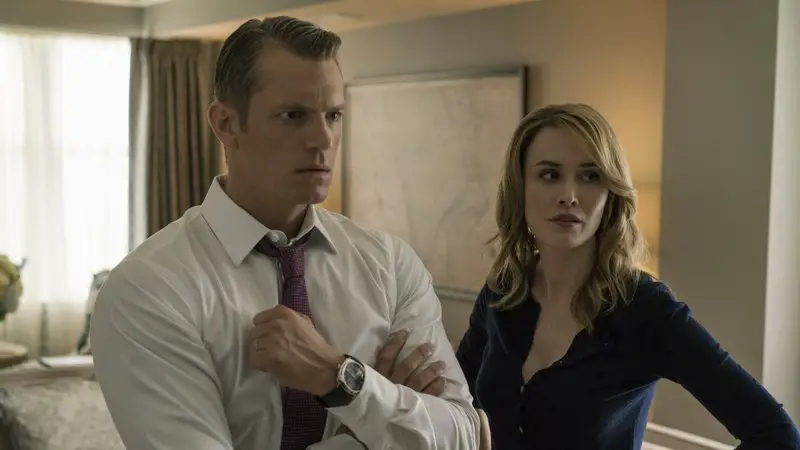 Dominique McElligott, Joel Kinnaman, as Hannah and Will Conway in a still from House of Cards (Photo: rte.com)
In an interview with the independent, Dominique even announced that she wouldn't be creating a social media profile anytime soon because she likes to keep her private life under her hat. 
She also shared that she is quite an old school girl when it comes to social media. Dominique further said that; as an actor, she does not want people to know much about her, for the spectators can see her as the person in whatever role she plays.
Bottom line, she is not against social media but prefers being old school!  
More To Know About Dominique McElligott
Dominique McElligott, who stands at the height of 1.73 m (5 ft 8 inch), was born on 3 May 1986 in Dublin, Ireland. Similar to her personal life details, her family life is also very mysterious, and hence no information regarding her parents and family as a whole remains clear. 
However, her professional track record is evident. Initially, as a teenager, Dominique got featured in a show called 'On Home Ground.' Then she had a role in 'Moon' which released in 2009 and the Radio Teilifis Eireann (RTE) television series 'Raw' before leaving to film 'Leap Year' in 2010.
Likewise, the 32-year-old star had a primary role in the American Basic Cable (AMC) series 'Hell on Wheels' from 2011 to 2012.  After that in 2015, she starred in American Broadcasting Company (ABC's) 'The Astronaut Wives Club,' and in 2016, Domonique portrayed the role of Hannah Conway in the fourth, fifth season of the Netflix show 'House of Cards.' 
Think we're missing something? Do let us know in the comment section below!