Entertainment
Donald Friese Splits with Brandi Glanville, 45! What Caused it?
Like there is no certainty of falling in love, breakups too are indeterminable! People falling in and out of love stands an equal chance, and here we have another instance of love parting ways followed by a split.
After dating for just over a year, Donald Friese splits with girlfriend Brandi Glanville, who is American actress! To know the reason behind their split, you need to read through.
What Caused the Split Between Donald Friese and Brandi Glanville?
Social media like every other thing has its pros and cons, and seemingly, Brandi Glanville has experienced the bitter side of it as per the revelation she made on her parting ways with Donald.
Brandi Glanville came forth addressing the split via Twitter on Friday, 12th January and blamed social media for ruining her romance. Brandi wrote,
Social media is ruining romance! It ruined mine ????

— Brandi Glanville (@BrandiGlanville) January 12, 2018
The former star of 'Real Housewives of Beverly Hills,' Brandi, 45 in age, further tweeted to make her single status evident. While dissing the people that caused her relationship to fall apart, Brandi requested them to be nice to Donald stating 'he is lovely.'
Is official I'm SINGLE! He is all urs IG hoes! He is lovely so be nice ????

— Brandi Glanville (@BrandiGlanville) January 12, 2018
Donald and Bandi initially met on Tinder a dating app and began dating in September 2016. The former duo made their red carpet debut as a couple at the pre-Grammys party in February 2017.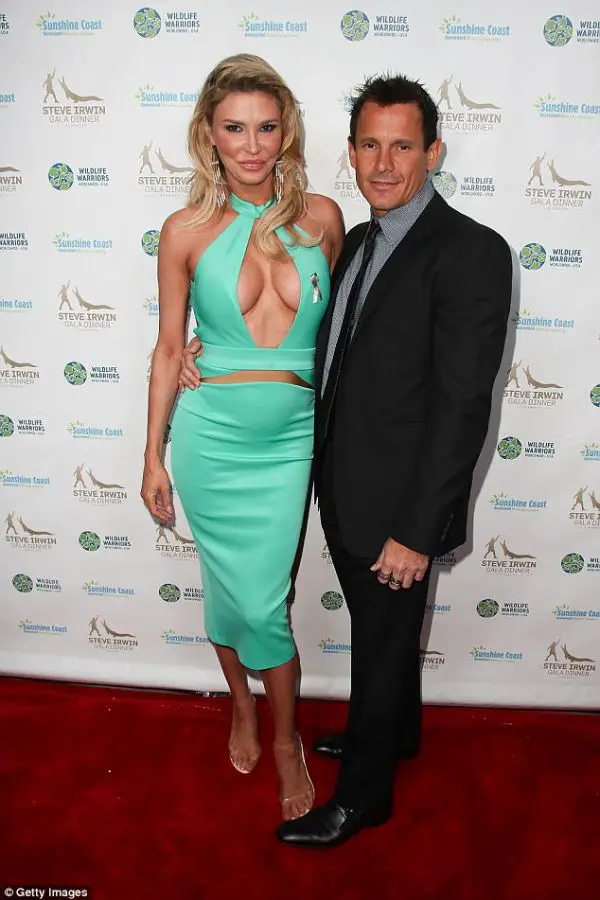 Caption: Donald Friese and Brandi Glanville have made their split official!
Photo Credit: Dailymail
Moreover, their relationship going through a bumpy ride was indicated previously. Few months before, in October 2017, a source reported Us Weekly about the couple and how they are working on their relationship. The report stated,
"They are still talking and are trying to figure things out when it comes to their relationship at the moment, They're not broken up, but they're not together."
However, the other source mentioned that they "broke up a few weeks ago," while still staying "on good terms." But, despite the rumors, Brandi posted a picture of a Louis Vuitton purse on Christmas and thanked Donald for the gift, quoting him as 'Santa.'
Unfortunately, they didn't make it any further in their relationship!
Additionally, Donald, who is the son of C.R. Laurence's chief executive, Donald Friese and a possible legal heir of his father's staggering net worth of $ 1.2 billion, is yet to speak up on his split with Brandi.
The couple who have now gone their separate ways is already parents; both separately. Brandi Glanville is a mother to two while the same goes for Donald. Donald has two children from his anonymous past relationship; a boy and a girl. However, the mother of his children is kept hidden for some undisclosed reason.