Entertainment
Donna Tartt Opens Up About Personal Life; Will Get Married And Have A Husband Someday?
At the time when people share different happening of life via social media and remain in the limelight. But when one choose not to be in any of the social media platforms, then mystery surrounds one's life, and it is tough to conjecture what is happening in their life, until and unless they choose to reveal themselves.
In one of a rare occasion, writer Donna Tartt shed light on her mysterious personal life and revealed some secrets. So what did she reveal? Well, let's find out.
A Rare Occasion-Donna Tartt Opens Up About Personal Life:
On October 22, 2013, on the occasion of the launch of her third book launch, during an interview with The Sydney Morning Herald,  American writer Donna Tartt shared about her personal life. Donna shared that she lives and writes in the company her dog, Luther on a farm in Virginia. In her words,
''Everything is improved by the presence of a dog,''
Expressing her love affair with clothes, Donna showed her love for vintage.
Vintage is still my thing, but it is much harder to find, though I just bought a Japanese embroidered coat at a flea market.''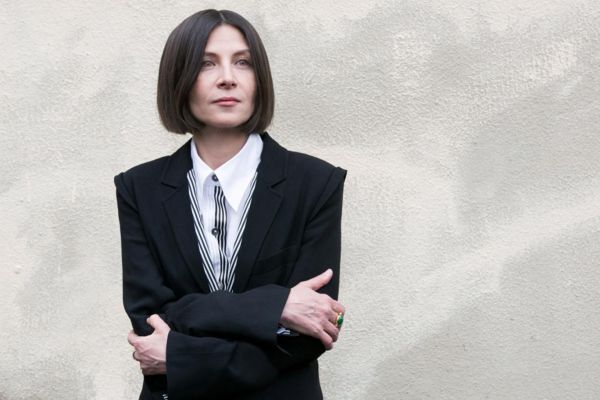 Caption: Acclaimed writer Donna Tartt in a white shirt and black coat complementing her sharp dark bob.
Photo Credit: standard.co.uk
Responding to the question raised regarding her writing under the pseudonym, Donna said,
''My books take so long I don't think I could pull off the secrecy for such extended periods of time. My style and length would give me away,''
Moreover, Donna expressed the expectations from first-time writers in her statement which said,
 ''It's prurient curiosity. And now, if you are a first-time writer, they expect you to blog for free as part of your promotional duties, which is terrible.'
Giving insight relating to the process of writing, winner of Pulitzer Prize for Fiction in 2014, "The Goldfinch" Donna revealed that she had fantasized a bomb attack which changes the life of the character in her book forever, much before 9/11 attack occurred.
'The strange thing is, I started writing The Goldfinch before 9/11 happened. The first idea came to me from the blowing up of the Buddhas at Bamiyan. I was haunted and sickened by the destruction of something that had been at the heart of the world for centuries.
Moreover, she added:
''When 9/11 happened, I was at the farm, but my mother thought I was in New York. The phone rang. I had not been watching TV or listening to the radio, so I had no idea what was happening, and her first words to me were, 'We're at war. The Pentagon has been attacked.'''So I sort of heard about it backwards. I came back to New York in that terrible time of funerals every day and bagpipes playing all the time for the firefighters. It's still hard to talk about.''
Will Get Married And Have A Husband Someday?
Donna Tartt met writer Bret Easton Ellis at Bennington College in 1980's, and there was rumor romance between them, but the affair remains unconfirmed without any official statement from the pair.
The brunt of unhappy marriage of Donna's parents may have inflicted her opinion about marriage as Donna's father was a gas station worker who later became a local politician, and her mother was a secretary who read to her every night.
When Doona was asked about her opinion on marriage, she questioned the existence of any long term relationship and said that she would never get married. She stated,
 "Je ne vais jamais me marier,"
which means  'I will never get married.'
Moreover, in an interview, Donna revealed that writing about friendship is more compelling than romance for her, and said that she is not interested in marriage and maternity novels.
''I do find friendship more compelling to write about than romantic love. I am not interested in marriage and maternity novels. For me, the quest is to write something with a rip-roaring effect; I get that from stories that combine friendship and adventure.''
With such a strong opinion on the romantic union as evident in one of her quotes, she has not previously been married, but it can be expected that a person would enter her life who can alter her perception and even become her husband.
But romantic vision can also lead one away from certain very hard, ugly truths about life that are important to know.
The frictional writer Donna was born on December 23, 1963, in Greenwood, Mississippi. Her various winning works include The Secret History(1992), The Little Friend(2002) and The Goldfinch(2013) and with her writing credits, she must have accumulated a huge amount, but she is yet to reveal her actual net worth to the media.