Entertainment
On-Screen Martial Arts Legend Donnie Yen Tips On Happy Wife & Family; Listen To Expert
Hong Kong actor Donnie Yen Ji-dan is an internationally known actor for upbringing the mixed martial arts into the mainstream of Chinese culture into his films. While he has been dominating the Chinese cinema world, his wife has been ruling his married life.
Married in 2003, Donnie shares more-than-a-decade-long marriage to his wife and now, has given his secret to happy marriage.
Secret To Happy Married Life; "Listen To A Wife"
The martial artist, Donnie Yen got married to the Toronto's former beauty queen, Cecilia Wang. The couple reportedly dated only three months in 2003 before exchanging the rings. And on the same year, they tied the nuptials.
The couple shares two children, a son named James, 10 years of age and a daughter named Jasmine, 14 years of age. Similarly, he also shares a 22-year old son named Jeff from his short-lived relationship (1993-1995) with his former advertising executive wife, Leung Zing Ci.
Donnie's wife Cecilia, who represented her native Toronto at the Miss Chinese International beauty pageant in 2000, recalled that she was not aware of his background:
"I wasn't too aware of his background actually because I don't watch a lot of films, especially Chinese films, since I grew up in Toronto.
Though the couple dated for only a short period of time, she already had felt the goodness in him. She added:
"But I just felt like, wow, this guy is really honest. So even though we dated for a short time before he proposed, I just knew it was right because I felt like I wanted to see him every day."
The multi-racial couple has been married for almost two decades, and still, they are lingering their love life and set an example of happily married life.
The actor shared memory on his facebook in August 2017 on the 14th anniversary of the couple. Donnie wrote the long message dedicating to his wife of now 15 years.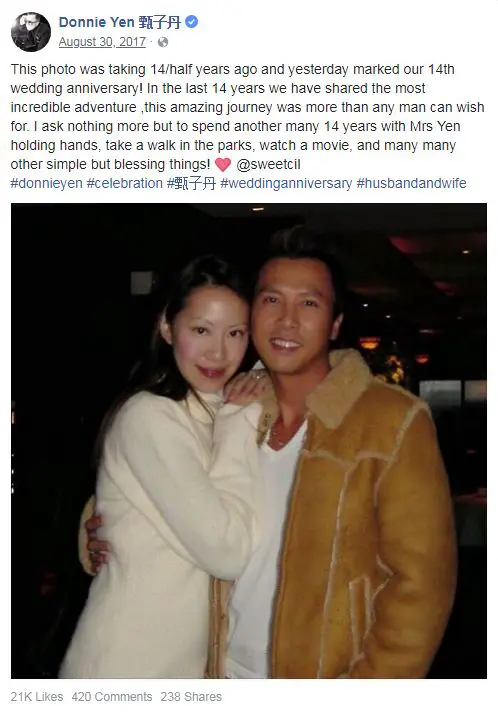 Donnie Yen with wife 14 years back (Photo: Donnie Yen's Facebook)
Similarly, Donnie is not only a good husband but also a good father. On the occasion of father's day, Cecilia took to Instagram to wish him on the father's day.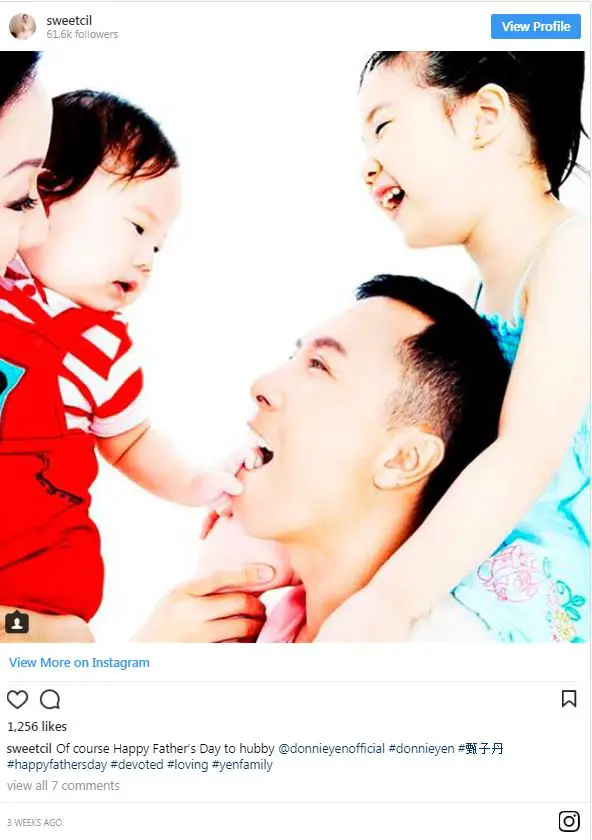 Donnie Yen with his family on Father's Day (Photo: Cecilia Wang 's Instagram)
Moreover, the couple is known to have a very good relationship. When Donnie was asked about the secret of their happy married life, he replied:
"It's all about 'happy wife, happy life. I think it's important that men be more tolerant, so I listen to my wife. Besides, she always makes the better and more thoughtful decisions for our family, so I trust her completely."
Notably, trust is the main elements that are making his relationship stronger with his wife.
Martial Arts Master Mother; Workout Sessions In Social Media
Born on 27 July 1963 in China to a kung fu master mother and newspaper editor father. His family moved to HongKong when he was just two years old and to the USA when he was 11.
He is also from a musician family, where his father played the violin while his mother was the soprano. Since young, Donnie Yen was taught to play several instruments by his own parents, like the piano.
Aside from this, his mother is the actual master who introduced and taught him the martial arts. His mother, Bow-sim Mark is a Tai Chi grandmaster, who started martial arts studies since elementary school. She was also awarded the Kung-Fu Artist of the year in 1995 by Black Belt Magazine also named her the most influential martial artist of the 20th century!
As for Donnie, he is an internationally known Chinese martial artist who became popular with his amazing realistic Kung-fu skills in movies. However, to be fit and fine for the action movies, the 54-year-old actor requires constant workout. The concerned actor usually shares the glimpse of his workout on the social media.
Donnie got the boxing training for xXx: Return of Xander Cage, where he has starred alongside Vin Diesel. Moreover, he had lost 30 pounds while preparing for his role in Ip Man 3 and Rogue One, but he gained some muscles for the movie xXx.