Entertainment
Dr. Rachael Ross Wiki: From Age to Her Possible Married Life with Baby Father
It's hard enough having to balance professional and personal life, imagine how much harder it gets when there are two careers to focus on besides personal life.
Such is the case of Dr. Rachael Ross who is juggling her professions as a doctor and an actress. But Dr. Ross is not having a hard time; she is rather enjoying her dual life.
On top of her dual life, the most important role—the role of a mother—has been added, which she seems to cherish a lot. Wondering how she manages her chores? Scroll down to find out more about Dr. Rachael Ross.
Dr. Rachael's Short Wiki-like-Bio: From her Professional life to Personal!
Dr. Rachael is a sexologist and board-certified Family Medicine physician, but she is popularly known for her appearance as a co-host on the Emmy Award-winning talk show, The Doctors, for three consecutive years.
She was the approachable family physician on the show that the viewers worldwide felt eager to ask questions to.
Being born to the family of the doctors, she has other eight siblings and she practices medicine as a family business back in her hometown, Gary, Indiana, along with her father, Dr. David Ross and her brother, Dr. Nathaniel Ross, while mom, Ruthie, serves as the office manager.
Her sister, Dr. Rebekkah Ross, was also a physician and a part of the Ross Family Doctors' practice until she passed away from complications related to sickle cell anemia back in 2011.
Four years later, she stunned the fellow doctors with the joyous news of her pregnancy. It is regarded as one of the most significant announcements in the show The Doctors.
Dr. Rachael Ross shared the news of being five months pregnant in the show, "The Doctors" (Published on November 9, 2015)
She gave birth to a beautiful baby girl and named her Rebekkah Story Ross in honor of her late sister. She first posted a picture of her little girl's feet on Instagram and explained her natural labor process on the caption.
The new mommy also posted a photo of little Rebekkah's face, where the baby was dressed in a tiny pink and white robe, looking calm and serene for a newborn. Accompanying the picture was more of Dr. Ross' labor experience.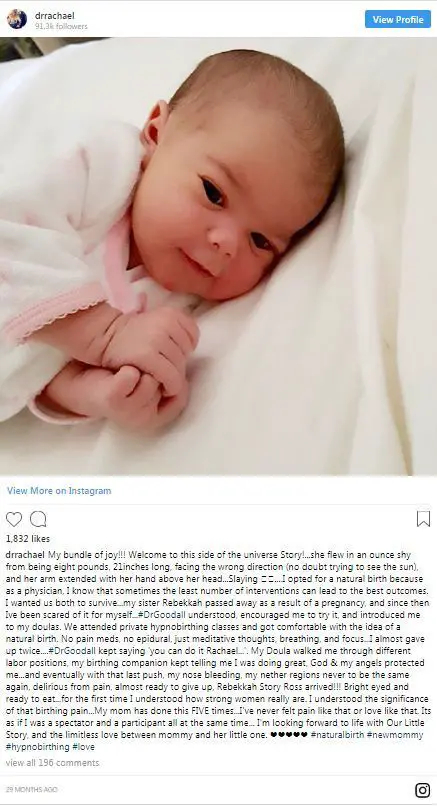 Rachael Ross announces the birth of a daughter, Rebekkah Story Ross (Photo: Rachael Ross' Instagram)
Aside from her child and her parents, she has not revealed much information about the father of her child.
Back in May 2016, however, she showed her interest in watching Vaxxed, the movie that marked her film debut, with her "better half", referring to her life partner.
She further added that he is also a doctor, hinting at her successful married life with her boyfriend-turned-husband. However, she has not revealed anything about her husband's identity which indeed hints at being a single parent.
She stated that her daughter calls her 88-year-old father as 'Daddy,' and when they stroll publicly people assume him as her husband. She has even been labeled a Golddigger, with many people mistaking her father for her husband.
On the occassion of father's day, she took to Instagram back on 17 June 2018 with the picture of her daughter and her father gushing about her father's activities. It seems her daughter has found the father-like-figure in her grandfather.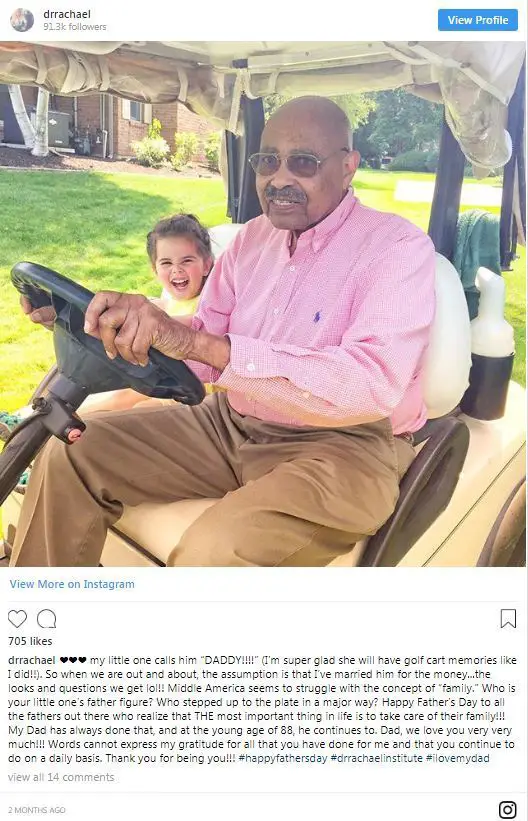 Rachel Ross' wishes her father on father's day (Photo: Rachel Ross' Instagram)
With over ten years of success as a physician and her newly begun motherhood, Dr. Rachael, at the age of 42, prides herself on her direct and practical approach in communicating with and caring for her patients.
Dr. Rachael's belief that each of her patients is unique and her determination to their wellness by meeting individual needs has earned her many awards.
She received Northwest Indiana's prestigious Athena International Service Award for her work back in 2012. The duo's social work has also been recognized by the National Council of Negro Women.
Dr. Rachael has been featured as a speaker in several colleges and has also hosted her nightly radio talk-show.
Aside from the height of success in medical practice, she is also the author of Down Right Feel Right-Outercourse: For Her & For Him which is designed to help couples develop greater intimacy and to provide singles with a framework for safer sex.
Dr. Rachael earned her MD from Meharry Medical College and her Ph.D. from the American Academy of Clinical Sexologists, along with an undergraduate degree from Vanderbilt University, where she studied Anthropology.
She now lives in Chicago, enjoys her new role as a doctor and mommy, while maintaining her medical practice in Gary, Indiana.
She also commutes throughout the U.S.passionately offering "Prescriptions for Life". As you would imagine of a private person, Dr Rachael has not shared her net worth publicly.