Entertainment
Dylan McDermott Lightened Up His Life After Proposing Girlfriend To Get Married
Dylan McDermott is on his way to the altar with his girlfriend as the couple took a leap of faith and got engaged and is one step closer to be bound for life but what about their wedding date? Couples with the similar environment would be excited to exchange the vows but what about Dylan and his girlfriend?
As it happens, the American Horror Story actor Dylan McDermott is now an engaged man to his actress girlfriend-turned-fiancé Maggie Q. The couple reportedly started dating in late 2014 and were engaged after four months of dating somewhere in January of 2015. After spotted shopping together in Brentwood, Dylan and Maggie publically flaunted their relationship for the first time at the Golden Globes post-party held at the Beverly Hilton in Beverly Hills.
Caption: Dylan McDermott and Maggie Q at the Golden Globes post-party held at the Beverly Hilton in Beverly Hills on January 11, 2015.
Photo Credit: gettyimages.com
When Are They Getting married?
Even after being engaged for more than a year, there has been no talk about Dylan and Maggie getting married. On March of 2015, the couple revealed the reason behind not revealing the wedding dates and the reason was simple; they didn't have a wedding date decided.
Maggie Q, who co-starred with her boyfriend Dylan in the CBS's Stalker said in an interview,
"We're fishing! We're fishing for dates."
And furthermore added,
"So, yeah, [it's] because of work and … because you gotta balance everything."
Well, it is no surprise that their busy lives came in-between decision of the date for the wedding as both Dylan and his soon-to-be wife has a pretty prolific career on their hands. So, whenever the couples decide to get married, this wedding will be a second to Dylan and all thanks to his past for that.
A Failed Married Life Somewhere In The Past:
Dylan McDermott was previously married to actress Shiva Rose in 1995.The couple welcomed two daughters in the interval of their married life. However, after being married for about 13 years, Dylan contemplated divorce against his wife in 2008, citing boilerplate of irreconcilable differences and seeking joint custody of their two daughters Colette Rose and Charlotte Rose.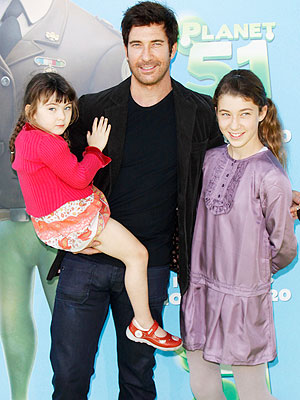 Caption: Dylan McDermott with his two daughters at the premiere of 'Planet 51' in 2009.
Photo Credit: starkiddo.com
However, even if the divorce got filed in 2008, the couple separated a year ago. The divorce was finalized in 2009 and in an article from Huffington post; Shiva explained how the following year was a challenge for her and mentioned,
"2010 was a year of transitions for me. My divorce became final, I sold and moved from a beloved home of thirteen years, bought a fixer-upper, renovated it and moved again finally to the remodeled home. It was a year of tremendous upheavals and closing chapters."
She also had a film project Usurped and had to go into a legal battle for it and also revealed that she got together with Dylan since the age of 21 and said that she was in a cocoon the whole time and that music became her salvation.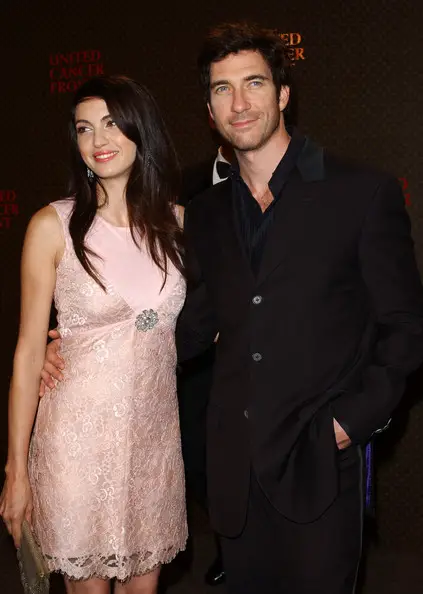 Caption: Dylan McDermott with now ex-wife, Shiva Rose at Beverly Hills in 2003.
Photo Credit: zimbo.com
Dylan McDermott has an extensive career of over two decades as his name became known as an actor from 1987. He has played a part in many TV-series apart from 'American Horror Story' and 'Stalker' such as Hostages (2013-2014), Dark Blue (2009-2010), and The Practice (1997-2004). At the very moment, Dylan has a net worth equivalent to $15 million. However, the figures are on it's way to get bigger as Dylan has four projects in his hands; Clovehitch (post-production), Blind (completed), Huntsville (post-production), and Queen of Canton (pre-production).