Entertainment
Earlitha Kelly Bio: 5 Wiki Facts On Magic Johnson's Wife - Cookie
As one says, 
''Behind every successful man, there is a woman."
Retired American Basketball player, Magic Johnson and wife Earlitha Kelly, also known as Cookie Johnson are relatable to the quote. 
Magic, who was once the star in basketball, has faced many backlashes in his personal life. However, his wife, Earthila has been playing the significant role by giving him strength in the difficult times. So, let's dig in to find out more about  Magic's wife Earthila Kelly in her wiki-bio.
1. Earlitha Kelly Didn't Know Her Real Name Until First Grade. 
Earlitha who is also known as 'Cookie,' didn't know her real name, 'Earlitha' until the first grade. Before
the revelation, her mother started calling her 'Kookie' which had a reference from the teen-idol character from the 50s-60s show, '77 unset Strip'. 
Earlitha even started calling herself as 'Cookie' but later was told her real given name before she started school at the all-black Council Training School. 
2. Earlitha Got Married To Husband Magic Johnson in 1991
Earlitha and her husband Magic Johnson exchanged wedding vows in a small ceremony held in Lansing, Michigan and got married in September 1991.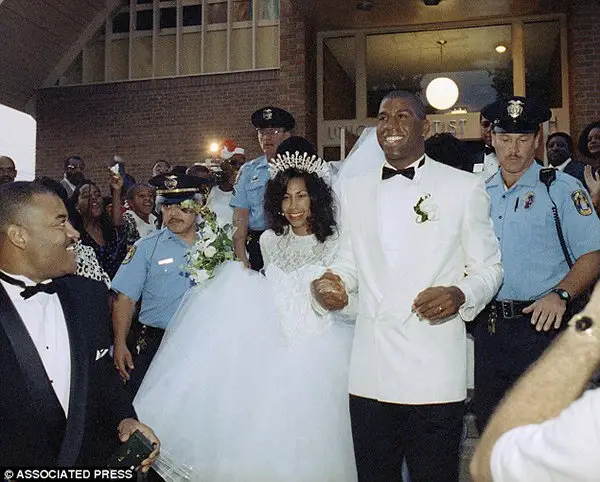 Caption: Earlitha Kelly/Cookie Johnson with husband Magic Johnson on the day of their wedding. 
Photo Credit: Daily Mail 
On September 2016, the happily married couple celebrated their 25th married anniversary. They organized a grand party and also took a trip to Italy. Cookie's husband also shared a picture of them enjoying their vacation in Venice. 
The couple also held a black-tie affair party on the occasion of their 'Silver Jubilee' on the Yacht Club de Monaco. More than hundred of their famous friends attended the celebration. 
3. Earthila found out her husband had HIV when she was pregnant with their first child E.J. 
Earthila has come a long way of struggles in her married life. After just 45 days of her marriage to Magic, she received a major shocking news from him, that he had HIV AIDS. 
On September 2016, she shared in an interview with Good Morning America, recalling the particular moment, 
'It scared me to death. I mean, I fell to my knees. We both fell on our knees and we started crying.' 
However, the thought of leaving her husband never crossed her mind, and she stated,
''I didn't have time to get mad about whatever happened, you know, or start asking questions. [My mind] went to 'He is possibly going to die. 'There wasn't a lot of knowledge [about HIV] back in 1991.'
She further added,
'He said, ''If you want to leave, you know, I don't blame you. It's OK. I understand.'' Then I said, ''Are you kidding me? No. I love you. I'm gonna stay here and help you live. I'm gonna stay here and we're gonna beat this thing. We're gonna figure out how to beat this thing''
But, the additional worry at the time, was that Earthila was just two months pregnant with their first child, E.J in 1991. However, luckily, the child and Earthila's reports were both negative. 
Magic hasn't opened up on how he contracted the virus but has said that he has said that he possibly contracted the virus with a sexual partner during his career as a player.
4. Earthila And Her Husband Share Two Children Together
Earthila and husband Magic Johnson were blessed with a son, Earvin III Johnson also known as E.J. The couple found out that their son was gay and while Earthila embraced her son's sexuality her husband took a longer time to get familiar with the truth.
In her interview with Good Morning America, she shared,
'Ultimately you want your child to be happy. But I also knew that Earvin didn't understand. And I was still trying to figure it out. I'm not going to sit here and say that I understood that he was gay at that time because I didn't. I just knew that this is what made him happy. And as time went on, it never changed.' 
Additionally, the couple also became parents to their daughter, Elisa Johnson via adoption in the year 1995.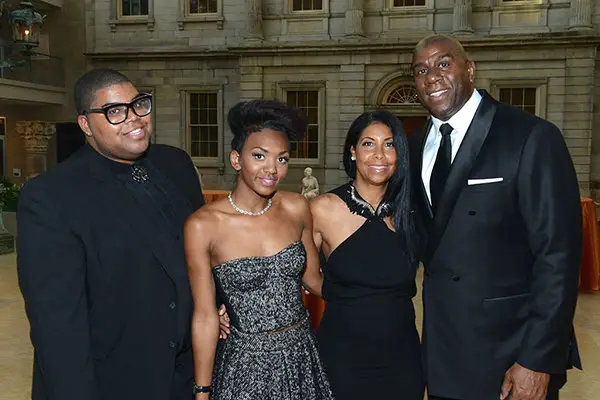 Caption: Earlitha Kelly and husband Magic Johnson with children, E.J. and Elisa Johnson. 
Photo Credit: flickr.com 
Indeed, they depict a happy family. 
5. Earthila Published A Book Called 'Believing In Magic' in 2016
With everything that Earthila has gone through in her life, she shared it all through her inspiring memoir, 'Believing In Magic' which was published on September 20, 2016. 
In the book, Cookie shares her journey through marriage, motherhood, faith and the time when he dealt with her husband's major illness.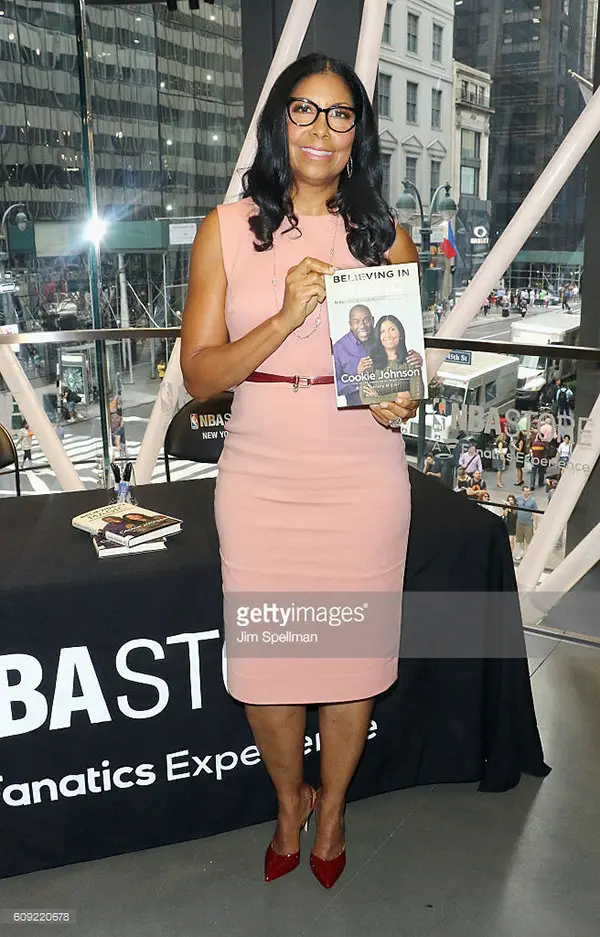 Caption: Earthila Kelly with her book, 'Believing in Magic' in New York. 
Photo Credit: Gettyimages 
Additionally, Cookie also had a clothing line called, 'CJ by Cookie Johnson' which emphasized on denim for women. Also, she has a degree in Textiles and Retailing from the Michigan State University. 
Well, when it comes to her earnings, she has a whopping net worth of $50 million.