Entertainment
The Teenager, EastEnders' Star Amy-Leigh Hickman Dating a Boyfriend Onscreen, Secretly Dating On Reality!
At the younger age, East Enders Star Amy-Leigh Hickman has become the favorite television series Queen for the people of all the age group and all across the globe. But does this teen star have an off-screen boyfriend or is her love life only limited on screen.
At the younger age, East Enders Star Amy-Leigh Hickman has become the favorite television series Queen for the people of all the age group and all across the globe. But does this teen star have an off-screen boyfriend or is her love life only limited on screen?
So, today we shall be covering the story of this English ethnicity actress and help her fans out by providing few details about her romantic life off the screen.
Is her relationship only confined to reel?
In the series of East Enders(2016), the beautiful teen star is seen romantically involved with her co-star Jamie Borthwick. The character played by the star gives a new spark of love in the series. Despite having endless sparks of love between the character in real life the actress has no intention of taking her on-screen romance of the screen thus, the romance is said to have only confined to the reel rather than real life.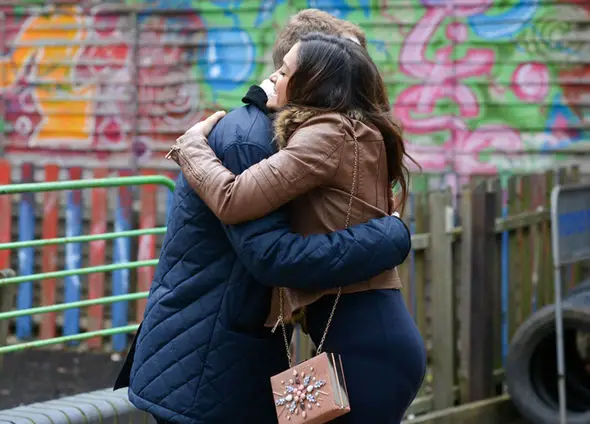 Caption: Amy-Leigh Hickman(Linzy) with her on-screen boyfriend, Jay Brown( Jamie Borthwick) in the series of East Enders(2016).
Source: express.co.uk
There was no real spark between Jamie and her outside of work however it was reported that she was dating her co-actor Daniel Pearson from the television series 'Tracy Break Returns.' Sources suggest that the lady dated her co-star in 6th January 2012. Amy has kept her relationship discreet with her lover, and thus, no information about her meeting and dating events has been identified.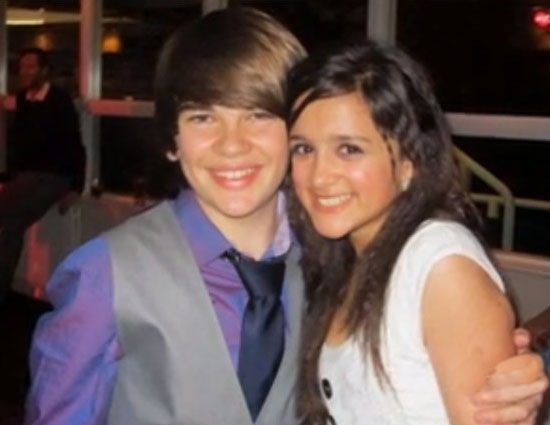 Caption: Amy-Leigh Hickman with Daniel Pearson (2012-2014).
Source: fanpop.com
However, the hidden relationship was abruptly said to have taken a turn in the year 2014. The lady, nor her man has spoken anything about their two years of dating scenario nor has spoken about the acute reason for the breakup.
Maybe the lady does not want to involve in any of the relationship scandals. Therefore, she might have kept her lips sealed on her break up news. Well, whatever might be the reason we all fans are eager to know about it while her man is reported to be possibly single.
A Glimpse of her Dating Rumors?
Similarly, in the year 2010, the actress was caught by the rumor of dating Richard Wisker. However, as no official statement was made by both the stars and this news was eventually marked as nothing but speculation. However, some of their fans and well wishers have loved the pair and had made a video of them by collecting their pictures on YouTube.
Caption: Amy-Leigh Hickman with the Richard Whisker posted on 6th April 2012.
Again in the year 2013, the teen actress was linked with Aidan Davis. The rumor of dating did become a sensation topic of discussion. But the actress has neither confirmed it nor denied it. As the star is in a complete silence zone, there seems to be a dicey situation for her fan follower's whether to accept the rumors or whether to deny it.While the man is reported to be possibly single.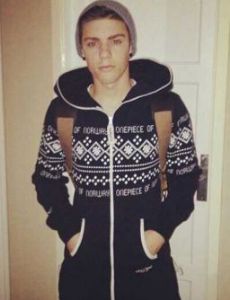 Caption: Aidan Davis rumored boyfriend of Amy-Leigh Hickman (2013).
Source: whosdatedwho.com 
Well, this seems to a kind of rumor as no concrete evidence regarding her dating with the star mentioned above has been identified. Nor has the stars spoken anything about any of their dating spree with the lady. So, there lies a mystery regarding the truthiness in her dating series. Till the lady herself confess about it, nothing can be said.
Nasreen (Nas) Paracha, Amy's Gay Role!
Amy plays the role of Nasreen Paracha AKA Nas in the Channel 4's TV Series, Ackley Bridge. Spoiler alert, Later on, Nas is revealed to be a lesbian in the show and coming from a Pakistani family, it is hard for her to come to a conclusion with this fact. The show not only correlates with a lot of Cultural as well as sexual issues teenagers go through in this age and Amy's portrayal of Nas who is a perfect example of a troubled Gay youth is almost perfect.
The moment where she comes out of the closet and talks to her mother about it has to be one of the most heartbreaking moment ever in TV history and it's almost mortifying to see someone respond the way her mother does.
Caption: Nas (played by Amy Leigh Hickman) reveals her sexuality to her mother on Ackley Bridge.
Amy has previously talked about the cultural issues the show presents and how it correlates to our society in an interview saying,
Because we live in today's society where we think that everything is ok and everyone is accepted it's difficult when you see these difficulties actually do exist. Racism is still a thing and it still goes on in schools. I realised I was very naive because I thought everyone was accepting, but that's the good thing about the show as it portrays it in a way where you need to see what's going on.
She also revealed how she was as a person during her school days and how it is comparable with her character stating,
I was really, really quiet in school but now I am the exact opposite. I was probably a bit like Nas in school in terms of how quiet she was and then outside she has her other friends. That's what life was like before she went to Ackley Bridge because Missy didn't go to the same school as her. I wasn't that into school, I used to like the creative subjects like Art and English. Most of my friends and hobbies and things I did outside of school. But I did study drama at secondary school.
Short Bio of Amy-Leigh Hickman:
Amy-Leigh Hickman was born on 16th September 1997 in East Sussex, England. She attended The St Leonards Academy to receive an education. She has not revealed anything about her family life or her parents.
However, in the year 2010, she got an opportunity to play a role of Carmen Howle for the television series Tracy Breaker Returns. She came into the spotlight when she played the role of Carmen Howle in the series and sequel to "Tracy Breakers Return" and in "The Dumping Ground" (2013-2016). In the year 2015, she appeared in the television series of Doctors (2015) and Causality (2015).
Currently, in the year 2016, she has undertaken the project "The Dumping Ground….I'm" and "East Enders." She has also been seen performing various stage roles in "Alladin" (2015) as Princess Jasmine and in Sleeping Beauty (2015 and 2016) as Jill and Princess Briar Rose.