Entertainment
Is Edd China Married And Has A Wife? Apparently, The Answer Is A Mysterious Yes
There are plenty of celebs who keep their personal life out in the shadows, hiding away all those information what could be a delight for fans if they knew.
Let's take Leslie David Baker for example. A TV star who, despite all the fame, has managed to keep his personal life concealed from the public eye and apparently has been subjected to gay rumors.
Well today, we're about to dig into the personal life of another celebrity, Edd China. No, he's not a Chinese man, but those who are into cars probably know this man. For all those fans in confusion, Edd China is popularly known for Wheeler Dealers.
Is Edd Married?
Like many, Edd also has a taste for secrecy, as he does not talk about his personal life, especially when the question regarding his possible married life and wife comes up. Well, to fans delight, Edd is a married man after all and also, has a wife.
But, like said earlier, the 46-year-old is very secretive towards his personal affairs, and that has led to the revelation of minimal information regarding his wife. All that is known about his wife is that her name is Imogen China; it remains unclear if he shares any children with her.
However, just her name would be incomplete and kind of tasteless as well. So, here's a picture of Edd and his wife Imogen China soaking up all the mild sun shine, all smitten and loved up.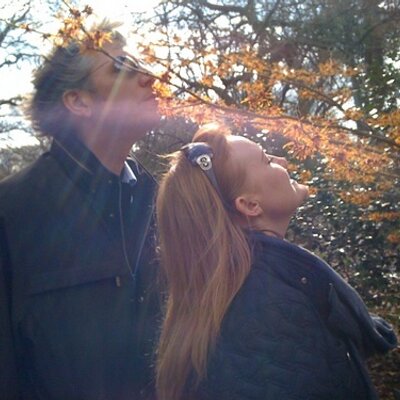 Caption: Edd China and Wife Imogen China
Source: twitter
The former Wheelers Dealers presenter has relatively stayed low-key all these years, and by his consistency in keeping his married life and wife out of the limelight of his fame, it is likely that he will ever talk about his family ever. But as fans, we shall never lose hope, right?
Why did he leave the show?
On March 21, 2017, Edd revealed that he would be leaving the show, Wheeler Dealers. He acknowledged the love of his fans over the course of 13 years of his service to the show.
However, the reason for him to leave the show was not that he thought it was time for retiring from his mechanical work but because of the new direction team, Velocity, chooses to modify the patterns of the show, something that Edd was not comfortable with.
Caption: Edd China opens up about leaving Wheeler Dealers.(Published on: March 21, 2017)
The star, who stands at a staggering height of 2.01m, said in the video,
"In particular, the detailed and in depth coverage of my fixes in the workshop; what I consider to be the backbone and USP of the program, are something Velocity feel should be reduced. The workshop jobs are certainly the hardest part of the show to make and reducing their substance and role in the show will save the production considerable time, effort and therefore money. However, this new direction is not something I am comfortable with as I feel the corners I was being asked to cut compromised the quality of my work and would erode my integrity as well as that of the show, so I have come to the conclusion that my only option is to let Velocity get on with it, without me."
Edd, who over his extensive career in dealing with motors, has gathered himself a net worth of $1.5 million.
While leaving the show was hard, especially after spending more than a decade; Edd thanked his viewers and said that Wheelers Dealers will always be a big part of his life and encouraged everyone to 'Make your world bigger.'