Entertainment
Edgar Hansen Keeping Wife and Family On The Low Side? A Man Only Prioritizing Professional Life!
If you love science, then with no doubts, "Discovery Network" must have been your first choice. When we say that, "Deadliest Catch" most possibly made its way to your head, so today, we are relating the man behind the show's success, Edgar Hansen.
The avid fisherman and a reality star Edgar Hansen is very much prominent and firm in his work, as he has a lot to talk about when it comes to his professional life, but what about his life with wife and children? Is he among those who only prioritizes working life? Stick around to find out!
Edgar Hansen Has A Family With Wife But Keeps It Low-Key!
The Alaskan commercial fisherman has a personality of being a man, who is tough yet fair. We all have been entertained for a long time by the reality show "Deadliest Catch," and the credit for that goes to Edgar Hansen.
Edgar Hansen is loved by his fans for his work in the show, which creates curiosity regarding his personal life among fans.
Talking about Edgar's personal life, he is a married man who tied the knot with his wife, Louise Hansen. The couple shares three children together; Stefanie Hansen, Erik Hansen, and Logan Hansen.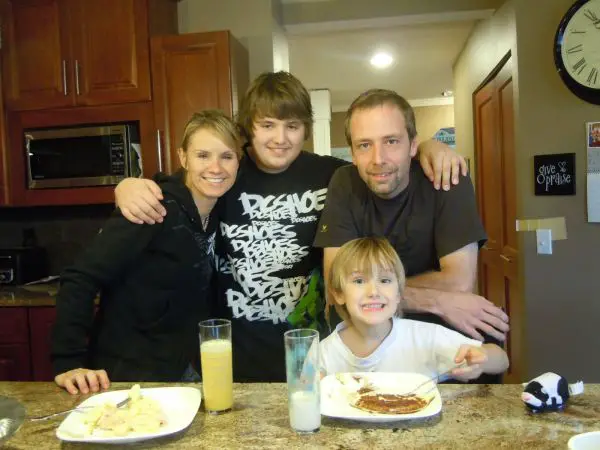 Caption: Family time Edgar Hansen with his wife and two sons Eric Hansen and Logan Hansen.
Photo Credit: pinterest.com
Only the marital status of the Edgar is known, but least information regarding his family life with wife and children has surfaced in the media.
Nevertheless, Edgar shared a picture with his wife enjoying the snow via Facebook on December 13, 2015.
Edgar's personal quote regarding his sons fishing says,
"I don't want this life for them. I want them to stay home and be with their families."
The above quote hints that he wants to spend time with family and doesn't want his kids to have the same life, that keeps them away from the family.
His Career And Net Worth With Short Wiki Like Bio:
Born on January 14, 1971, Edgar Hansen started fishing at the age of 18.
The younger brother of Captain of The Northwestern, San Hansen, stepped into his brother's shoes and took the position of a cook when he joined the Northwestern, but as of now, serves the show as the Relief Skipper and Deck Boss. Along with that, he is also very much loved by the crew for his excellent cooking skills.
The Deadliest Catch has put on record garnering high ratings from the very first season, and the show regularly retails records for the network as the most-watched one.
Caption: Co captain and chief engineer of The F/V Northwestern, Edgar Hansen mentions about the risks involved with his job.
(Published on August 18, 2016)
The 46 years old reality star, for his recent shows, wears many hats which somewhat resembles that he is responsible for his different category in the ship like for the main and auxiliary engines, the hydraulic along with fuel systems and sea water pumps.
Though Edgar has an image as a tough guy, who maintains the safety standards, he is also empathetic as he can be seen with his generous gesture in the show.
In 2015, it was revealed that Edgar Hansen had degenerative spine condition and the potential career threatening condition increased the difficulty to perform his duties.
As of today, the show has been able to leave its imprint in the heart of many, and the show has helped Edgar to accumulate a net worth of $700 thousand.
Stay with us for further updates on Edgar Hansen!