Entertainment
Did Elaine Paige Get Married To Her Former Partner In Crime! Or Just Prefers Dating?
"Surrounding yourself with young people keeps you young because they've got more energy than you and you have to keep up with them."
This statement came from a legendary 69-year-old singer Elaine Paige, and it was indeed her experience that spoke out for her.
Elaine is an actress, recording artist, producer, and also a broadcaster but moreover, she is an age-defying personality who has a toy boy 23 years younger than her. She has been dating her marketing executive partner for seven years, and they have a youthful circle of friends. Well, is he just a beau, or her husband? Let's find out!
Is Elaine Paige Single Or Married?
According to the news that flashed lately in March this year, the Evita star has been spending time with her toy boy, Justin Mallinson, 46, and they have been dating for seven years. The news also confirms that she doubts of marrying her beau.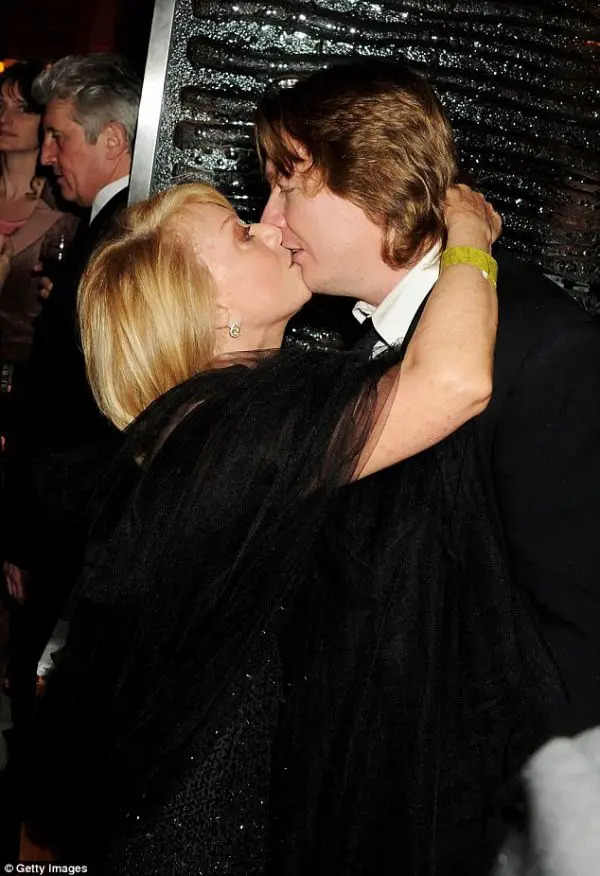 Caption: Elaine sharing a kiss with her boyfriend, Justin.
Photo Credit: dailymail.co.uk
The couple lives a blissful life, as they share many interests including musical theater and tennis.
She told the Daily Mail:
"I doubt very much that Justin and I will get married. I'm happy with the way it is. It seems to work and I think, 'If it ain't broke, don't fix it."
This statement from Paige makes it apparent that marriage doesn't value much for them as they are happy with their ongoing relationship. So, no wedding bells for this couple for now!
Elaine Paige's relationship timeline is actually beyond her current relationship, which dates back to 1980s. She was in an 11-year affair throughout the 1980s with a married man called Sir Tim Rice.
The long relationship couldn't make up to nuptials as Mr. Rice couldn't leave his wife. But finally, both the ladies, Paige and Lady Rice ended their relationship with Tim. People also linked her with actor Dustin Hoffman, but without any evidence to justify it.
The Event Happenings In Elaine's Life:
The singer, cum actress, Paige, has several accolades to prove her legacy. She got nominated and awarded with several prestigious laurels such as Laurence Olivier Award for Best Performance in a Musical (winner), 2013 Grammy Award for Best Musical Theatre Album (nominee) and so on.
She has also begun hosting her own show on BBC Radio 2 called Elaine Paige on every Sundays since 2004. With the millions of listeners of her radio show, she drags a lot more population through her music albums. Well, the number of her solo albums has now reached twenty throughout her multi-decade career.
Here is one of her memorable performance at 'Andrew Lloyd Webber - The Royal Albert Hall Performance with her rendition of Memory from Cats the Musical.
Caption: Elaine performs Memory from Cats the Musical (Published on Oct 29, 2015).
Besides her career, she also admitted going under through an anaplasty in 2015. She considered to have plastic surgery to correct her neck, but she never went for that, as she got afraid of looking 'overdone.' She told the Daily Mail:
'No [I've never had surgery] but I would. I always worry about this as a singer. You get over-developed under your chin sometimes and if I catch a shot of myself singing with my mouth open, it's not a pretty sight. Sort of duck face from the side. It's not very pretty and one does kind of think, "Maybe...".'
She now thinks that her beau, Justin Mallinson, makes her young enough and she doesn't need to go under knives and scissors as young people surround her.
Stay with us for further updates on Elaine Paige!