Entertainment
A Little More About Elisabeth Harnois; Is The Actress Having A Dating Affair Or Single?
It's quite unlikely if we come across someone, who is unfamiliar with one of the most watched TV series in the world, CSI!
Well, amongst many talented actors contributing to the show's popularity, a memorable character, Morgan Brody, was portrayed by no other than stunning actress Elisabeth Harnois. Although Elisabeth had on and off on-screen romance in the series, the love life of the actress, off-screen, is more of concern to her fans!
So today, let's spare our few minutes to bust the truth about the most questioned relationship status of actress Elisabeth Harnois!
Elisabeth Harnois's Love Life Status: Taken or Single?
Although actress Elisabeth Harnois has a massive fan following, who desperately wish to get acquainted with her love life; she hasn't been quite vocal about it. When it comes to spilling beans regarding her dating affairs, Harnois has only disclosed few hints, that too on interviews and her social media.
Around early 2005, in an interview with People, Harnois mentioned about her boyfriend of three years, who was a TV producer. Elisabeth even made her relationship status clear quoting- "I'm very taken." However, she opted to keep his identity a secret.
"He works in TV production, and he's a great guy – that's all I'll say. I'm very taken."
Harnois later disclosed that she is engaged in an interview with CSI files around the year 2011. When asked about her plans, Elisabeth replied saying she has to plan a wedding,
" Oh, and I gotta plan a wedding… I'm engaged, you know. That will maybe be part of my summer. "
Well, she still didn't disclose the name of her fiance at that moment as well.
Additionally, on October 12, 2013, Harnois uploaded a cozy picture with her possible fiance via her Twitter along with a sweet caption that said,
" Hangin' with my dearest "
Although her fans speculated the man in the picture to be her romantic partner, Harnois didn't address the truth. In a nutshell, Harnois prefers to enjoy a private life, but there are chances she is secretly married and not single.
More To Know About Elisabeth Harnois
The stunning actress Elisabeth Harnois, who goes by the full name Elisabeth Rose Harnois, was born on May 26, 1979, in Detroit, Michigan. Elisabeth grew up in Los Angeles with her four brothers and is the eldest amongst all her siblings.
With the help of her supportive family, Harnois has been able to flourish her career in acting since a young age. When Harnois was just a toddler, her family moved to Los Angeles to help their daughter start her career.
Harnois, who began acting since the age of three, co-starred in two movies when she was just five years old, namely 'One Magic Christmas' (1985) and 'Where are the Children?' (1986).
She also modeled for a handful of TV commercials and was eventually chosen by Disney Productions for the role of Alice in the 'Adventures in Wonderland' (1992) series.
Additionally, Harnois has also made guest appearances on numerous TV shows. In the year 1997, she co-starred in two films 'The Warlord: Battle for the Galaxy (1998) and 'The Wonderful World of Disney: My Date with the President's Daughter' (1998).
Besides such a long history of experience in acting, Harnois also delivered a great performance in portraying the 'mentally unstable' character, 'Kate' in 'Facade' (1999). Later, in the year 2002, she played the lead role in 'Swimming Upstream' as well.
However, Harnois is most recognized for her role as 'Morgan Brody' in the CBS series, 'CSI: Crime Scene Investigation' and is also popular for starring in the movie 'Keith' (2008).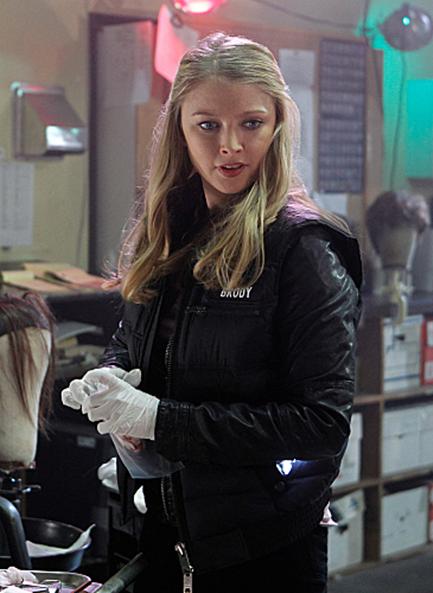 Caption: Elisabeth Harnois in CSI.
Photo Credit: BuddyTV
Well, she is talent no doubt, and despite her secretive nature, we are trying to reach out to her for further details regarding her possible married life, so keep visiting to be the first to know when that happens!