Entertainment
On-Screen Lesbian Elise Bauman Has Boyfriend In Real-Life? Relationship Status Now
On-Screen Lesbian Elise Bauman Has Boyfriend In Real-Life? Relationship Status Now Playing a lesbian character on screen raises numerous rumors and difficulties for celebrities, and they have to face questions about their sexual preferences. The same problem has encountered by Canadian actress and singer, Elise Bauman who has portrayed the LGBT character in a web series called 'Carmilla.'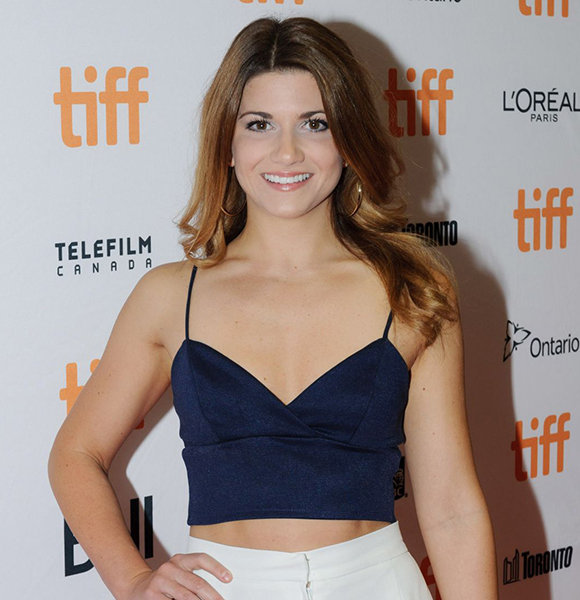 Playing a lesbian character on screen raises numerous rumors and difficulties for celebrities, and they have to face questions about their sexual preferences. Canadian actress and singer Elise Bauman encountered similar problem after she portrayed the LGBT character in a web series, 'Carmilla.'
Elise was speculated to be a lesbian after the portrayal of the character, but does the speculation hold any truth? Or Elise has a boyfriend to fend off the rumors? Let's read more to find that out!
Is Elise Bauman Dating Anyone? 
As a result of the popularity of her character 'Carmilla' online, Elise gathered attention on social media too.
The questions regarding her sexuality raised among her fans, as she had played a lesbian character in a TV series 'Carmilla' along with her co-star Natasha Negovanlis. Her sexuality preference was vague until she opened up about it in the media. 
In an Interview with the Xtra on March 2017, Elise opened up about her sexual preference and clarified that she identifies herself as bisexual. Moreover, she doesn't hesitate to say it if someone asks her directly. 
"Actually, I identify as bisexual. I've never actually said out loud that I'm a bisexual, My thing was, I didn't want to have a big coming out — if someone asked me directly, I'd answer honestly. If someone asked me, I would say." 
Elise revealed that it's the character she played in 'Carmilla' that helped her accept the fact that she is bisexual. However, it's still unclear about her dating affairs as she hasn't disclosed any details to the media. Moreover, it remains confined if she's currently indulged with a boyfriend or a girlfriend.
Nevertheless, Elise keeps sharing her thoughts about her relationships. She once tweeted;
The worst thing about being in a relationship is that I really like to do my shame eating in private.
With her tweets, it seems like the actress has some undisclosed dating affairs which she likes to keep close to her chest. Further, she mentioned on one of her tweets that she feels way more comfortable to ask someone on a date than asking new friends to hang out.
I am dying at this. I get way more nervous asking new friends to hang out than asking someone on a date.
Her current relationship status is bemusing indeed!
Apart from her personal love life, she shares a beautiful relationship with her family. She is close to her parents and her older brother. She spends quality times with her family and friends whenever she has time.
On a Fathers Day in 2016, she uploaded a picture on Instagram expressing her love towards her father. 
Happy Father's Day ❤️?
Elise is also close to her brother. Back in December 2017, she Instagrammed a picture where she can be spotted enjoying with her sibling on the mountains. 
Mountain siblings. #Topanga
Splendid career, blissful family and possibly a hidden affair, that must feel awesome, don't you think so?
Express your views in the comment section below!