Entertainment
What Elizabeth Ann Hanks Looks For in a Boyfriend! Getting Married Will Take A Lot
Tom Hanks needs no introduction. But we are here to address another Hanks, and we are talking about none other than Elizabeth Hanks, the daughter of Tom Hanks. Being the daughter of the iconic Tom Hanks, she must have quite an expectation when it comes to dating a guy.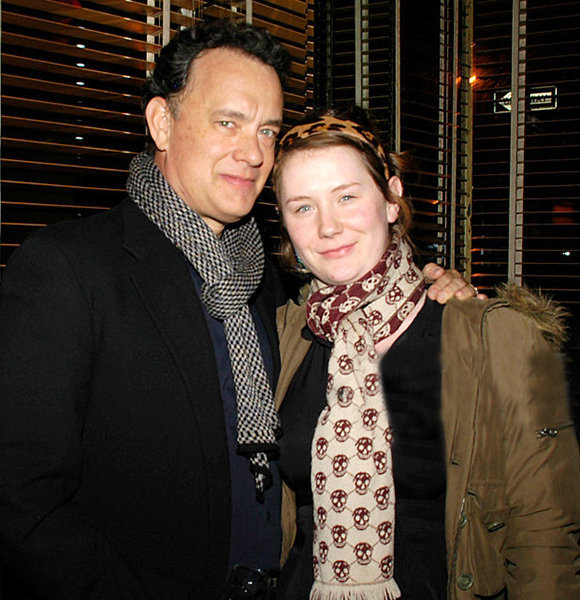 Tom Hanks needs no introduction. The actor has gone down in history by being a part of some outstanding movies showcasing his exceptional acting skills.
His acting skills are not the only reason why his fans adore him, however. The actor sets some serious relationship goals and family values out in the world and is an incredible father and a loving husband.
We are not here to discuss his professional life as it requires no further establishment. We are here to address another Hanks and are talking about none other than Elizabeth Hanks, the daughter of Tom Hanks.
Elizabeth Hanks has always been a darling celebrity to stalk for the paparazzi because of her illustrious father. But she prefers to stay out of the spotlight.
Being the daughter of the iconic Tom Hanks, she must have quite an expectation when it comes to dating a guy. If you are wondering, take a look and find out.
We don't blame you if you assess yourself to see how good of a match you would be for this sweetheart.
What Elizabeth Ann Hanks Looks For in a Boyfriend:
Elizabeth is the daughter of Tom Hanks and his ex-wife, Samantha Lewes. While her father rules in the film industry, her mother, who passed away from bone cancer, was quite a big name in the world of publishing. 
Following her mother's footsteps, Elizabeth is the former associate news editor at the Huffington Post and is currently the Children's Editor of the Los Angeles Review of Books.
Elizabeth has never gone on record to talk about her love affair, but the editor in her did write a heart touching article about the guys she had gone out with and the feelings that she was left behind with. It was entitled "It's time to stop playing the Girl That Got Away in your ex-boyfriend's fantasies."
In her article, Elizabeth has subtly described the notion of love and the kind of person one desires to date.
We have all fallen in love with the idea of a person, rather than the reality. We have the chimeric glimmers of other people's lives we get on social media – a glance at a living room on Instagram, a reference to a movie on Facebook. We patch together enough broken puzzle pieces and create the idea of a person that suits us.These people we create are projections of our own emotion and desires, insecurities and hopes. They look like our pasts but are nothing but mangled manifestations of our present.
She has also confessed that she holds a good relationship with all her ex-boyfriends and she even attended the wedding of her first ex-boyfriend. At the end of the article, she revealed that she is single and referred to herself as a blank canvas.
Well, that is one huge expectation to live up to, and she is not dating anyone at the moment. 
Elizabeth Hanks Wiki: 
Elizabeth Hanks was born on 17 May 1982 in Los Angeles. She is the younger sister of Colin Hanks and half-sister of Chet Hanks and Truman Hanks. Her father, with a net worth of $350 million, is married to Rita Wilson and the amazing couple has been together for nearly three decades now. The family of 6 shares a strong bond with each other and are always there through thick and thins.
Like most fathers and daughters, Elizabeth and Tom Hanks are very close to each other. The adorable father-daughter duo takes time out of their busy schedules to celebrate their birthdays with each other.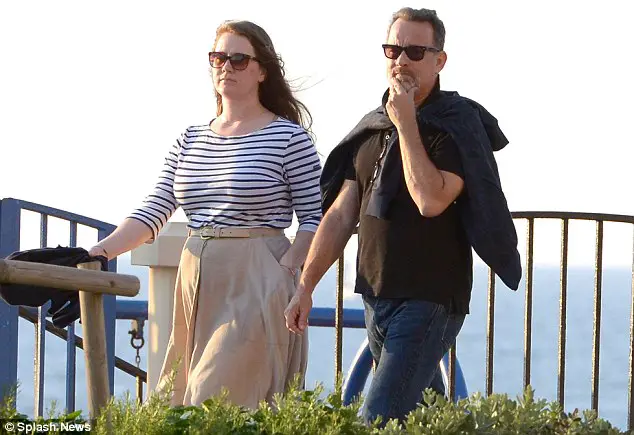 Caption: Tom Hanks and his daughter Elizabeth Hanks stroll in Malta.
Photo Credit: Dailymail.co.uk.
Recently, the duo made it to the news when Tom Hanks celebrated his 61st birthday with his baby girl as she took him to see Derek DelGaudio's In & Of Itself at the Daryl Roth Theatre.