Entertainment
'Despicable' Star Elsie Fisher Age, Height, Siblings, Parents, Net Worth & Essential Details Revealed
Teenage actress, Elsie Fisher is gaining wide fame with her cute looks and solid acting performance. Debuting as the voice actor at the age of five, Elsie has made a significant impact on fans who would like to see this beautiful girl grow into a terrific actress.
Now, the 15 years old actress has portrayed the significant role in the movie, Eighth Grade, where her character opens up about her school-life anxiety and social problems. 
Well, it turns out she has the similar kind of experience in real-life. 
Cute Siblings Bond; Jokes About Being Adopted
Elsie Fisher is one of the people, who loves younger siblings and as the matter of fact, she does have a younger brother named Nathan. The siblings grew up together and share an extreme closeness to each other. Regularly featuring her younger brother on her social media, Elsa has hardly missed any occasions, one being her brother's birthday.   
On 16 January 2016, Elsa shared an Instagram post to wish her brother a happy birthday. Well, the actress, age 15, feels blessed to have such a "weirdo" brother in her family.
Describing Nathan as the best sibling, she posted a picture for the occasion of National Siblings Day on 11 April 2018, where Elsie marked around Nathan's body.
Further, in the post, she also thanked her parents for giving her the best brother she could ask for.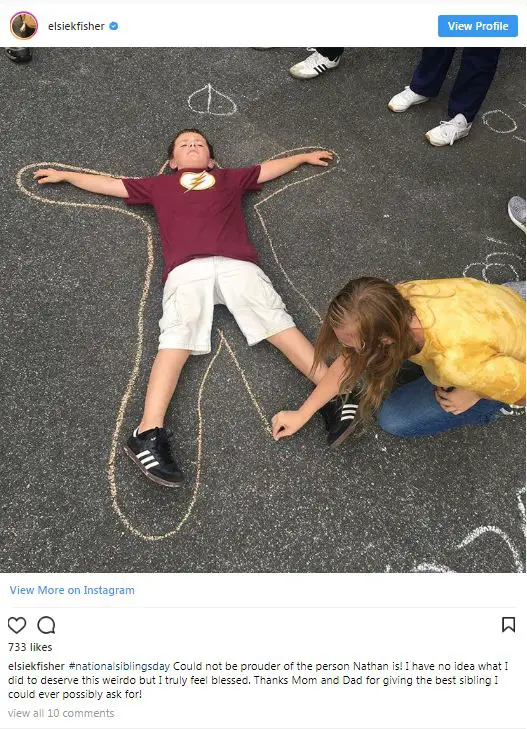 Elsie Fisher and brother Nathan enjoy role-playing games (Photo: Elsie Fisher's Instagram)
However, as much as Elsie loves flaunting her brother, same is not the case for her parents. Hardly mentioned about her parents, she has let out limited information about her parents. 
For instance, she sarcastically thanked Delta Airlines on 19 April 2018 for losing her father's luggage. Further, she mentioned in a tweet about her cooking habits with mother. Elsie revealed that her mom was the master chef whereas she was the master baker.
Moreover, the teenage actress is famous for her impeccable sense of humor. She posted a tweet 10 April 2018, confessing to her mom and dad that she was adopted.
Elsie, who celebrates her birthday on 3rd April, is also an animal lover as she is raising a total of four pets. She has fostered three dogs: Agnes, Ollie and Allie; and a cat named Judy. She has mentioned her favorite animal to be Giraffe.
With such a loving and supportive family, Elsie has been able to focus her time on study and acting.
"Eighth Grader"s Success At Young Age; Depression At Eighth Grade
Elsie, who commenced her acting career at the age of five, has garnered significant success and fan base with just a few movies. 
She has voiced for the role of Agnes in the famous animated movie franchise, Despicable Me. Her onscreen foster father Steve Carell, who plays the badass Gru in the series, is Elsie's favorite actor and her inspiration for acting. For the movie, her speech movements were recorded and used by the animators as a reference for her character.
Elsie lent her voice in the first two films of the trilogy; however, she was replaced by Nev Scharrel in the third movie. The actress with the height of 4' 10", also landed the lead role of Kayla in the 2018 movie Eighth Grade.
Penning an honest essay for Teen Vogue, Elsie talked her about own experience of anxiety and depression in her eighth-grade. She wrote:
"That year, specifically, was rough for my mental health; my brain was in constant turmoil, and I know now I was having a terrible battle with depression."
She added that being able to vocalize her experiences have deepened her bond with friends. She stated:
"Despite how much anxiety sucks, it's something that I'm glad I'm not alone in experiencing. My closest friends deal with the same problems as me and I think it's brought us closer together, and it's nice to vocalize my fears."
Elsie, whose exact figure of net worth is not disclosed could be the next box-office Queen with her two films totaling a collection of more than a billion dollars. Despicable Me made a total earning of $563 million, whereas the second movie of the franchise gross over $970 million worldwide.