Entertainment
Emily Berrington & Boyfriend Muffled Relationship! Still Dating Or Married?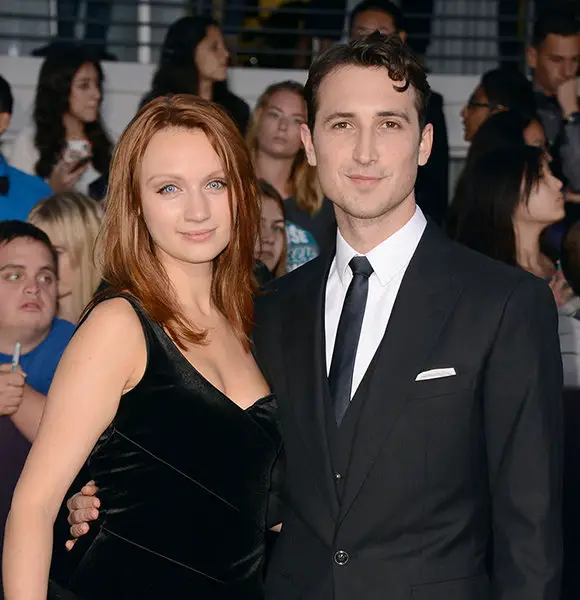 English actress Emily Berrington, who is widely known for her role of  Katie Evans in the British comedy movie The Inbetweeners 2, was first spotted with her boyfriend at the premiere of the film, Divergent. 
The Oxford Native had stayed in a long-term romantic relationship with her boyfriend but had never shed light on her love life until 2014.
Emily Berrington Gets Spotted With Boyfriend
Berrington was silently staying in a long-term romantic relationship with British actor Ben Lloyd-Hughes until 2014.  She and her partner Ben had started sparing time together after they joined the same drama school.
The duo had successfully managed to keep their dating life beyond the reach of Paparazzi until they were spotted together at the premiere of the movie, Divergent in March 2014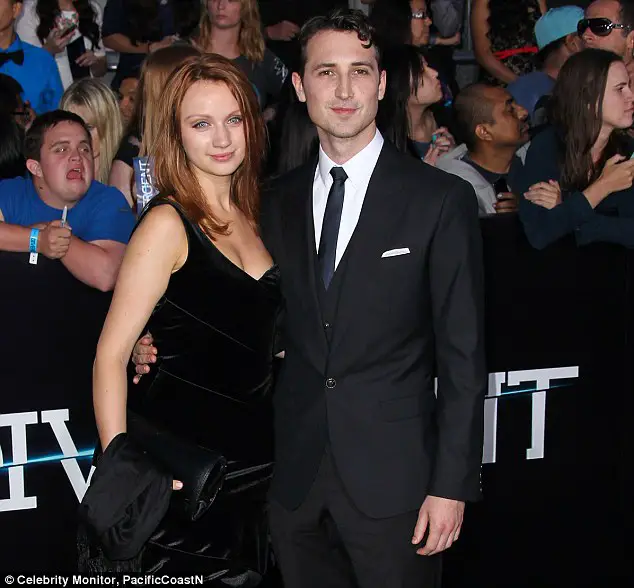 Emily Berrington with her boyfriend, Ben Lloyd-Hughes at the premiere of the Divergent movie (Photo: dailymaill.co.uk)
Speaking to Daily Mail on  13 July 2014, Emily confessed about her understanding relationship with her boyfriend, Ben. She said, 
Ben is lovely and it does feel like a time where anything can happen for us both and everything is very exciting. But I think the good thing is that we both know that every time you have that feeling of, "Oh, my life has changed for ever" it will only be a few months before you are back on the sofa in your pyjamas eating crisps and worrying. We try to be philosophical about it, so when one of us gets a new job we don't go mad celebrating. We are very supportive because we understand the business we are in and are therefore able to help each other stay grounded.'
Furthermore, during the interview with Daily Mail, she even revealed that they would be attending a celebrity polo match on 18th July 2014.
Even though Emily and Ben came out publicly about her love life in the year 2014, they remained tight-lipped about their relationship except in one occasion: 2016.
In 2016, speaking to Express, Emily stated that they had no plans of getting married because of their busy career, referencing her Humans co-star Katherine Parkinson as an ideal person to have managed both career and marriage.
In the interview, Berrington said,
A family is definitely in my future but I have no idea when. I don't know how people fit it in with an acting career, but they do. Katherine Parkinson is a great example of that, so I'll have to ask her
A mother of two, English actress Katherine Parkinson is a famous actress whose husband is none other than English actor Harry Peacock.
Brings Parents To Work, Net Worth 
The King's College London graduate shared a picture of her parents via Twitter back on 11 October 2017, captioning "Bring your parents to work day."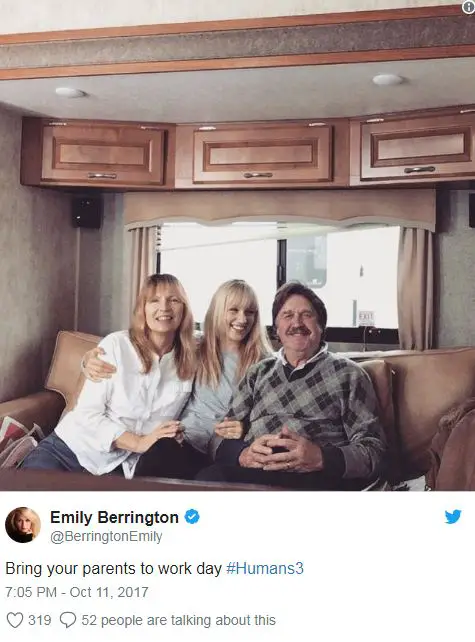 Emily Berrington takes parents to workplace (Photo: Emily Berrington's Twitter)
She often flaunts her family members on social media. She shared a throwback picture of sister Katie and herself via Instagram on 3rd April 2017.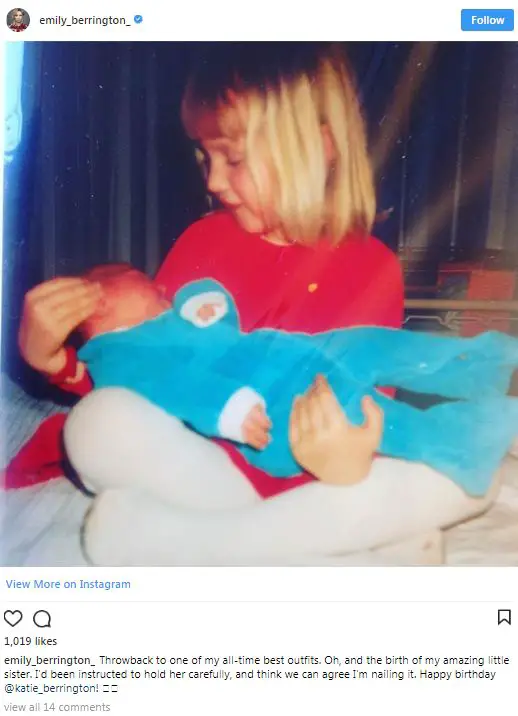 Young Emily Berrington takes care of her younger sister on her lap (Photo: Emily Berrington's Instagram)
Berrington is close to her parents. She has a sister named Amy, who is a professor, and a brother Tom. Furthermore, she has a younger sister, Katie, who is a writer for Vogue.
Emily Berrington has been portraying the role of Niska, a robotic android, on Humans since 2015. It's one of Channel 4 highest rated dramas ever. The show pays her a lofty annual salary, contributing to her increasing net worth. In 2018, she also landed her "dream job" in a revival of the American play, Machinal.