Entertainment
Emily Haines Was Married All The Time; Who Is Her Husband?
Canadian singer Emily Haines is a prominent name in the field of indie rock music. She is a lead singer, keyboardist, and songwriter of the rock band Metric. She is also a member of indie rock band Broken Social Scene.
Her charming and melodious voice attracts a lot of audiences, but has the Metric singer already been married or dating with her boyfriend? Let's dig out the personal life of this industrious musician to find that out!
Emily Haines's Personal Life
Emily was once in a relationship with her musical partner Jimmy Shaw, who is the founder and lead guitarist of Canadian indie rock band, Metric.
The couple dated a while ago before forming Metric. Although the affair may have been for longtime or short-term, it was not made public as to whether their relationship eventually ended or not.
In an interview with thedailybeast.com in October 2015, Emily opened up about her previous relationship with Jimmy stating,
It's the greatest accomplishment of my life, preserving that. I feel that was the hardest thing I've ever had to do, was to separate the two things—finding what love is and knowing that you have a love that's a lifelong love and managing to shape it without losing it. That was really hard when it first happened and took years to find its shape. It's really emotional to talk about.
However, they are a good companion composing music together in a band, Metric at present.
Moreover, Emily was once linked with Philip Kurt Kressin, the singer and songwriter of the Indie Rock band, Neon Legion. They were publicly spotted attending several musical events together.
In February 2014, Emily and Philip attended Mercedes-Benz Fashion Week Fall in Newyork City.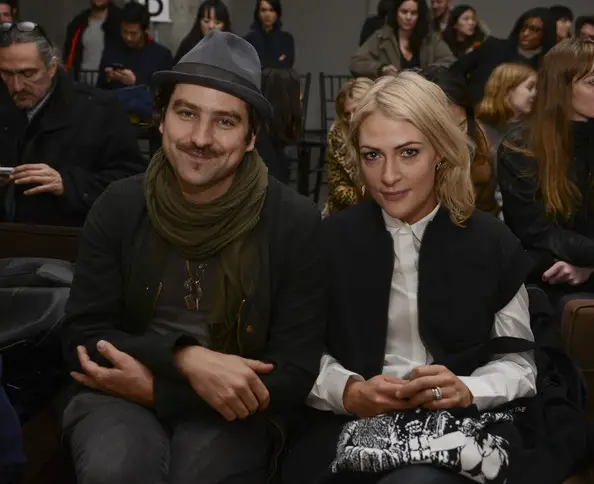 Emily Haines and Philip Kurt Kressin in Mercedes-Benz Fashion Week Fall 2014 in Newyork City (Photo: Vivien Killilea/Getty Images North America)
Despite their several appearances together, the two neither confirmed their relationship, which evinces they are just good friends.
Furthermore, in June 2017, Emily made a tweet showing her interest in marriage, stating in a comic way that she does not invite the people who buy her anything that says "bride tribe" on it.
Emily seems covert on personal life which makes her admirers unaware of the present relationship status. She is not married to her husband or spotted dating with a boyfriend at present. Besides, she may be single focusing on her musical career or she might also be secretly dating with her boyfriend.
Emily Haines Metric, Career In Music
Emily Haines, born on 25 January 1984 in New Delhi, India is originally named Emily Savitri Haines. She was born to American parents and holds dual citizen of Canada and the United States as she grew up later in Ontario, Canada. She pursued her school education at Etobicoke School Of The Arts in Toronto.
Emily met Jimmy Shaw in 1997 and formed a band Mainstream and later renamed as Metric. The band released its first album Old World Underground, Where Are You Now? in 2003. Metric has released six studio albums including the latest release Pagans in Vegas(2015).
In 2004, Metric appeared in the drama film Clean, where Emily, along with band members, performed their song "Dead Disco" that also featured on Clean Original Soundtrack.
Emily recorded her first solo album, Knives Don't Have Your Back, in 2006. She released her second solo album Choir of the Mind in 2017. She also made a tour supporting Choir of the Mind throughout North America in late 2017.
Keep Visiting for the emerging updates on the life of Emily Haines!