Entertainment
Emily Henderson's Love Story With Husband Is Just Too Beautiful To Exist! Married Life Still Going Strong?
We often read the fictional story, where the love story eventually culminates into a beautiful union of marriage, and the couple lives happily ever after. Does happily ever after kind of love story exist in real life as well?
Yes, long-lasting love stories do exist in real life too!
Here we are talking about the beautiful relationship of Emily Henderson with her husband who has achieved a milestone of ten years of marital bliss. Let's get know al the details you may have missed about the couple!
Emily Henderson Alluring Married Life!
Emily Henderson writes blogs, and she shared her beautiful love story through the blog, on the ceremony of the fifteenth anniversary of her first date night back on August 31, 2015
Emily Henderson met her then boyfriend and now husband, Brian Henderson at the Univesity of Oregon in 2000. They went on their first date back on August 31, 2000. On their first date night, they talked and even argued. Describing her husband's impression on her that night, she confessed that she knew she would be with him for a long time.
He was so funny, smart, and nice and the conversation just flowed so easily and comfortably. I knew that night that I would be with him long term. He felt like family, like home, almost instantly. I know it's not always like that, but it was for us.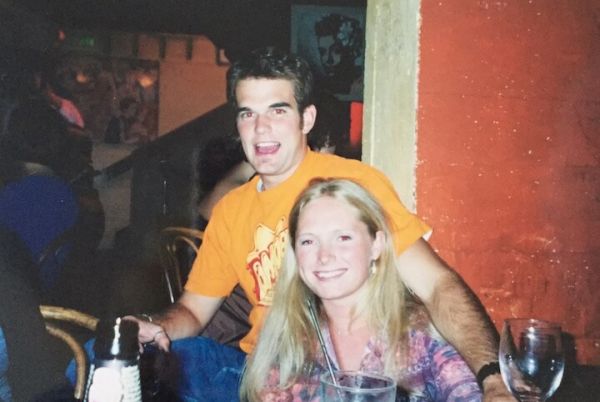 Caption: Emily Henderson and Brian Henderson on their date night on August 31, 2000.
Photo Credit: stylebyemilyhenderson.com
After dating and knowing each other for six long years, they eventually got married on September 23, 2006. Expressing her feelings on her married life, she said,
To put it plainly, I am just so lucky to have found him 15 years ago. After starting a family you realize what you have, how good you have it, and we are just really, really solid and happy. I don't want to go on and blab about how much we love each other or how we are such a good match, because I think its pretty evident. Besides sometimes it's even simpler – while there might be many others that I could have been happy with, I found the right person.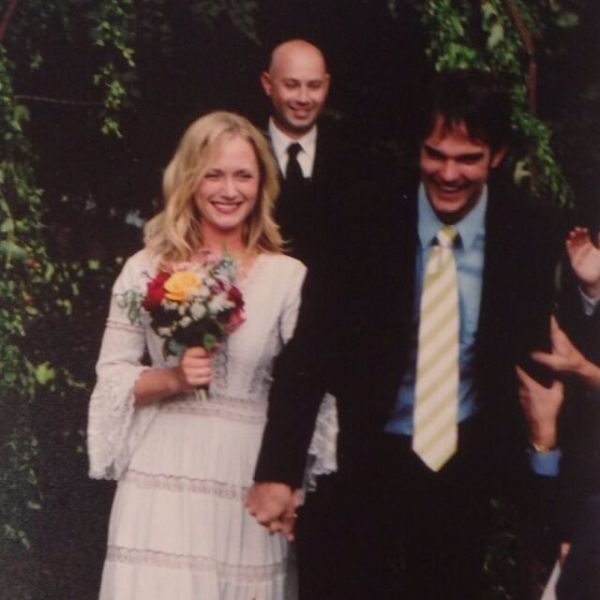 Caption: Emily Henderson and Brian Henderson exchanged wedding vows on September 23, 2006.
Photo Credit: stylebyemilyhenderson.com
Like every couple, Emily and Brian's relationship had their share of ups and downs. But their desire to be together was stronger. Emily shares that her relationship with Brian has been good, but not without problems. Drawing the similarities between health and relationship, she wrote,
The last 15 years with him have been so good, but not without our problems. Some years were amazing (last year, for instance), and some years weren't so good (the year after I won Design Star, 5 years ago). It's almost like the health of a long-term relationship is similar in a lot of ways to your own physical health. Nobody has perfect health their entire life. Everybody has some problems. It's just figuring them out, diagnosing them, knowing how serious are they are and learning how to treat them that determines whether you survive or not.
Moreover, Emily expressed the strength of her relationship as,
I guess what has kept us together, besides the basics – our genuine like for each other, open communication, respect, kindness, unconditional love, sacrifice, trust, honesty, endless fun, shared love and obsession of our child, etc – is that we talk about our problems pretty openly and consistently.
Emily and Brian share two children together, a son, Charlie Henderson born on December 11, 2013, and a daughter, Elliot Henderson born on October 19, 2015.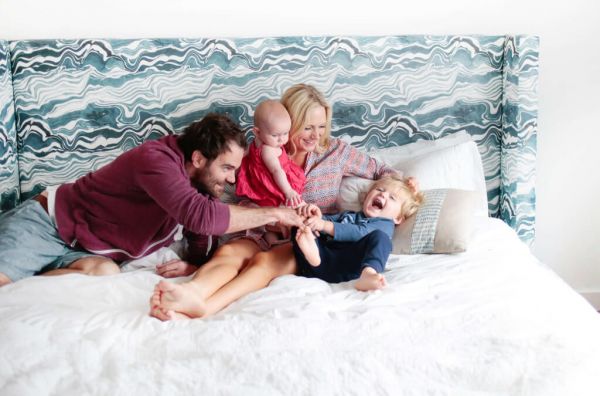 Caption: The happy family of Emily and Brain and they are spending quality time with their children.
Photo Credit: stylebyemilyhenderson.com
Like every parent, Emily desires to give the best upbringing to their children. She stated her goal to have the happiest relationship with Brian, as it directly affects the emotional health of their children.
to have the happiest relationship we can so that our kids can have healthiest emotional upbringing possible.
Similarly, in her blog post on September 23, 2016, she shared that Brian has been a good dad since he embraced fatherhood, with the birth of their first child, son, Charlie Henderson.
He was, and still is, the best dad that I've ever known. He is caring, patient, attentive, responsible, hardworking, sacrificing, full of compromise, and intelligent conversation with both me and our kids. We're on the same page and we created this extremely loving, happy family and home. The first year of Charlie's life I was so smitten by him. Being a good dad is endlessly attractive and I spent hours staring at him thinking thank God I married this guy.
Emily turned 37 years old, and she shared that her sense of security and the ability to love deeper has grown with age.
Love runs deeper for your partner at 37 than at 27. That kind of connection is to be absolutely celebrated. My 27 year old self didn't know how deeply she could love the 38 year old Brian.
Emily is not a professional while giving relationship advice, but she shares her experiences through her blog posts. But the main message she conveys is that every relationship has their problems, but to obtain the desired height in a relation, the desire of togetherness must be stronger than the problems.
Stay with us for the emerging updates on Emily Henderson!