Entertainment
Emily Procter Revealed Her Feeling On Being Pregnant With A Baby Who Has Grown To Be Beautiful
Motherhood is a beautiful experience in a woman's life. It's the dream of every woman to be a  mother one day and nurture the child. CSI: Miami's star Emily Procter has also become pregnant, and there is no limit of her happiness right now. Let's delve more into her life and find out what pregnancy meant for her.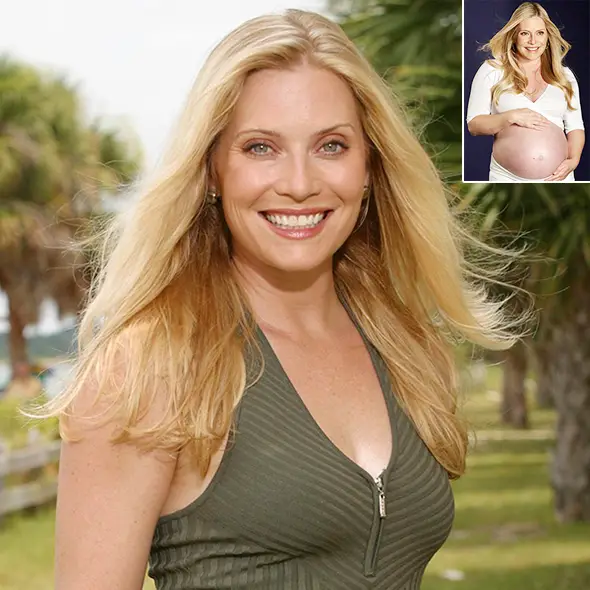 Motherhood is a beautiful experience in a woman's life. It's the dream of every woman to be a mother one day and nurture the child. CSI: Miami's star Emily Procter also dreamed of becoming a mother someday and this dream of her's was fulfilled with a daughter's arrival in her life. Let's delve more into her life and find out what pregnancy meant for her.
Emily Cherishes The Bond With Her Daughter:
On December 8, 2010, Emily's dream to be a mother was fulfilled as she gave birth to a baby girl. She and her husband to be named their daughter as Philippa Frances who is also called Pippa. Pippa has grown up to be a beautiful six years old, and Emily shares a very special bond with her daughter.She was undergoing the pregnancy phase while filming the show CSI: Miami. However, she didn't quit the show due to her delicate physical condition.
She only missed two shows. Moreover, she was surrounded by a very supportive cast that made her feel easy about her situation. In the following statement, she expresses how the men surprised her as;
"You'd think a bunch of tough guys wouldn't really know what to say to a pregnant woman, but all the boys have been so sweet and cute — 'Can I get you anything?' 'Need to sit down?' — I think I might pretend to be pregnant even after the baby comes!'"
Emily has been dating musician Paul Bryan since 2008. Although they were seeing each other for a long time, they are not married till date. However, they have created a beautiful family of their own.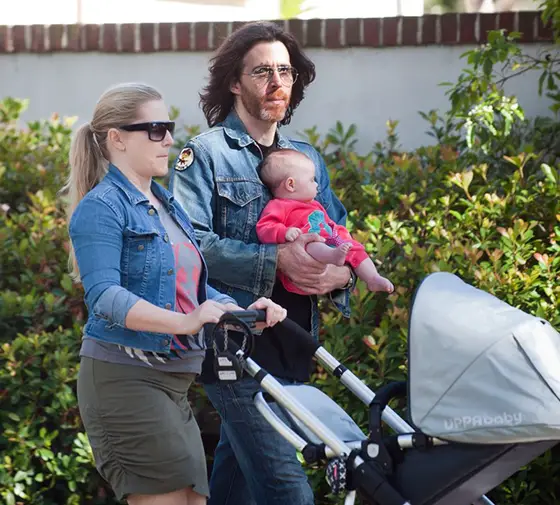 Caption: Emily's boyfriend Paul is carrying their daughter as they go for a walk.(2010)
Photo Credit:celebritybabyscoop.com
Though Emily and her boyfriend are not married, they share a living relationship as partners and participates in the individual responsibility of growing up their daughter as responsible parents.
A Dream Come True And Her Pregnancy Related Feelings:
Have you ever dreamed something and it literally turns out to be a reality? If that has occurred in your life, it's altogether the thing of a different spectrum. Actress Emily went through the similar experience where she was told of being pregnant and there in reality- she was pregnant!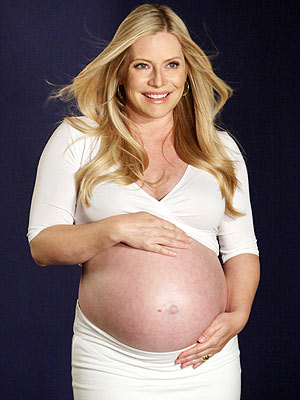 Caption: Emily Procter is pregnant with her first child (2010). 
Photo Credit: people.com
She shares this surreal experience in which her reality coincided with the dream as;
"I'm so excited! I actually had no idea that I was pregnant, and in the middle of the night I had this dream,"
she added;
"There was this old woman, and she said, 'Honey, you're pregnant!' And I said, 'No, I'm not. There's no way.'"
However, Emily considered the dream as a sign. She believed that it might be of some significance in her real life. The dream pushed her to wake up in the middle of the night and conduct the pregnancy test.
The pregnancy test gave the positive result, and there she was pregnant for the first time in her life. Furthermore, she has to say;
"I thought that dream was so bizarre, and when it was positive, of course I told my boyfriend [musician Paul Bryan]," and "We were like, 'Wow! That is unbelievable.'
During pregnancy, Emily was so attached to her baby that she expresses;
"I started crying the other day just thinking that the baby is going to leave me soon!"  "You have this relationship with this person in your belly and it's really amazing." "It's really fun at night, because I can see the baby kicking," 
Moreover, she felt very positive and happy about her pregnancy that she tells;
"I can feel the knee or the foot. The baby is starting to get heavy, and it's a really incredible feeling. I'm so grateful I get to experience this." 
When she was pregnant, she was also supported by many friends as they provided many pieces of advice to Emily and her partner.
Emily Procter's Plastic Surgery:
Rumor has it that Emily underwent plastic surgery. However, the source reveals that she had the surgery on Botox, filler, and breast. There are some photos that compare her appearance before and after the surgery.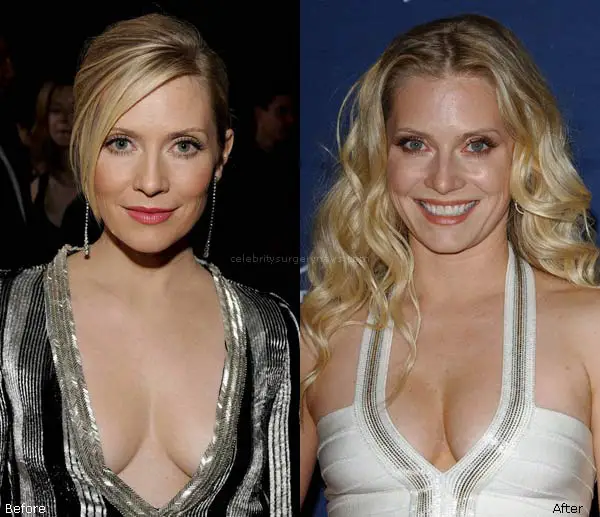 Caption: The change seen in  Emily before and after the plastic surgery.
Photo Credit: celebritysurgerynews.com
The after-surgery photo shows her smooth skin and a puffy face. However, some of her fans deny her surgery telling that the puffy face is the result of her pregnancy. During her pregnancy, she had gained weight which made her look completely different, but after returning to work during post-delivery, she was expected to lose weight which she did. But still, she looked artificially perfect which definitely, suggests plastic surgery.