Entertainment
Emma Caulfield Rejoicing Married Life with Husband and Baby! What's More to Ask
Emma Caulfield Rejoicing Married Life with Husband and Baby! What's More to Ask Sharing the same scenario, the American actress Emma Caulfield is rejoicing her married life with her spouse and new baby girl. Want to know how Emma Caulfield turned her dating life into a perfect marriage? Keep reading!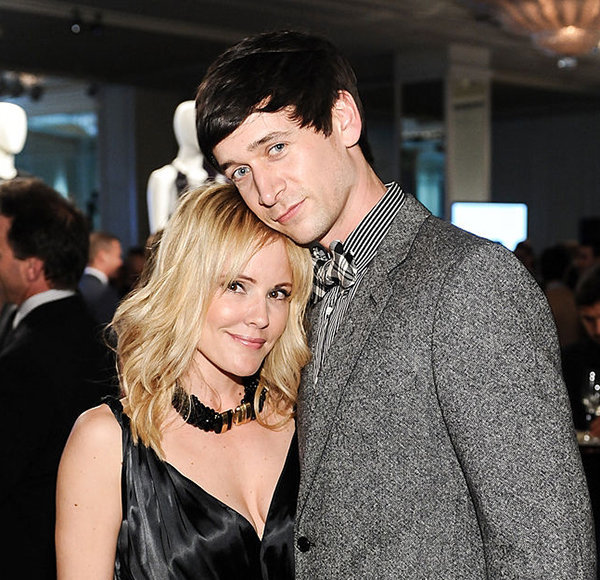 Some say marriages are made in heaven, and maybe they are. However, many things make a marriage successful, and strong friendship between two people is one of those factors which makes a married life triumphant. If two people share good friendship, then their bond takes away any rag of insecurity and leads in a healthy, confident, and triumph relationship.
Sharing the same scenario, the American actress Emma Caulfield is rejoicing her married life with her spouse and new baby girl. Want to know how Emma Caulfield turned her dating life into a perfect marriage? Keep reading!
Emma Caulfield's Exhilarating Married Life And New Baby!
The American actress Emma is currently enjoying a romantic relationship with the actor and producer Mark Leslie Ford. The couple, Emma and Mark got married in June of 2015 and had been living blissfully since then. 
A year after tying the knot, Emma confirmed that she was expecting her first child with her husband, Mark. In March of 2016, she took Twitter to announce the good news.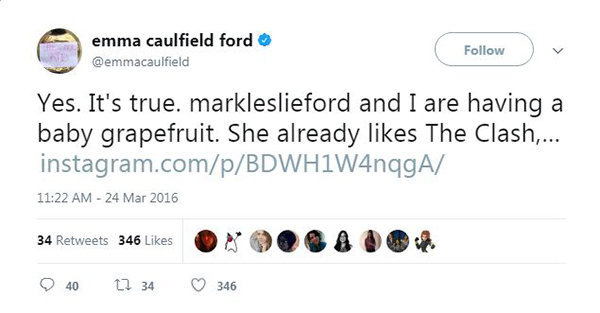 Caption: Emma Caulfield announced her pregnancy on 24 March 2016
Photo Credit:  Emma Caulfield's Twitter
After a couple of months, on July 10, 2016, Emma Caulfield gave birth to a daughter, Knightley Lake Ford which made her family complete.
The duos, Emma and Mark then celebrated their second auspicious wedding anniversary in June 2017. On the anniversary day, Mark shared a collage of pictures on Instagram with his wife Emma and wished her their 2nd wedding anniversary.
Well, Emma is also active in praising her husband and sharing their pictures on social media. 
Mark was seen attending the 42nd annual Toronto International Film Festival in September of 2017 with a friend Ksenia Solo. Emma took that chance to congratulate her husband and friend by sharing their pictures on Instagram. 
Despite being a good wife, Emma is also a loving mother. She is very much concerned about her daughter and feels blessed to have her in life. 
Well, Emma has been sharing different pictures with her husband and daughter which shows her love towards them. Back in October 2017, Emma shared a photo of her husband and daughter with a caption "My ride or die."
Looking at Emma's post, she undoubtedly has a healthy relationship with her husband Mark and daughter, Knightley. But prior enjoying blissful married life, Emma went through a devastating relationship with her boyfriend-turned-husband Cornelius Grobbelaar.
The then-couple, Emma Caulfield, and Cornelius Grobbelaar got married two months after they saw each other for the first time. The duo tied the knot on August 23, 2006. However, they decided to split after being together for nearly four years.
Caption: Emma Caulfield talking about her ex-husband Cornelius Grobbelaar (Published on May 18, 2010)
On May 13, 2010, Emma filled for divorce citing irreconcilable difference. However, the exact reason behind it has not been revealed.
After being single for a long time, Emma then got married to her present husband, Mark. And from the day she got married, it was all rejoicing for her. Emma undoubtedly has a happy married life with her husband and daughter.
Emma Caulfield's Short WiKi
The American actress, Emma Caulfield, who is better known for her role as Anya Jenkins on the television series 'Buffy the Vampire Slayer' was born on April 8, 1973. She was born to father, Rodney Chukker, and mother, Denise Chukker in San Diego and was raised with a sibling, Samantha May Killebrew.
Emma studied drama at the La Jolla Playhouse and the Old Globe Theatre in San Diego. For additional studies in drama, she traveled to the American school (TASIS) in London, England. Likewise, she was recognized for her acting and won the distinguished honor of 'Excellence in Theatre Arts' at her high school.
Emma then got fame for appearing as Brandon Walsh's girlfriend, Susan Keats, on Beverly Hills (1995-1996). However, she made her film debut on 'Darkness Falls' in 2003. She received significant applause for her portrayal in the 2007 short movie 'Hollow' which boosted her career.
Emma has appeared in movies like 'Confident,' 'Removal,' 'Timer' and has also shown her talents in television series like 'A Valentine Carol,' 'Gigantic,' Life Unexpected,' Royal Pains.' and many more.
Recently, she made a guest appearance in 'Fear the Walking Dead' and was also was seen in 'Training Day.' With her striving success in the industry, Emma has maintained a net worth of $4 million.