Entertainment
Eric Johnson Got Wife For Birthday; Meet His Partner-In-Crime
Eric Johnson Got Wife For Birthday; Meet His Partner-In-Crime Well, Eric Jhonson, best known as Jack Hyde on "The Fifty Shades Darker" is one of those rare people who got to feel it.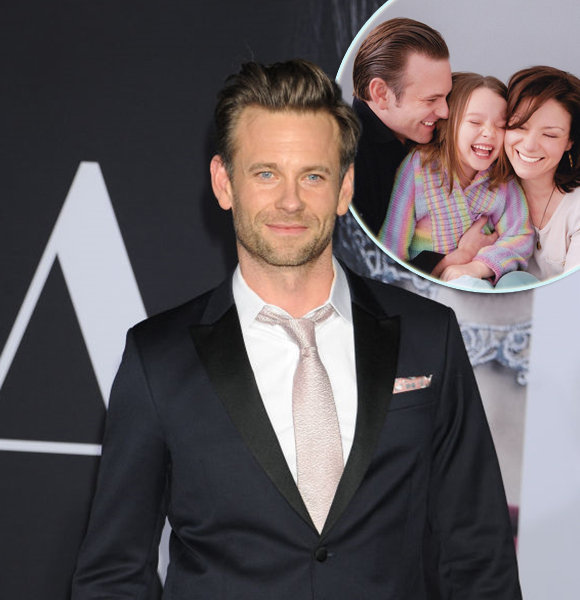 The day when you were born is special in itself. Imagine getting "I DO" as a present on the same day you were born. Doesn't it feel amazing?
Well, Eric Jhonson, best known as Jack Hyde on "The Fifty Shades Darker" is one of those rare people who got to feel it.
So, who gave Eric his best birthday present? Who do you think is his partner-in-crime? Tag along to know more about him!
Eric Jhonson's Birthday Present; His Wife!
Eric Jhonson, who also plays a good guy role in Hallmark channel, married Adria Budd Johnson who is a writer-producer.The couple took their marriage vows back on August 7, 2004, on Eric's 25th birthday after the duo met on the sets of 'Smallville.' 
However, the couple has been cherishing those vows for more than ten years now. They celebrated their 13th-anniversary last year which also happened to be a 'Birthaversay' for Eric. The cake they cut on their wedding day also happened to be Eric's birthday cake.
Adria tweeted wishing Birthaversary to her husband on their marriage anniversary on August 7 of 2017.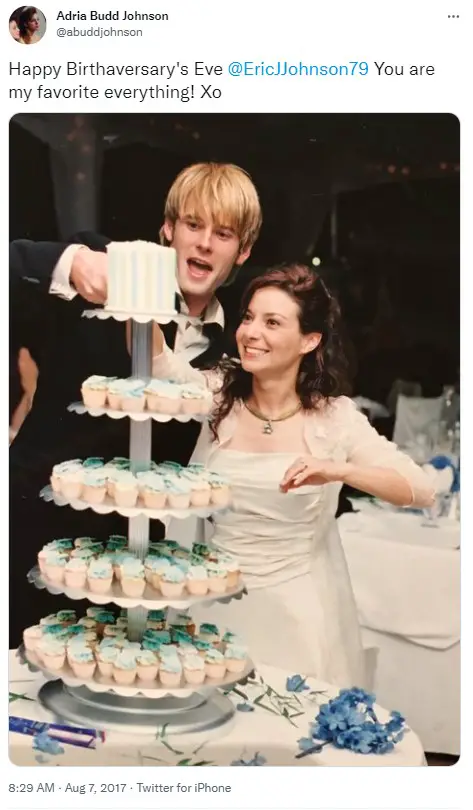 Moreover, Eric did not forget to wish his wife, a Happy Anniversary. While wishing his wife through Twitter, he also stated that he regards the words "I Do" as the best birthday present ever. He also hashtagged the tweet as "lucky13" marking it as the 13th year of blessings.

Apart from the anniversary posts, Adria on her Instagram had a picture of her, Eric and Santa Claus giving it a throwback as a reminisce to the time they really met Santa. The picture was posted on 15 December 2016.
The couple is also blessed with a baby girl, Calla. After three years of their marriage, Adria gave birth to a girl on October 11, 2007. Back on October 11, 2015, Adria celebrated 8th Anniversary of the birth of her daughter stating she lost 14lbs in one day. 
However, the couple has not spoken anything of having other children yet.
Eric Johnson's Bio:
Eric Johnson, who stands at the height of 6' 2" was born on August 7, 1979. While growing up, Eric always dreamt of being an actor and saw his future in the film industry. He started his acting career at the age of 9 when his parents enrolled him in the theater school and then landed roles for small screen productions when he was 18.
However, Eric has appeared in various films and television shows. He first appeared as Lance on 'Road to Saddle River' back in 1994. Since then he has starred in 'Heart of the Sun' (1998), 'Night Man' (1999), and 'Smallville' (2001). Likewise, he has appeared in 'Criminal Minds' (2006), 'Flash Gordon' (2007), 'Supernatural' (2010), 'The Knick' (2014).
Likewise, he is currently working the Canadian crime drama series "Caught" which releases on 26 February 2018. Even though Eric has made his name in the film industry, he has not yet revealed his net worth to the media.