Entertainment
Eric Osborne: Is He Really Dating With On-Screen Girlfriend Ana Golja? Or, is He Gay?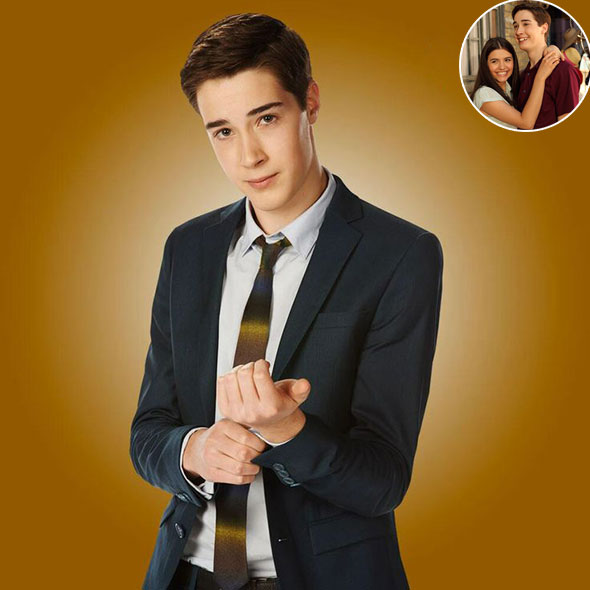 Quick Information
Date of Birth Feb 25, 1997
Nationality

Canadian

Birth Place

Oshawa, Canada

Profession

Actor

Zodiac Sign

Pisces

Ethnicity/Race

White

Sister/s

Sarah Osborne

Relationship Status

Dating

Girlfriend

Ana Golja (2013-present)

Gay

No

Net Worth

N/A

Height/ How Tall? 6' 1" (1.85 m)
Hair Color

Brown

Eye Color

Green
On-screen screen matchups turning into real life romance is a normal thing in the entertainment industry. Look like actor Eric Osborne has stumbled into a similar situation. So, let's see what he has to share with us.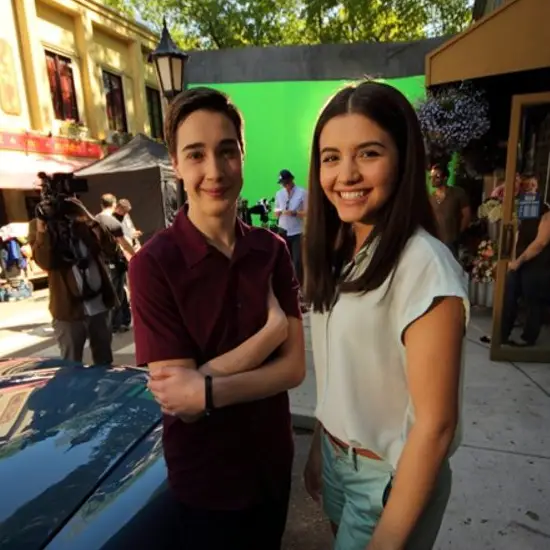 Caption: Eric Osborne with girlfriend Ana Golja in 2013 at the sets of Degrassi.
Source: nocookie.net
Is Eric Osborne Gay?
Eric Osborne plays the role of Miles David Hollingsworth III on the TV show ' Degrassi' where Miles is a bisexual. Furthermore, because of his support of the LGBT community questions about his sexuality have been up in the air for quite some time now. Eric addressed to these rumors on his ask.fm when he responded to a question by his fan regarding his sexual orientation.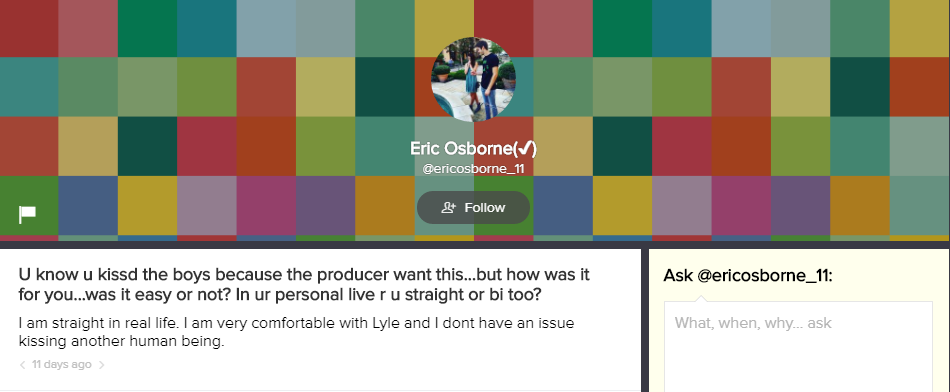 Caption: Eric Osborne responds to a question about his sexuality by a fan .
Source: ask.fm
This leaves little to imagine, and now that it has come from the person involved himself, we can safely say that he is straight.
Girlfriend and Dating?
Eric Osborne, more commonly known as Miles Hollingsworth IIIm is believed to be dating his on-screen girlfriend Ana Golja in real life as well. According to sources, Eric Osborne has been dating the beautiful Ana Golja since 2013. Well, this news surely faded out the rumors that indicated he had a sexual preference of a gay person.
Although they reportedly have been in a relationship for about three years now, the couple has managed to keep their love story low profiled. Maybe, they just want to take time off camera and enjoy each other company more freely without paparazzi behind their tail.
Breakup with Ana:
Recently, when he was asked by a fan about his current dating life with Ana on his ask.fm. Sadly, he admitted that he had broken up with Ana, this question was answered 11 days ago (as of January 25, 2017.)

Caption: Eric confirms that he has broken up with Ana
Interestingly, mere days ago from this post, he answered another fan about his relationship.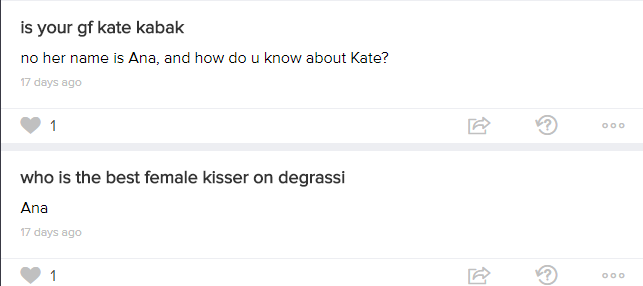 Caption: Eric Osborne on who his girlfriend is
Ouch! Sadly not a lot of official information about their breakup has been revealed so far
Engaged or Married?
We think that Eric is still waiting for the right woman to appear in his life. We hope whoever it is; he will treasure her and eventually marry her.
Apart from their love story, we cannot help but notice the closeness between Eric Osborne and Olivia Scriven. In an interview with MTV in November of 2013, Eric and Olivia had an interesting chat with the hosts.
Caption: After Degrassi: Olivia Scriven & Eric Osborne(2013)
They were asked the question, 'What you do in real life when you like someone?'.
As soon as the question was thrown onto them, both turned to each other giving what one of the hosts related as 'should we tell them' look. Not sure what that look exactly meant, but they both seemed a little shyer.
Another thing that is peculiar about them is that, according to the Degrassi bio of Eric, Olivia thinks Eric is a nice kisser. The bio also states that Erica prefers him with facial hair.
Moreover, it also states that Eric was Ana's first kiss, which we think did the trick for them. Interestingly, Eric is just three days older than Olivia.
However, the interview took place in 2013, the year Eric and Ana probably started dating. We are sure that there is nothing fishy going on. If anything comes up, we will let you know.
Eleanor Shore:
Apart from the acting career, Eric is also equally involved in music making and also has a band called Eleanor Shore which includes Ehren Kassam, Connor Dupont and Sean McAlister who are also part of the Degrassi Cast. The young group of talented musicians recently released their debut album on March 1, 2016, called Basement which is a demo session.
Let's have a look at what they do.
The Girl Behind the Door - Eleanor Shore
Eric Osborne's Short Bio:
Eric Osborne was born on February 25, 1997 (age - 19), in Oshawa. He joined the Degrassi cast in its thirteenth season in 2013. After that, Eric started to gather a fan base and got popular.
According to his Degrassi bio, Eric was in a car with his dad when he found out from his mother that he got the role of Miles Hollingsworth III. His mother  had read his email
He was also seen in the short movie "Crazy House" in 2015.  This year, he will be seen in another short movie "If a Bird Cannot Swim?"
Besides acting, Eric has kept his interest in various kinds of musical instruments like guitar, piano, saxophone, drums, and much more. He also plays hockey, soccer, volleyball, wakeboards, waterskis, and downhill skis. Till now, the net worth or salary of this young actor has not been disclosed. He is scheduled to return in the 3rd season of Degrassi this year.