Entertainment
Eric Winter Married Roselyn Sánchez In An Intimate Wedding; On Thoughts Of Having Another Baby With Wife?
While some people are busy maintaining their personal life, Eric Winter is brewing a plan to broaden his family with loving wife, roselyn sánchez. The couple seems to be bound for the rest of her life, and now they seem to be planning to tighten the bond further. Let's look at what the couple is up to and also take a look back at their intimate wedding.
Eric Winter, an actor, and producer married his singer-songwriter girlfriend, Roselyn Sánchez after meeting her for the first time at an L.A party in 2005. Their dating story is short and a sweet one which apparently packs a whole lot of love. Eric proposed to Roselyn on a casual date which happened to be in Mammoth Lakes, Calif in December of 2007. There in a weekend long date, Eric planned to commence his big step and ask Roselyn to be the love of his life forever.
He dropped the question while enjoying a kayak ride and took the help of bioluminescent bay as he expressed the feel of that moment,
"I was petrified she would drop the ring. It never left the box. She accepted; I shut the box and told her she could see it again on land."
Later, it was revealed that Roselyn's favorite jeweler Michael Barin was the one who designed the 4.3 carat sparkling piece of rock.Following the proposal, the couple tied the knot a year later on November 29, 2008, in Old San Juan where 250 guests were present to witness the holy matrimony.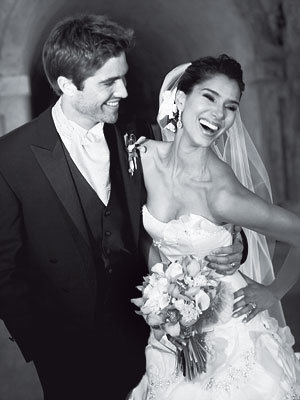 Caption: Eric and Roselyn looking happy and lovely on their wedding day (November 2008)
Photo Credit: instyle.com
Could One child Not Be Enough?
After about four years staying as a married couple, Eric and Roselyn welcomed a baby daughter into their little world and named her Sebella Rose.The little bundle of joy is growing up fast, and at the moment, she is about five years old. However, it looks that the husband and wife of eight years are not satisfied with the size of their family as in 2014, Roselyn revealed that she would love to have another baby.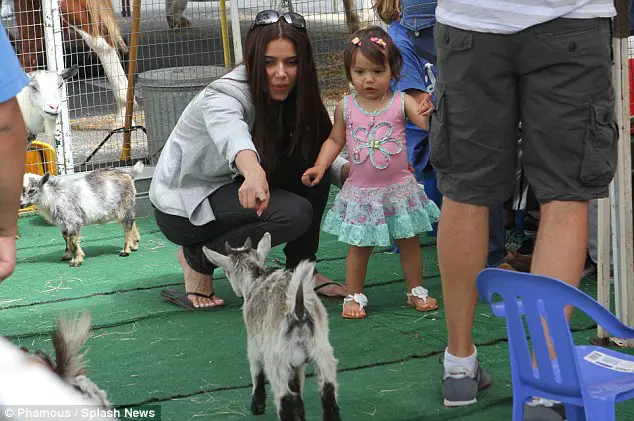 Caption: Roselyn spending her undivided attention with baby daughter Sebella Rose (2013). 
Photo credit: Phamous/Splash News
The want of another baby might be related to her having a large family of her own. She said to People,
"I don't want Sebella to be an only child. I come from a big family, and I don't know if it's because I grew up with so many brothers, but I do want her to experience what it is to have a sibling."
And furthermore continued saying why she wants a baby son instead of a daughter,
"So I would love to have one more soon … I hope it happens! If I'm completely honest with you, I would love to experience having a boy — especially because I grew up with three brothers and I understand the male energy. In my heart, I wish I could give Sebella a little brother."
Roselyn also revealed how well Eric who was previously married to Allison Ford (2001-2004) does the household chores. She explained,
"Everything! I can go to work and be perfectly comfortable and relaxed because he is a mom! He's really, really involved. He cooks, changes diapers, puts her to bed every single night, plays with her — it's so incredible. I knew when I met him, and I saw how he was with his mom — I knew, 'This guy's going to be a great dad because he just adores his mom."
And explicitly explained how blessed she is to have Eric as her husband and said that the couple enjoys their dates night amid of their busy schedule.
"When I see how incredible he is, I just go, 'Oh my God, I am so freaking lucky and blessed.' I see him with different eyes. Before he was my husband, my best friend, my partner — now he's my baby daddy, and he's so wonderful."
She added,
"It's very important to us to still have date nights," Sánchez says. "Now, with the baby, it's different because we have to plan it with the nanny and the grandma, but at least every two weeks we have a nice dinner or a nice date night so we can just sit down and chill and speak."
Eric Winter is currently busy appearing on APB and Rosewood whereas his wife Roselyn currently has a project in post-production but still, neither of them have revealed their respective net worth. Having a busy career like this might be the reason why we did not hear the news of the arrival of another baby, but everybody is still in hopes that the news might hit us anytime soon.