Entertainment
Esai Morales Low-Key Dating! Sharing Adorably Little Family With Girlfriend
The famous 'La Bamba' star, Esai Morales has been offering a glimpse of his family life after remaining private for a long time. So, if you are wondering what is happening with Esai off cameras, keep on reading till the end!
Esai Morales's Adorable Family:
The American Actor, Esai Morales is very tight-lipped regarding his personal life. However, his relationship with the beautiful Elvimar Silva came to spotlight when the pair welcomed their daughter, Mariana Oliveira Morales, back in 2010. The exact timeline of their dating has not been revealed to date.
Meanwhile, declaring that the birth of their daughter showered Esai with happiness, he told People,
"I can't think of another time in my life that I've been happier than now, I know it sounds so cliché but we feel incredibly blessed!"
Moreover, Esai's daughter made her first public appearance by attending the Jayneoni Moore's Pre-Oscar Studio gifting suite with her parents back in 2011. And since then, the couple can be seen attending numerous programs along with their daughter often.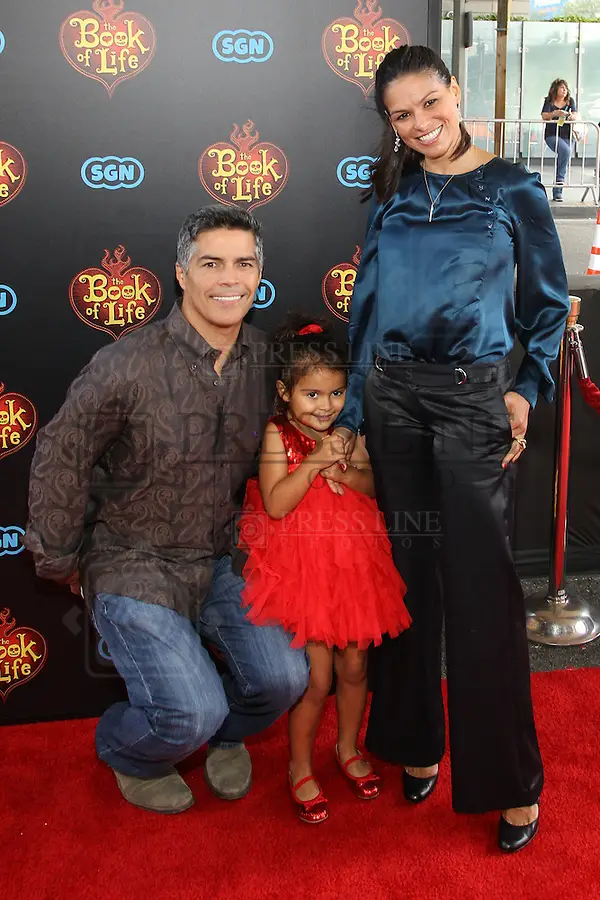 Esai Morales, Elvimar Silva, Mariana Oliveira Morales attend 'The Book of Life' Los Angeles Premiere on 12 October 2014 (Photo: photoshelter)
The blissful family was again seen attending the National Hispanic Foundation for the Arts Noche de Gala at The Mayflower Hotel in Washington, DC.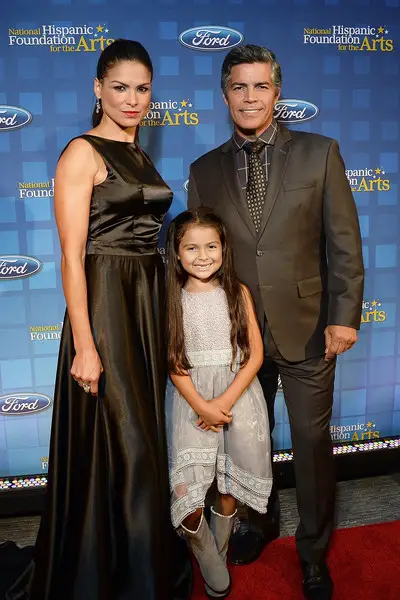 Esai Morales, Elvimar Silva, with their daughter, Mariana Oliveira Morales, at the  National Hispanic Foundation for the Arts on 11 September 2017 (Photo: Zimbio)
Esai, who looks content with sharing his life with his wife-like-girlfriend and his cute little daughter, knows how to spend quality time with his family. Back on 26 September 2015, Esai posted a picture of him with his daughter in Disneyland and added that he was enjoying his daughter's company.
Moreover, Esai took to Instagram again in November 2015 to share a picture of his daughter, calling her his princess on the caption.
Likewise, the loving father, Esai posted another adorably cute picture on his Instagram in January 2017 where Marianna can be seen giving a forehead kiss to her father. Esai indicated in the caption that though her daughter interrupted his work, such kisses are much welcome.
Esai seems to be a very loving father to his daughter and a supportive partner to Elvimar Silva.
The 55-year-old Esai has an adorable family, indeed. However, it would be more pleasing for Esai's fans if he shared more of his personal details, including his relationship status with Elvimar. No news of their marriage or engagement has been out in the media yet. 
Esai Morales In Brief: 
Esai Morales was born on 1 October 1962 in Brooklyn, New York. The American actor is of Puerto-Rican ethnicity.
Esai found his way into the entertainment industry with some theater works and made his debut in the big screen with the movie, 'Forty Deuce.' Some of his screen credits include 'La Bamba,' 'Bad Boys,' 'The Principal,' 'Gun Hill Road,' 'The Disappearance of Garcia Lorca,' 'Fast Food Nation,' and 'Freejack.'
Because of his dedication towards his career, Esai is able to enjoy his family life that gets supported by his net worth of $2 million.