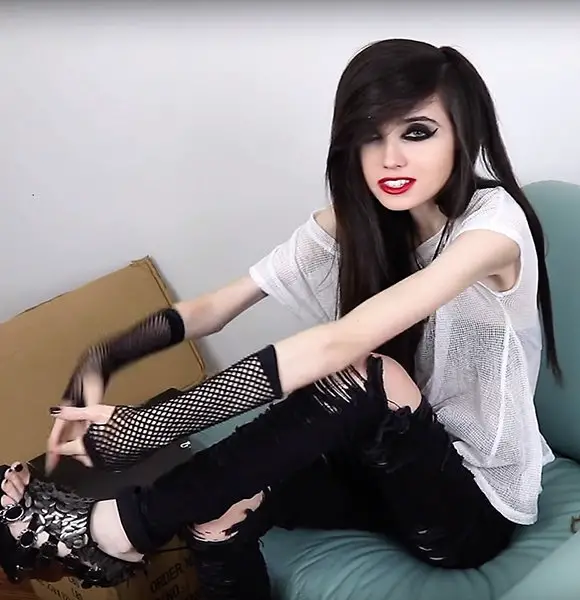 YouTube star Eugenia Cooney has managed to baffle her fans with some of her obsessions over the years. One of her weird behavior is considered her infatuation with fictional characters.
While there's nothing wrong with the YouTuber having a healthy crush on some imaginary personality such as the characters of Sailor Moon, she must be cautious of not taking her obsession to the extreme.
Who Is Eugenia Cooney's Boyfriend?
The internet icon has been able to cover up her dating status through her fascination with emo genre characters. Tim Burton's The Nightmare Before Christmas stands out as one of the classic movies, especially among the emo audiences. And, Eugenia - a die-hard follower of this pop culture - is no stranger to the film.
Tim Burton's Wife:- Helena Bonham Carter Husband, Children, Height
Ever since 2013, she has jokingly referred to the character Jack Skellington from The Nightmare Before Christmas as her boyfriend. Furthermore, in 2016, through her YouTube video, Eugenia dodged the question about her dating status by referring to Jack as her only boyfriend.
For those who are not aware of Jack, he resembles a skinny skeleton and is famous among the emo people.
Further, there are chances that the YouTube icon was trying to keep a lowkey profile on her dating life by diverting fans. But, since no facts or hints point towards the existence of a boyfriend or an existing dating life, chances are she is probably single.
Death Rumors, Before And After
Eugenia's lean figure and extremly thin appearance rose suspicions among her fans and haters alike. She never accepted the fact that she was suffering from anorexia, a disorder characterized by the desire to lose weight by refusing to eat.
Likewise, after a month of her absence from social media, rumors of her death started to surface on the internet. The ones who had started the death rumors made her weight issue as the basis behind the false news.
But, the YouTuber soon dismissed the rumors via a tweet on 11th February 2019, citing that she had been working on her health by seeking professional help. As of now, Eugenia has made a considerable change in her body appearance.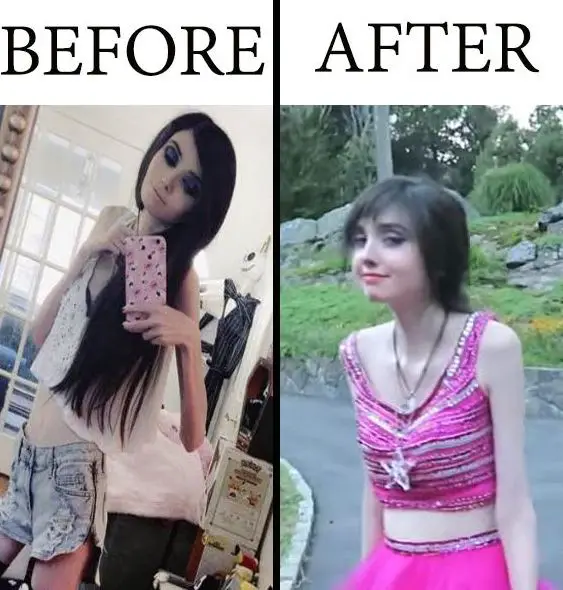 Eugenia Cooney before and after seeking the assistance of a medical professional in 2019 (Photo: liverampup.com)
In comparison to her prior bodyweight of below 40 kilograms, she seems to have gained a few kilos. Eugenia also appears to be healthier than before.
Bio: Age, Family, Net Worth
Eugenia - height  5 feet & 7 inches (1.7 meters) - was born on 27th July 1994 in Massachusetts, USA. Her mom is Debra Cooney;  whereas, her brother is Chip Cooney. Interestingly, Eugenia's mom has also made appearances on a few of her videos already.
Following the 25-year-old internet icons anorexia controversy, Debra received heavy criticisms for neglecting her daughter's health issues.
Covered His Health Issues :- Dan Abrams Revelation Of Battling Cancer Is Help To Others
Talking about her finance, Eugenia makes estimated monthly earnings of over $ 40,000 through her YouTube Channel. The platform remains a crucial part of her income as it has surpassed more than two million followers already. However, the YouTuber's net worth remains under wraps for now.