Entertainment
Evan Davis & Gay Partner, Long-Term Relationship - 'Too Old To Start Family'!
Openly gay Evan Davis, who is the face of BBC Tv's series Newsnight since 2014, has been a beacon of hope for millions of not straightly oriented sexes.
And with his blissful life with a long-term partner, he has fought against the old stereotypes. Besides his long-term relationship, the couple is deprived of having a family.
But has that affected their relationship? Keep reading to find out the answer.
Publically Gay, Rejoices With Same Age Partner
Evan started developing the love towards men when he hit the puberty. It was after he attended a University in America that he opened up about his sexuality.
Moreover, he also had his first relationship with a male counterpart in America itself, but he outed himself as a gay publically at the end of 1997 after he first joined the BBC program Newsnight.
Four years after announcing himself as a gay, Evan started dating French landscape artist, Guillaume Baltz, in 2002. They entered into a civil partnership in 2004 after the British Government passed a bill legalizing same-sex marriage.
Despite massive interest in the economist's life, he rarely gives insights into his personal life. Similarly, their social media sites are also not awash with their romantic time together as they rarely mention each other.
However, the loved-up duo was spotted attending the National Student Pride festival, a grand jamboree of gay and LGBT students, together in 2017. Guillaume posted a selfie of the event with his partner via Twitter from the event.
Evan, who commands a salary of $250-299Ks, was one of the keynote speakers of the festival where he stressed about the rights to equality for gay couples.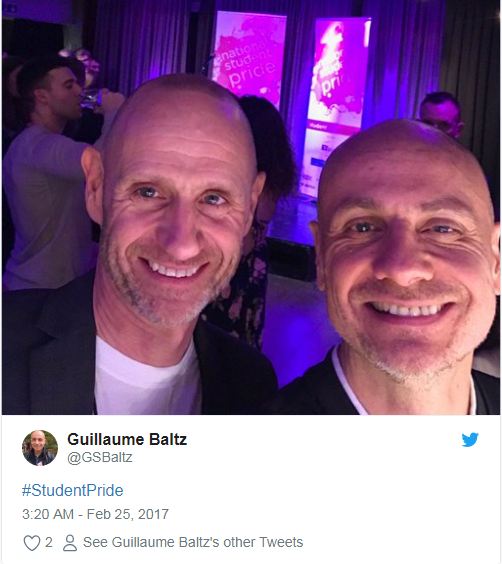 Evan Davis with partner Guillaume Baltz attends Student Pride festival 2017 (Photo: Guillaume Baltz's Twitter)
The couple, who are rarely seen in social events, spend their time away from the prying eyes of the paparazzi in a cozy home in London. The old age couple spends their time together along with a whippet called Mr. Whippy. However, the duo, who are both aged 56, do not have any children.
Dreams About Children
The Davis household has not got any children, but Evan knows the importance of having a stable family life for gay couples.
Evan, in an interview with the Independent in 2015, said that gay community had less discipline because of not having kids and a slightly disposable income. He further claimed in the same interview that the absence of real family could lead gay people dabbling into drugs. He was quoted saying:
"The gay community has less discipline because it doesn't have kids to go home to, and slightly more disposable income, and then add to that that when these things(drugs) catch on they tend to have a momentum."
Later in November 2015, he was asked about having his children by the Dailymail. In the reply, Evan said that he wanted a child of his own but frankly admitted that he and his partner were too old to parent children.
He even lamented about the past times not being supportive of gay men having a family and said he would love to have children if times in the past had been more supportive of the gay relationship. He affirmed:
"We're probably too old to think about children — maybe 20 years ago, if we were younger, it would be different. There's much more around in terms of gay parenting now than there was when I was about 35, but what can we do now?"
Despite not having children, the couple enjoys their time together with their 5-year-old whippet, and their wise old romance which has been relatively hitch-free does not show any signs of slowing down as well.
Think we're missing something? Do let us know in the comment section below!