Entertainment
Even With A Long List Of Girlfriends In The Past, Adam Duritz Does Not Shares Surprise On Not Being Married.
With the pace of time, feelings, thoughts, ideologies and perceptions of an ordinary person often change, and it's obvious for people to get inflamed and attracted to any random people varying on the current preference. Even getting married in a hurry would eventually land people to a marriage counselor or the courtroom.
Thus, despite having an extensive list of girlfriends in the past, musician Adam Duritz has never once been married nor is regarding getting married. Today, we shall dig in the actual reason for keeping marriage away and learn few details about his family background and net worth.
Why Not Married To Any Of The Partner Dated Till Date?
Known for his charismatic charm, musician Adam Duritz has dated many known faces of Hollywood. But despite having dated women for half of his life, he seems to have remained single and unmarried. On an interview published by telegraph.co.uk on April 17, 2013, Adam openly confessed the fact of dating bunches of women and being an active person in the social networking sites.
Followingly, he honestly accepted the fact of writing songs and going on a tour after every break up while he opened up about all those relationships which were not worth of turning into marriage. He said:
"In the past, whenever anything went wrong in a relationship I could always write a song about it, and that made it OK. I could go another year, make another record, do another tour," Duritz says. "I regret not having had the relationship that would have led to marriage and kids – so now I'm wondering, will I ever have children?"
And during the promotion of his album "Somewhere Under Wonderland" in the year 2014, he spoke about his experiences about dating women and its unchanging scenario. As reported by usatoday.com on August 29, 2014, he revealed the fact of crashing out after getting hooked with the ladies. He said:
"You gotta, like, meet another person. In my case, they are girls, who you have NO IDEA what they are thinking, and then you just sort of, like, muddle through, and then you crash into a wall. Something like that, usually."
Adam is currently unmarried and has no children. Although he is active on the social networking sites, looks like he is misfortunate in finding the perfect partner. Even at the age of 52, he is stuck with his music career while he has no one to share the success of his life.
Caption: Counting Crows performing Mr. Jones in 1993 for Geffen Records on June 16, 2009.
There is a saying" Right thing comes at the right time." So when the time is right, Adam will definitely get a good wife who would accept him with every positive factors and flaw he owes.
Uncountable Dates In Life, Has He Found The Perfect Dating Partner After All Those Failures?
When getting hold of Adam's last relationship Adam had dated an Amercian actress Emmy Rossum in the early year of September 2009.The dating rumors brewed in after Emmy filed a divorce with her former husband in the same year and got spotted with Adam in the frequent events.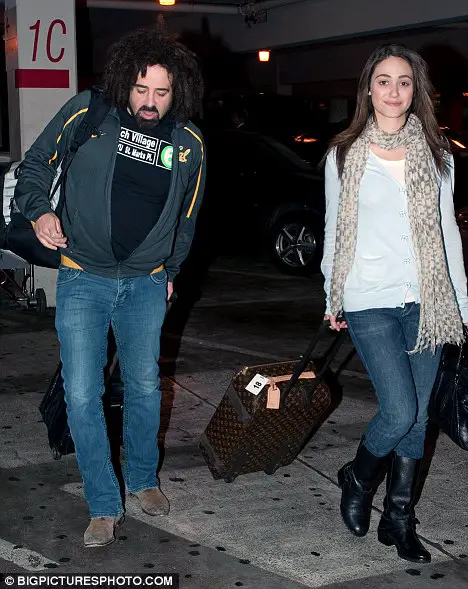 Caption: Adam with Emmy Rossum at the LA airport in March 2010.
Photo Credit: dailymail.co.uk
The relationship was confirmed when Emmy spoke Adam being kind, intelligent and creative. The Source, the People.com posted the feelings Emmy had for Adam. She said:
"I get why chicks dig him.He's extremely kind, incredibly intelligent, thoughtful, creative and respectful."
Though Emmy found Adam to be kind hearted, the relationship lasted for a year, and in the year 2010, the relationship is said to have broken apart. However, the actual reason for the breakup has not been revealed by both the couple while Emmy still considers Adam to be her close friend. Emmy currently is reported to be engaged to Sam Esmail in the year 2015.
When going through his dating life, till date he has been said to have dated around 11 women whose name has been on the surface while there must be other undisclosed affairs which got overshadowed.
He has dated famous Hollywood high might female celebs like Whitney Casey(2005), Trishelle Cannatella(2006), Samantha Mathis(2004-2005), Jennifer Aniston(1995), Mary-Louise Parker (1997 - 1998), Joanna Going, Lara Flynn Boyle and Monica Potter.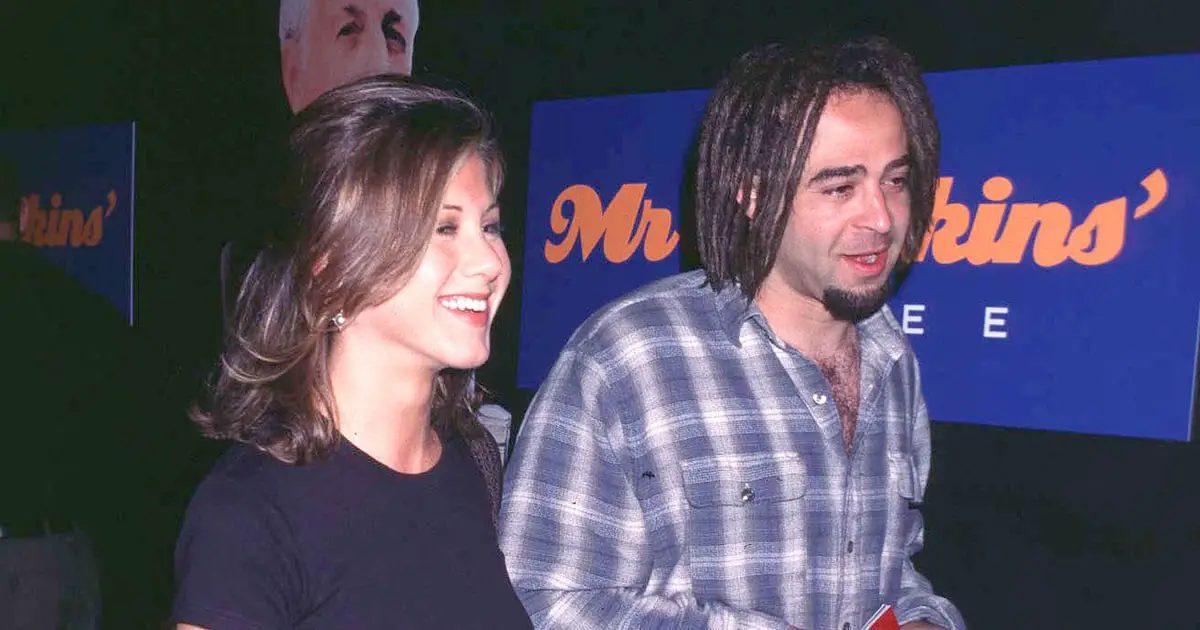 Caption: Jennifer Aniston and Adam Duritz spending their quality time together (1995).
Photo Credit: vk.com
Although his every relationship has fallen apart, he still is a man of spirit who is using the Tinder dating app. When speaking about the age factor, the musician himself has declined the idea of age being a barrier for using the dating app. He also openly confronted the secret of his married fellow mates who had acknowledged him to avoid the app and who is using the app along with their wives behind the back of each other. He said:
"Everybody is on Tinder. My married friends are on Tinder. Seriously, there is nobody who is not on Tinder at this point. It's a video game. My married publicist who told me not to go on Tinder is on Tinder, and so is her husband."
Adam is reported to be single and has remained intact in his social networking life and music career. But he may have been dating mysteriously without giving any hint to the media and his fan followers. He is a womanizer as his previous dating history provides a full disclosure of his relationship tenure and his real spirit to date women younger to his age.
Numerous Hit Albums, How Fine Is His Family Background And Personal Net Worth?
Singer, Adam was born in Baltimore and hails from a non-musical background as both of his parents were doctors. While regarding the ethnicity of Adam, the musician through his song 1492 has disclosed his ethnicity to be Russian Jew American having willingness to be an Indian but impersonating African.
Adam had signed the contract with labels like Gigolo Aunts, Neilson Hubbard and Joe 90. He has given plenty of hit tracks and albums and was also the founder and sole owner of record label Tyrannosaurus Records.
Adam has not only worked in the music field but has also worked in the movie production where he was the executive producer for movies like The Locusts(2007) and Freeloaders(2011). With all his contribution, he has bundled up the total net worth of $40 million.
He is still an active person and got associated with Capital Label records, Mod-L Society, The Himalayans, Sordid Humor and Counting Crows. Well, his music is highly appreciated all over the world and hence he does not only have a huge net worth but also millions of fan followers in his social networking sited who simply adore him.