Entertainment
Everything You Wondered About Robert Hawking In His Wiki-Like Bio; Son Of A Famous Scientist Father Neglecting Fame?
The children of famous people automatically become a celebrity, and very few shy away from the fame bestowed upon by birth, just being someone's children. Robert Hawking is the son of a famous scientist Stephen Hawking but unlike many Robert chooses to be away from the limelight. However, we brought you interesting details regarding his life. Without further ado, let's dig in to find the truth.
Robert Hawking Wiki-Like Bio:
Robert Hawking was born in May 1967 as the eldest son of his utterly famous scientist father, Stephen Hawking. And in his childhood when everyone was busy playing and behaving like one's age, Robert, at the age of 10 years, took the responsibility as a carer of his motor neuron diseased father, Stephen.
In an interview on December 31, 2014, Robert's mother Jane Wilde, who is ex-wife of Stephen Hawking opened up as well, and she shared about the 10-year-old son, Robert who turned carer to his work-obsessed and ailing father. She revealed,
"to do things for his father that children really shouldn't have to do".
Jane continued with Robert's willingness to help his dad,
"Our gorgeous child, who was so willing to help, was having to do things for his father that children really shouldn't have to do,"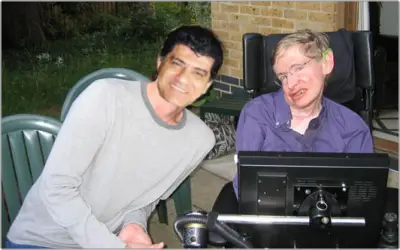 Caption: Robert Hawkings with his father, Stephen Hawkings.
Photo Credit: 4.bp.blogspot.com
Stephen Hawking was a healthy child, but at the age of 22, he was diagnosed with Amyotrophic Lateral Sclerosis (ALS), also known as a motor neuron disease, which gradually paralyzes a person over the decades. Stephen met Robert's mother, Jane Wilde who was his sister's friend. Sparks flew between them, and they eventually got married on July 14, 1965, and about two years later, they were blessed with their first son Robert.
In the name of siblings, Robert has a brother Timothy Hawking(b. April 15, 1979) and sister Lucy Hawkings(b. November 2, 1970) who is a journalist, educator, novelist, and philanthropist.
The loving and helpful child Robert has grown into a man, and many are wondering, regarding the details of his personal life like dating affairs, married life with a wife, and children. But Robert seems to be a very private person and likes to maintain a low key, unlike may individuals who strive to rise in fame.
And it's disappointing as the details of Robert's personal life have not circulated the media. While Robert's personal life is hidden safely away from the limelight, it's unknown if he is romancing with his girlfriend in his personal life or is already a married man who has exchanged the wedding vows with his wife. Also, it remains undisclosed if he has embraced fatherhood and has children or not.
Alike Robert's other details his net worth remains undisclosed in figures but his father Stephen's net worth is known as $ 20 Million.
Stay with us for further updates on Robert Hawking!