Entertainment
Who Is Fabio Viviani's Wife? Recipes For All - Successful Restaurant & Married Life
Success is no accident. It is hard work, perseverance, and most of all, love of what you are doing or learning to do.
The above quote best suits the Italian Chef Fabio Viviani, who showed his passion for food in his early age and became a top restaurant entrepreneur in his later life.
Fabio, who was a fan favorite in the reality series, Top Chef, met his future girlfriend in the US after he moved away from Tuscany to expand his restaurant business.
First Met Girlfriend, Moves To Barrington
In 2009, Fabio who had created a food empire back home first met the tall, gorgeous blonde, Ashley Jung, who was a successful real estate agent, at a cookbook-signing event, but both were unavailable at the time.
After the event, they had occasional interactions until 2013 - when Fabio saw her across a room at a mutual friend's party in Chicago, he thought she was out of her league, but he didn't give up pondering he was an apt foreigner with an accent who knew to cook.
Soon enough, he found himself in a never-ending conversation with Ashely. The chemistry he felt during the conversation was mesmerizing at such level that he befriended a lie.
When Jung asked if whether he was thinking to move to Chicago anytime soon, Fabio couldn't resist his heart from saying,
"Yes, I am. Tomorrow. I'm moving here tomorrow."
Back then, Fabio was living in California for expanding his restaurant business whereas Ashley was residing in Barrington taking care of her ill mother and business.
In the same year, after a brief but romantic long-distance relationship with occasional honeymoon alike meetings, Fabio finally decided to move to Chicago.
However, Jung didn't want to leave her family business and ill mother in Barrington, instead she invited him to visit her home.
The invitation was productive for Fabio, as he was not only starstruck by the beauty of the place but also by the fact that he would be with his love in the place both of them liked.
The place reminded him of his hometown Tuscany with its natural beauty and open spaces.
Previously Married, Engagement, Children
Fabio announced his engagement with his girlfriend, Ashley during an appearance on The Hallmark Channel's lifestyle show Home & Family in February 2014.
However, Fabio and Jung, who had both been married before, kept their marriage date and location confined.
After a year on 20 September 2015, Fabio and Ashley welcomed their first child, Gage Christian Viviani They later posted the picture of their son on his Instagram regarding him as a "stunner."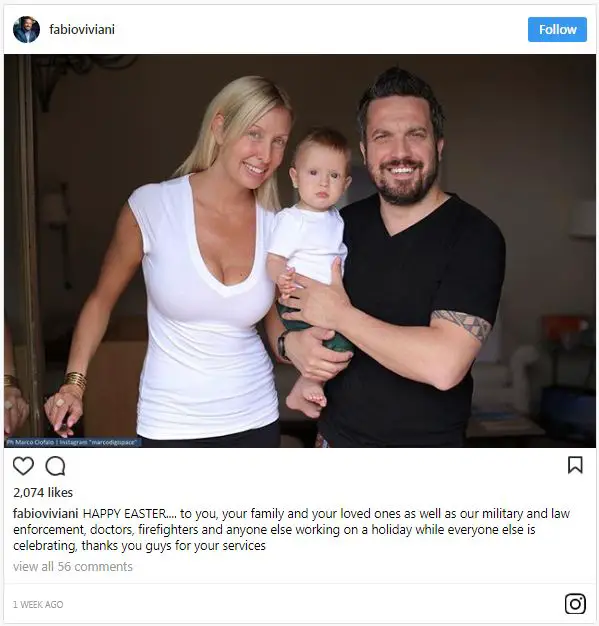 Fabio celebrates Easter his wife, Ashley, and son, Gage (Photo: Fabio Viviani's Instagram)
Fabio's Instagram account holds a lot of exuberant pictures of his family.
For instance, in April 2018, Fabio posted a family picture on Instagram wishing happy easter to all his fans and followers.
Likewise in 2018's Valentines Day, Fabio was seen flaunting his love for Ashley when he posted a classic picture with his wife stating that it was their first together clicked picture.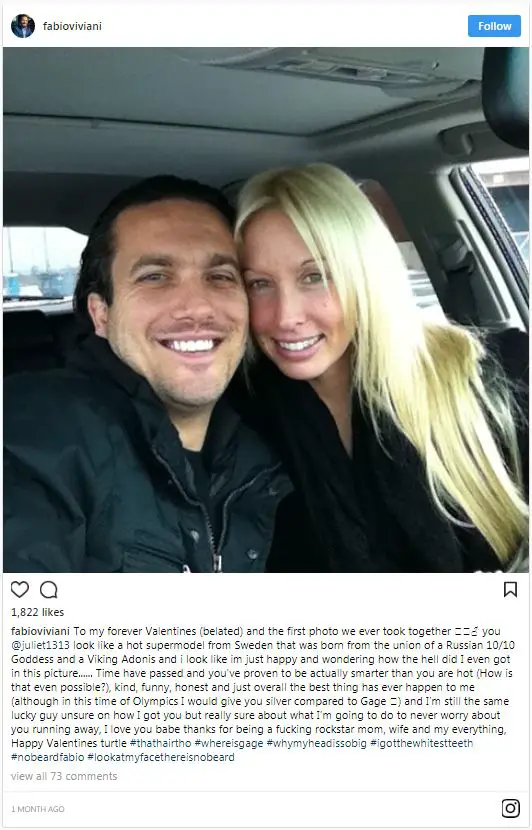 Fabio posts their first picture on the occasion of valentines day. (Photo: Fabio Viviani's Instagram)
These heartwarming posts are evidence that the Italian foodie is enjoying a cheerful family life which could not be possible without his loving and supportive wife, who presses him on his occasional imperfect cooking.
Previously, Fabio had to encounter a divorce around the year 2010 before finding his better half, Ashley.
Restaurant Career, Café Firenze, Television, Net worth
The talented cook has made plans to open restaurants in Tampa, Detroit, Washington D.C. and Oklahoma City in 2018. And by the end of 2018, he is planning to open high-end food courts in Indiana, Pennsylvania, and West Virginia and Missouri.
Fabio cashed in as a sous chef in an Italian Restaurant when he was 16. And by 27, he became an owner of five restaurants, two-night clubs, and a farm.
The Florence native, born on 10th October 1978, held several positions working in the restaurant industry during his teenage years. In 2005 he moved to California and opened his first USA based restaurant Café Firenze in Moorpark, California.
Likewise, Fabio made his television debut appearing on a reality series Top Chef. He again returned to the show in 2010 to compete on Top Chef: All-Stars.
Later in 2012, he became the host of a Yahoo web series, Chow Ciao, for which he won a Webby Award for Best Web Personality/Host.
Being a prominent restaurant entrepreneur, he enjoys an estimated net worth of $15 Million.
A successful cooking author, Fabio enjoys owning the one-man culinary brand, 16 restaurants, a wine label, and a production company. He is known for his "simple, fresh and delicious food" recipes; you can find them on his blog fabioviviani.com.
Interestingly, he has a day named after him in Chicago. The tradition is one of Chicago's greatest honors.