Entertainment
Family Girl, Andrea Navedo, Chilling With Husband and Children in Beach Haven: Married Since 2000
What do you do when you're satisfied with what you have in life? In actress Andrea Navedo's case, she celebrates it with her husband and children, vacationing on the beach.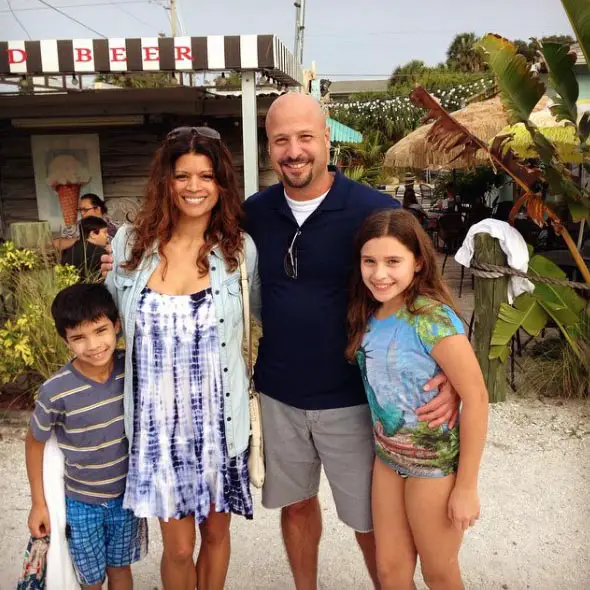 What do you do when you're satisfied with what you have in life? In actress Andrea Navedo's case, she celebrates it with her husband and children, vacationing on the beach.
Andrea Navedo, better known for her role as Xiomara Villanueva in the CW comedy-drama series, Jane the Virgin, has been happily married for 16 years now. She is very hush-hush when it comes to her husband, maybe he could be her long-time boyfriend, who knows? But she has been spotted vacationing around Jersey shore with her wonderful husband and her kids.
Her Kids:
Andrea Navedo has a 12 years old daughter named Ava and a nine years old son named Nico.
Here's a twitter post made by Andrea when her husband came by to visit her on the set of her movie.
Isn't that the sweetest thing ever?
We wish we could know more about the personal life of the One Life to Live's star, but Andrea being very private doesn't reveal much about her married life. From this story, we can assume that the couple is feeling blessed and happy together and there are no chances of getting a divorce anytime soon.
Andrea Navedo's Career Highlights:
Andrea started her acting career after landing the role of Linda Soto in ABC's soap opera, One Life to Live, in the year 1995. Her film debut was in 1996, playing a small part in the movie Girl 6.
She has since starred in different films and television series, playing either the lead role or a supporting actress.
Navedo won an Imagen Foundation Awards in 2015 for the best-supporting actress for her role of Xiomara Villanueva in Jane the Virgin.
Caption: The official trailer of the movie Superfast, starring Andrea Navedo
Source: youtube.com
Andrea Navedo Talks About Being An Actress Mom, Fan Appreciation, And Life Out Of The Show Set
Andrea had a lot of interesting things to reveal in an interview regarding hit Tv-show Jane The Virgin. The actress aptly answered multiple questions, some of which included her life outside of the job.
"I can easily tap into the feeling of being a mother and the feeling of; you always want what's best for your kids. And that's where most parents come from. Even if you're making mistakes to an outsider, you're coming from a place of love and you really want the best for your kids. So I can easily tap into that, and I relate to Gina and Jane in that way." answered Andrea when she was questioned if her character( Xiomara Villanueva) portrays the way she acts as a mother in real life. 
She further confessed that her kids watched and loved the show. As follow-up, she was asked if it was hard to keep the spoilers from her family to which she replied to with,
Yes and no. I've kind of gotten really good with it. My daughter one day said to me at the end of season two, "Okay, what happens, tell me what happens!" And I was like, "I'm not telling you!" And she said, "What, I'm your daughter, and that should be one of the perks, that I get to hear!" And I said, "No, I'm not going to spoil it for you!" So, I don't tell my kids, and I don't even tell my husband. They know nothing. There's some really good stuff coming up, and I haven't told them. And I have to skirt around it because it involves casting and stuff like that. I can't come home and say, "Oh, today, we meet so-and-so, we have this new blah blah blah." I can't tell them because it's kind of a big plot point, so I don't tell them anything. And also, my daughter's friends watch the show, so I just keep it to myself.
She also talked about her appreciative she was towards the support from her fans and how she was very down to earth with them saying,
Well, I'll be honest. At the beginning, I was kind of apprehensive about engaging because, I mean, I grew up on the mean streets of New York, you know? So you always have your guard up. And being in the public eye, you still have to have a certain amount of reservation with how you handle yourself. But I think it's because I realized that a lot of the fans are women, a lot of them are Latinas, a lot of them are young, and you can tell by what they say that they're truly supportive. Without them, the show wouldn't exist, really, wouldn't have the legs that it has. So, it's really out of appreciation, and also knowing what it's like to be a fan.
Navedo also hopes that the show shows Positive effects towards young Latina women especially topics regarding Career and Future planning and planned parenthood.
I hope they(latina women) take away from the show that there are different options in life. Anywhere from birth control to careers to pursuing your dream and not giving up. I think there are a lot of positive messages [about] acceptance and diversity and different cultures.
Andrea Navedo was born on October 10, 1977, in Bronx, New York. She grew up in New York along with her mother who raised her all by herself. Navedo was a graduate of the State University of New York at Old Westbury. She graduated with a BA in Communicative and Creative Arts and a concentration of theater.
She was inspired to continue acting after landing the part of a play she auditioned for, when in college. Currently, Andrea is seen as a series regular in CW's Jane the Virgin. She also appeared in the 2015 movie Superfast.