Entertainment
Fans Attention on Alyson Hannigan's Breast Implants And Plastic Surgery. Are the Alyson Hannigan Plastic Surgery Rumors True?
Hard to find anyone who does not know about Alyson Hannigan. With no wrinkle on her face, she defies her age of 42. Is it plastic surgery or her remarkable natural beauty? People are desperately waiting to hear the truth.
If you were to dissect her recent pictures, you would see that her breast size has increased drastically. Assumptions have been made that her breast size had grown because of her recent pregnancy or due to the subsequent weight gain. Likewise, many believe that she got a breast job after the birth of her second child in 2012.
In addition to that, she may have undergone a subtle nose job as well. And she is surrounded by the Botox injection rumors as well.
Breast Implants?
Caption: Before and after images of Alyson showing the change in her breast size.
Source: liverampup.com
Nose Job?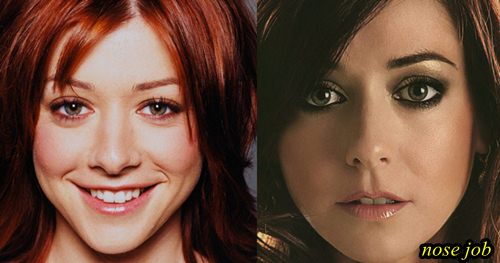 Caption: Change in the nose structure is clearly visible in this before and after image.
Source: plasticsurgeryhits.com
Why has her plastic surgery rumors have been buzzing in social networking sites?
Well, obviously she doesn't look like how she used to look before. More precisely, she has managed to look younger even at the age of 42. Do note however that she is also a hard-working mom who likes to workout. Therefore, one cannot only point at plastic surgeries as the reason for her youthful look. Her regular work-outs might have worked wonder.
Some plastic surgery experts have reported that Alyson might have undergone some plastic surgeries to keep herself look young and beautiful. Anyway, she hasn't verified any of the rumors till now.
Her Family Life:
Hannigan is in a conjugal relationship with her long time boyfriend Alexis Denisof. She married her "Buffy the Vampire Slayer" co-star Alexis at Two Bunch Palms Resort in Desert Hot Springs, California, on October 11, 2003.
The couple has two daughters: Satyana Marie Denisof, born on March 24, 2009, and Keeva Jane Denisof, born on May 23, 2012.
Nobody could top my husband. He was, like, beyond, beyond, super-dad, super-husband, super-man, definitely.
She exclaims when talking about her Husband.
Apparently, in 2013, she also received a $78,000 worth ring for her marriage's vow renewal, yikes!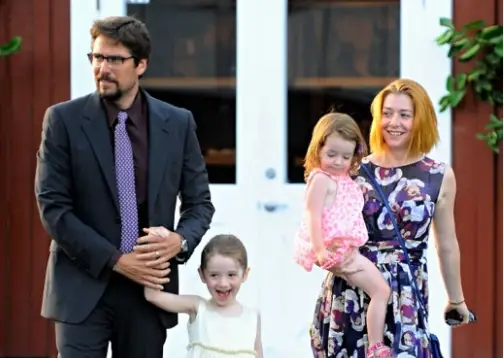 Caption: Allyson's beautiful family.
Source: celebbabylaundry.com
One of the most charming female TV personalities in the American Media, Alyson Hannigan, is best known for her roles as Lily Aldrin on the CBS sitcom How I Met Your Mother (2005–2014), Willow Rosenberg in the television series Buffy the Vampire Slayer (1997–2003), and Michelle Flaherty in the American Pie film series (1999–2012).