Entertainment
Father of 2 Daughters, John Craven, Maintaining Family- Work Balance At the Age of 75
John Craven has to be one of the longest BBC network's running journalists. Even at an elderly age of 75, he is still an excellent news presenter. Besides work, he also gives importance to his family life and his children. See, how he has balanced his family life with work.
His Family Life, Married and Wife:
It is no secret that John Craven is a family man. He has been married for a long time. He has been blessed with two beautiful daughters and five grandchildren. We might not know all of his family's description but we know his wife's name. She is called Marilyn. The 3 of his eldest grandchildren are, Jessica who is 20, Charlie who is 17 and Will who is 14.
How is it Well-Balanced?
Craven isn't usually talking about his family on Tabloids, but he seems to like spending a lot of time with his family. He frequently goes on vacations with his family. He has also written a story about his holiday with his three eldest grandchildren to Jamaica on 'dailymail,' which was published on May 14, 2012.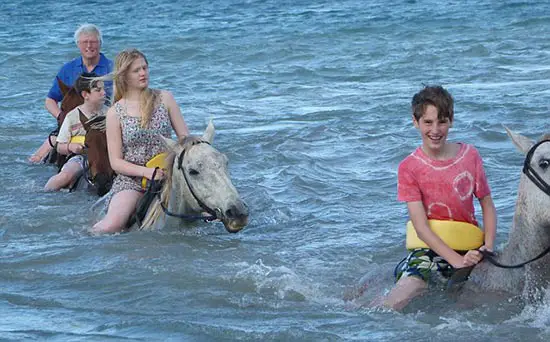 Caption: John Craven with his grandchildren,(from front to back) Charlie, Jesse, and William during their vacation in Jamaica. He seems to give a lot of priority to children.
Source: dailymail.co.uk
Craven must have realized the importance of family, especially when his own mother passed away because of illness, motor neuron disease, and his father later that year.
You must be guessing this quality family life was possible because he was inclined to them more than his profession. However, that hasn't been the case. In his entire 17-year long career on 'Newsround', Craven has presented over 3000 episodes and has only missed one edition during her daughter's birth.
Caption: John Craven from an episode of 'Newsround' back on 1987.
Balance in Work as well:
He spends a lot of time with his family but still manages to handle his busy professional career. He has had a 45-year long career being associated with BBC, and he still is looking at a few years more before retiring. After a 17 year long association with the 'Newsround as the presenter and editor, he started presenting for another news program called 'Countryfile.' He also became the presenter for the BBC's quiz game show called 'Beat the Brain.'
Caption: Cavern, covering a story on Christmas celebration at the western most parts of England.
John Craven was born on August 16, 1940, in Leeds, West Yorkshire, England. He started writing immediately at the age of 16 as an apprentice for the Yorkshire Copperworks after leaving Leeds Modern School.
He started his journalism career as a junior reporter for 'Harrogate Adviser', a local newspaper. Recently, it was reported on 'The Northern Echo' on July 31 that 'Country File "will be running all week in coming week.