Entertainment
Felicia Day Has A Baby, But Still, Questions Linger - Is She Married?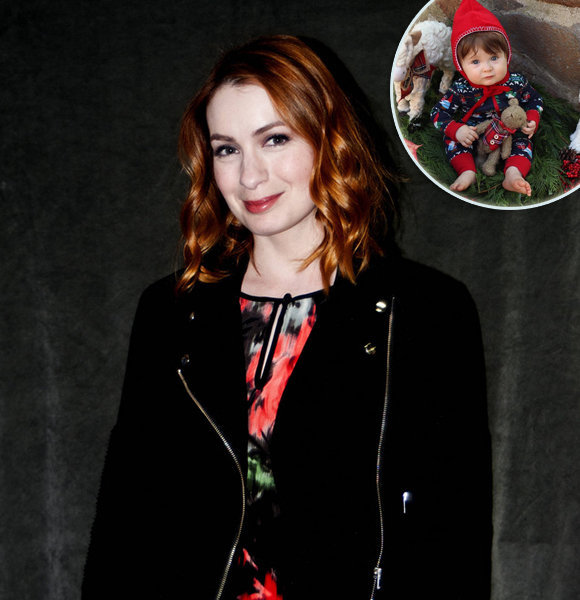 Many famous figures from the entertainment world prefer to keep their personal life a secret. Amidst them, the person who undeniably falls under the criteria is the star of the Television show 'Supernatural,' Felicia Day.
Felicia usually keeps her personal life very low-key; however, her fans are always curious to know more about her off-screen life and her possible husband, as she gave birth to her daughter back in 2017.
So, without further ado, let's dive into the pieces of information regarding Felicia's off-screen life.
Felicia Day's Personal Life
The beautiful Felicia Day who is famously known as the creator, star, writer, and producer of the original web series 'The Guild' is one of the professionals in keeping personal life out of the limelight. 
Amidst the hungry paparazzi and media thriving for a bit more information on the known figures, maintaining the pregnant status a secret and out of the spotlight for a pretty long time is almost impossible. However, Day knew the drill of making it feasible!
Felicia kept her pregnancy a secret for eight long months and everyone in the media, her followers got surprised when she revealed the news of her pregnancy that was hidden for such long time. Felicia took the news to her Instagram account on 4 January 2017, by flaunting her baby bump and quoting that only three weeks were left to welcome her baby.
"She's coming in like three weeks so I guess I should announce this and stuff."
Afterwards, on 30th January 2017, Felicia welcomed her daughter whom she named as Calliope Maeve. She stated the good news to her fans and followers via her Twitter account,
Also, in the comments of the same post, she revealed the actual meaning of her daughter's name.

Felicia's daughter, Calliope, stands for a muse of epic poetry while Maeve for fairy warrior queen (Twitter)
Well, the birth of Calliope looks to be adding a lot of happiness in Felicia's life. Felicia also doesn't hesitate to timely share the daughter-mother bond on her Instagram account. Back on 1st of November 2017, Day posted an adorably cute picture of herself and her daughter in their Halloween themed costume.
However, Felicia hasn't uttered a word regarding the identity of her daughter's father, and neither has quoted out to be ever married. As for now, the identity of the baby father remains a mystery as long as Felicia doesn't open the story herself. 
Moreover, Felicia was once in a dating relationship with her boyfriend, the Canadian actor, Nathan Fillion, who is now in a relationship with Krista Allen. But, for the time being, Day does not seem to have a boyfriend; however, she might stand a chance of dating somebody keeping her romantic relationship a secret; like she did with her pregnancy. 
It looks like Felicia's fans will have to wait until she shares or hints any clue about her baby's father or about her boyfriends to help her fans know about her relationship status.