Entertainment
Felipe Esparza Wiki: Comedian With Humor For Fans And Love For Wife
Felipe Esparza Wiki: Comedian With Humor For Fans And Love For Wife Balancing professional and personal life is not everyone's forte. However, there is some exceptional case when celebrities are found living a healthy and happy family life despite a quite hectic job-filled life.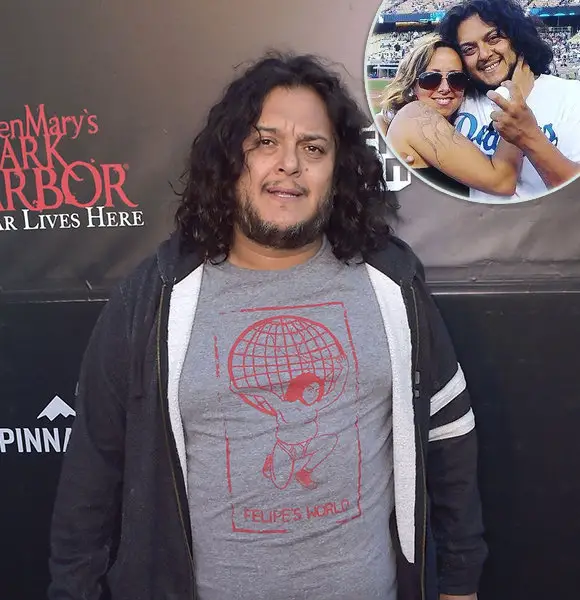 Balancing professional and personal life is not everyone's forte. However, there is some exceptional case when celebrities are found living a healthy and happy family life despite a quite hectic job-filled life.
Well, the stand-up comedian Felipe Esparza is one of the exceptional ones as the comedian has commendably balanced his life both professionally and personally.
So, if you are curious to know more about his work and his life, you are welcome to join in the treat.
Felipe Esparza's Wiki!
The Latino Comedian Felipe Esparza was born on June 11, 1976, in Sinaloa, Mexico. His family later moved to Los Angeles, and he was raised there in Boyle Heights with his six siblings. 
At the early 20's, Felipe got into a gang and became its member. There he started selling drugs and eventually became a drug addict. And when his mother found out about his addiction, he was sent to a rehabilitation center. 
The rehab came to play a significant role in setting the road to Felipe's success as Felipe for the first time drafted his career of being a comedian while in the rehabilitation.
Felipe has also talked about how his addiction ultimately led him to become a comedian in a video of Comedy Central. 
Caption: Felipe Esparza articulating his violent journey to Comedy via 'This Is Not Happening - Felipe Esparza' (Published on May 17, 2016)
Felipe first got into the spotlight as a stand-up comedian after winning the reality TV show called 'Last Comic Standing' in 2010. After then, he made a mark in the TV series 'Latino 101' from 2010 to 2011. He even produced and starred in his own hour-long stand-up comedy special 'They're Not Gonna Laugh at You' in 2012.
Moreover, he also launched a podcast named 'What's up Fool?' in the All Things Comedy podcast network where he talks to any random people whom he finds interesting.
Felipe appeared in numerous TV serials like 'The Tonight Show,' 'BET's Comicview, Unleashed,' 'Lopez Tonight, Premium Blend,' 'The Arsenio Hall Show,' and 'The Eric Andre Show.' Apart from television serials, Felipe also starred in the movies 'The Fix,' 'She's Allergic to Cats,' 'The Deported,' 'El Matador' and 'I'm Not Like That No More.'
Previously in 2017, Felipe was touring comedy clubs and theaters across the world for his Bad Decision tour where he shared about the bad decisions of his life. In the same year, Felipe also starred in his second one-hour long stand-up comedy titled 'Translate This' that premiered on September 30, 2017, in HBO. 
The show 'Translate This' encircles the real fact how Felipe finds humor while struggling as an immigrant and also his difficulty while translating the language to his parents.
Well, with the outstanding sense of humor and also a very relatable real-life comedy contents, Felipe has garnered a lot of attention and is on the verge of getting more of the stardom. 
A Successful Married Life With A Successful Career!
Besides a succeeding career, Felipe also has a blissful married life. He is married to the beautiful Lesa O'Daniel Esparza who happens to be the producer for his HBO show, 'Translate This.' Felipe married Lesa back in December 2014; despite the fact that Lesa had a son. The comedian Felicia Michaels photographed the moments from their wedding, and she uploaded the pictures to a YouTube video in 2015.
Caption: Felipe Esparza and Lesa O'Daniel 's wedding pictures (Published on Mar 30, 2015 )
Further, Felipe shares a wonderful bond with his wife Lesa and also with his kids including his stepson. Previously, on 22 December 2017, Felipe shared a throwback picture on Instagram where he was teaching his son to make a sound of an armpit fart. He captioned the picture stating "Good times."
The stand-up comedian Felipe looks to be a loving husband and also a loving father. Well, with a career moving towards the summit of success, Felipe has demonstrably balanced his private life as well.
Also, It's safe to say that the comedian is not joking anywhere regarding the matter of his personal life as he manages time for his family despite long hours of tours and works. Through the work of his comedy, Felipe has also garnered accountable sum of fortune: his total net worth is estimated to be $3 million.