Entertainment
Floyd Mayweather Could Be Divorced with Wife! More Than Once If He Was Married! Pampering Kids He Got From Dating Affairs?
Floyd Mayweather Could Be Divorced More Than Once If He Was Married! Pampering Kids He Got From Dating Affairs?If Floyd Mayweather had tied knots with his partners in the past, he would have ended up being divorced multiple times.The question arises, why is it so? Today, let's unveil the truth behind the rocky relationships of Floyd Mayweather; know how he treats his children he had from his dating affairs!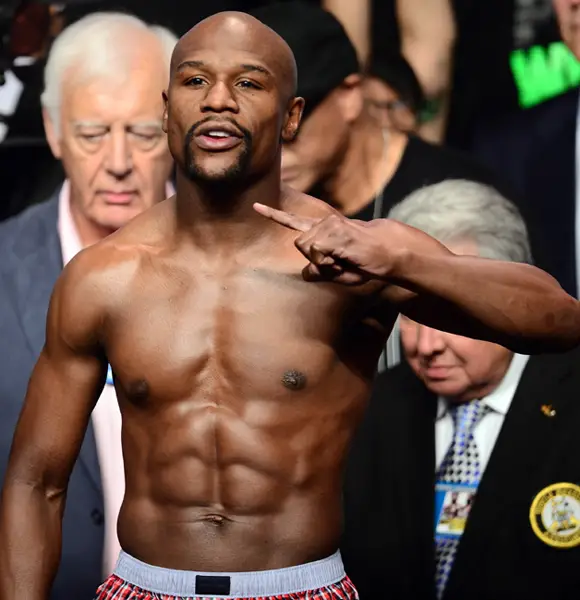 Irrespective of the fame, Floyd Mayweather, the greatest boxer of all times, doesn't seem to have a good impression when it's about dealing with relationships.
That's right!
If Floyd Mayweather had tied knots with his partners in the past, he would have ended up being divorced multiple times.The question arises, why is it so?
Today, let's unveil the truth behind the rocky relationships of Floyd Mayweather; know how he treats his children he had from his dating affairs!
A series of problematic Relationship of Floyd Mayweather:
The one who creates trouble for others inside the boxing ring was found being in trouble in real life himself.
Having dated many girls in the past, the list of problems he got into doesn't seem to stop!
Mayweather was first linked up with Mellis Brim from 1998 to 2000. They dated for two years and shared a daughter, Iyanna Mayweather. The couple didn't have a sour relationship, unlike Floyd's other relationships. Although the couple separated, the reason for their break remains confined to the couple.
Floyd's second relationship was with his childhood sweetheart Josie Harris, whom he dated from 2005 till 2007.  They share three children together, two sons Koraun Mayweather and  Zion Mayweather, and a daughter Jirah Mayweather. 
They were reportedly very close during their teenage years, which seemingly turned into a dating relationship. But since their split, Floyd's abusive and violent nature started unraveling.
Harris revealed she had been the victim of Floyd's physical abuse on six occasions, to be precise. The worst she experienced was in September 2010, when Mayweather walked into Harris' home when she was asleep, pinned her down to the floor by her hair, punched and kicked her while screaming cuss words at her.
Their children were present at sight to witness the mishap. The couple's oldest son, Koraun alerted a security guard about the abuse happening inside.
Following the incident, Mayweather was sentenced to 90 days in prison.
Mayweather's long term partner, Harris, in 2015, filed a $20 million lawsuit against the Boxer. The reason for the lawsuit being Floyd's interview with Katie Couric on April 14, 2015,  where he mentioned about his brutal attack on her in 2010.
In the interview, he denied the fact that he punched, kicked, stomped and threatened to kill her.  He stated that he was,
" merely restraining a woman on drugs."
She filed the lawsuit in Los Angeles Country In May 2015 claiming "defamation, intentional infliction of emotional distress and negligent infliction of emotional distress."
Harris, who has the custody of their three children, has a lot to worry about in her life. And Floyd's statement in the interview was the least of what she expected from him.
After the interview was aired, she expressed
"It was five years ago,I've gone through a lot of therapy and post-traumatic stress getting over this. … Floyd and I were kind of on good terms, but then I started dating someone else, and now we're back on bad terms. … I don't know what his deal is. I can't speak for him. … But I understand—because of what counselors and therapists have told me—this is just an abuser. … He did a lot of [lying] at the very beginning, when it first initially happened. And you know, the attorneys asked him to stop doing it, because it wasn't OK. … And for Katie Couric to be such a reputable journalist, why was she afraid to ask other questions?"
Harris admitted that she was drinking the night of the incident but was not drunk and further, Marijuana was detected in her system. But being under the influence does not give anyone right to be abusive. Harris states the same in her statement as,
"Marijuana stays in your system for 45 days. And so what? … Even if somebody is strung out on crack cocaine, they still do not deserve abuse. … No abuse is OK, whether it's a slap on the face, whether it's verbal abuse, or it's, you know, the controlling abuse. Abuse is abuse."
Additionally, she revealed,
"I dodged subpoenas so the kids and I didn't have to testify against him, I wrote the judge a letter asking the judge to not incarcerate him. And he still is just slandering my name and saying that he was restraining me because I was on drugs? … The judge sentenced him based on evidence and nothing else."
Harris claimed that every girl in his life had been treated the same way if they don't behave in the manner that Floyd wants. 
Second on the list of Floyd's victim is his ex-fiancee, Shantel Jackson. The couple was reportedly an item for four years from 2010 until 2014.
Floyd reasoned for parting ways, where he revealed,
"The real reason me and Shantel Christine Jackson @missjackson broke up was because she got a abortion, and I'm totally against killing babies. She killed our twin babies."
However, in 2014, Shantel filed a lawsuit against him for attacking her on multiple occasions and once being threatened to shoot, while pulling a gun on her. 
During an argument, Jackson claimed that,
"He twisted [her] arm, choked her and forcibly took her phone away from her to look through it."
Moreover, she talked about yet another violence in April 2013, where she became a victim during another argument,
"He "bent her arm, restrained her, and pointed a gun at her foot, asking 'Which toe do you want me to shoot?'"
Floyd reportedly proposed Shantel for the second time to get engaged back in 2015. However, Shantel shut the offer saying, Mayweather wasn't the man she dreamt of. Additionally, she held their conversations on display.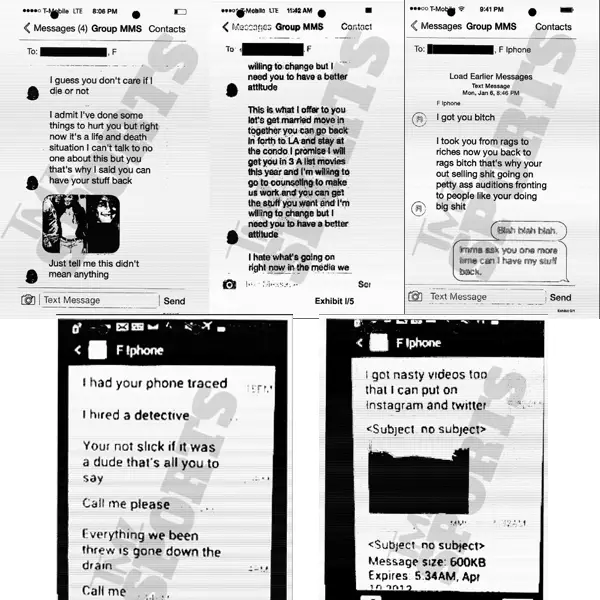 Caption: Mayweather's conversation with Shantel while he proposed her for the second time.
Floyd also shared a short relationship with Doralie Medina from 2014-2015. Their relationship details were also kept under the radar. However, the duo was spotted back together in 2016 at an NBA game, giving hints of them still being together, even after their split.
Moreover, in 2016,  the news of Mayweather dating Brit Raemarni surfaced the media.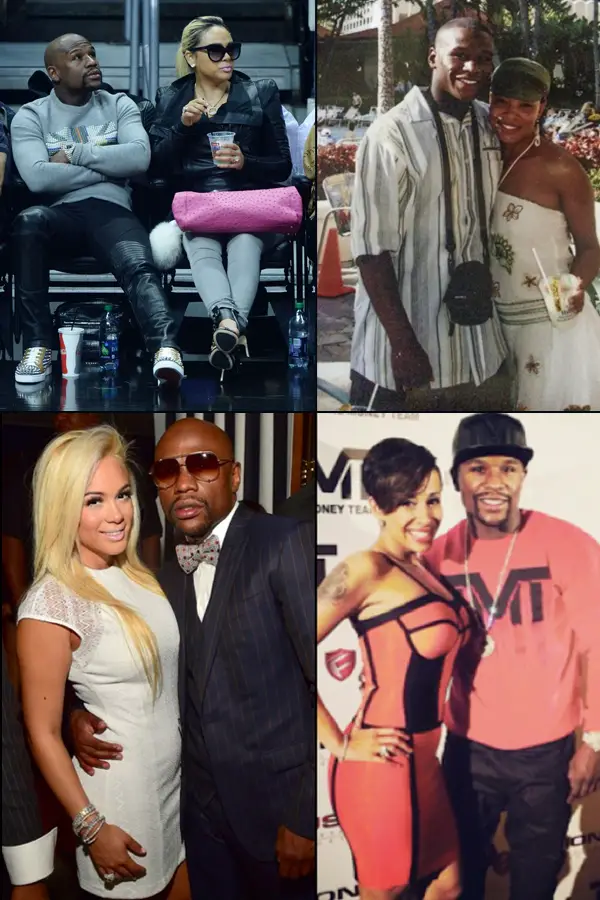 Caption: Floyd Mayweather with his ex-girlfriends, Doralie Medina & Josie Harris (Top-left & right) Shantel Jackson & Melissa Brim (Bottom left & right) respectively.
Even if Floyd had desired to get married, his wish of living a marital life with a wife has not been fulfilled yet!
More about Floyd Mayweather:
Despite not having a reliable track record with the girls he dated in his life, Floyd maintains a very loving relationship with his children.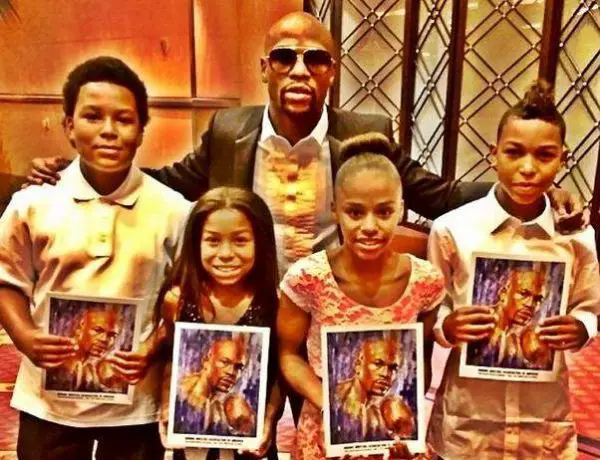 Caption: Floyd Mayweather with his four lovely children.
Photo Credit: Heavy
He loves spoiling his kids, giving them more than everything they desire. Daughter Iyanna posted a picture of the gift she received from her dad via Instagram with a caption,
"Thanks daddy for my new G550 to go along with my s550 !,"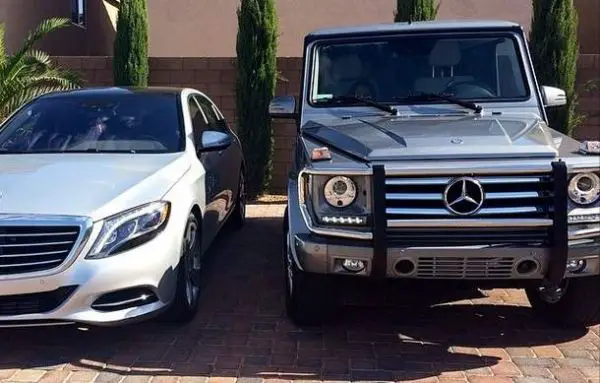 Caption: Instagram picture of Iyanna where she flaunted the looks of her new G550.
Photo Credit: Heavy
The fighter, who stands with pride at the height of 5'8,'' is a veteran at what he does. He has set an unbeatable track record for his fights, which remains at 49-0 with 26 Knockouts.
Moreover, people are now batting their eye on the battle of Conor McGregor vs. Floyd Mayweather, which is about to happen in August 2017. The media believes the fight between them is set to smash all of the boxing's box-office records.
Breaking all the shackles in Boxing field, he has not only garnered popularity and fame but has been equally awarded a sturdy looking net worth of $340 Million.
Stay with us for the latest updates on Floyd Mayweather!