Entertainment
Former NBC's David Gregory, Gained Show After Tim Russert's Death: Reason Behind His Dismissal
Just imagine how it feels when you are let go from your job and even blamed for the downfall. We're sure it feels awful and humiliating. No one knows this better than NBC's David Gregory.
Back in 2008, tragedy struck NBC when one of their most valuable moderators, Tim Russert, the man who had uplifted the ratings of Meet the Press from third place to first in a matter of six years, suddenly lost his life. It was then when NBC decided to hand over his responsibility to David Gregory.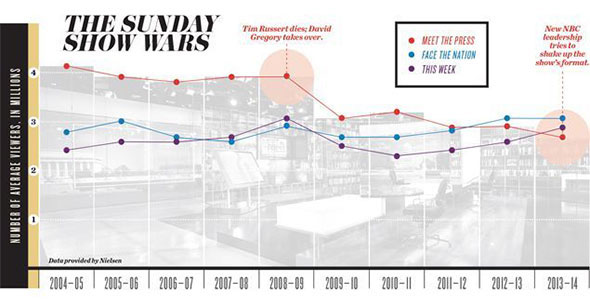 Caption: The ratings of Meet the Press seemingly dropped to its lowest after Gregory took over the show in 2008
Source: washingtonian.com, 2014
On December 14, 2008, David Gregory took over " Meet the Press" soon after the death of Russert. It was a huge responsibility for Gregory, as Meet the Press was the highest watched television show and its ratings were top notch.
However, the question was, can he maintain the same level of popularity among the viewers? Unfortunately, he couldn't. The ratings of the show disappointingly lowered, losing 43 percent of its viewers and dropping from the first to the third place, back to where it started.
Who is to blame?
We can't blame David since it wasn't his dream job, and he wasn't even the first choice of the despised network.
Any television network will care about its ratings and popularity, which are the main source of making money. So when Meet the Press started losing its viewers, everyone started blaming David Gregory. But no one raised their fingers at the network which had long  been the victim of internal politics, workplace sabotage and high business risks.
 Even though NBC and David both tried to keep it under wraps, eventually, the truth had to come up. David joined the Meet the Press team in December 2008 and was let go in August 2014, six long years.
And now that his times are over on NBC, he apparently has taken a new role as a political analyst for CNN as the host of CNN's morning show, 'New Day'. Not bad for someone who lost his job over lower ratings, right?
David Gregory's Personal Life
Behind all that professionalism is a man with lots of family values. David Gregory was raised by a Jewish father and a non-Jewish mother. 
Practicing Judaism, he married a Christian wife (sorry, his gay fans), Beth Wilkinson, who is a former federal prosecutor and also a former Fannie Mae executive vice president. 
The two met during the Oklahoma City bombing issue. Then, David was covering the story, and Beth was serving as a prosecutor on the case. 
The couple got married on June 10, 2000, at the Summer House, an inn in Siasconset, Massachusetts. Together, they have three children, Max, and the twins Ava and Jed.
David Michael Gregory is an American television Journalist. He was born on August 24, 1970, in Los Angeles, California. He attended Birmingham High School and graduated from the American University, Washington D.C. 
He was previously the moderator of NBC's Meet the Press. He currently serves as a political analyst for CNN. He is also the author of the book "How's Your Faith?" and "45: The Right To Rise With Jeb Bush".