Entertainment
Foxy Brown Welcomed A Baby; Go Through Her Dating Affair To Know Who The Baby Daddy Is
Most of the people who enjoy personal and profession life never want their personal life blend with their profession. But when you are a celebrity, it's hard to keep your personal life private as many eyes and paparazzi keep a watch over you.
Some stars flaunt both their career and love life whereas some keep their personal life very low-key. Brooklyn rap legend Inga DeCarlo Fung Marchand, who is popular with the stage name Foxy Brown is one of those celebrities who kept the news about her pregnancy very private.
Felicitations To Foxy For Welcoming A Baby Girl!
Foxy, who hasn't dropped a single album since 2001 has surprised many of us as she gives birth to a baby girl. When no one even knew that unmarried Foxy was expecting, Wendy Williams broke the news about the birth of a baby girl on March 2, 2017, during the opening segment of her daytime talk show. She said-
"Literally, as I'm putting on my bracelet, the telephone rings, Congratulations to Foxy Brown. She had a baby girl."
When the question about Foxy's newborn's father arose, Wendy said-
"No word on exactly who the baby's father is but allegedly it's a reggae star and I'm not going to say his name because I think that me and Foxy have some sort of relationship, and the bureau does have a working telephone," she explained. "So, maybe she'll call us."
Was Wendy hinting the Reggae star Spragga Benz as Foxy's baby's daddy? Benz is Foxy's ex-fiancé. Do you know that Foxy had an epic bird beef with singer Ashanti for being cozy with Benz in early 2015? Well, there is a huge probability of him being the father of Foxy's newborn.
Here are some of the surprising reactions to the arrival of Foxy's baby:
Relationship With Kurupt:
A Brooklyn native Foxy Brown previously dated Kurupt in late nineties. After dating each other for several months, Kurupt proposed Foxy with a 4.5 karat emerald cut diamond ring at an intimate dinner in Philadelphia in September 1997. Their engagement ended after two years in 1999.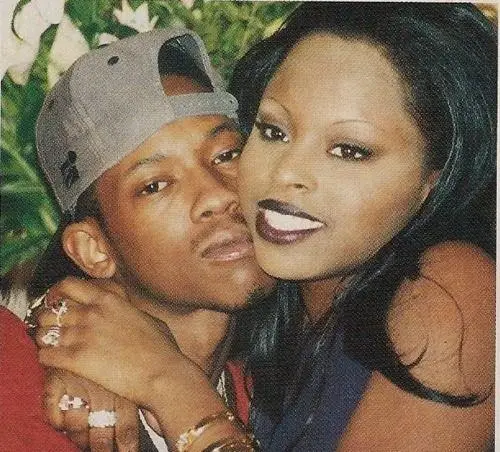 Caption: Foxy Brown was in a relationship with Kurupt from 1977 to 1999.
Photo Credit: Atlnightspots.com
In an interview hiphopdx.com in 2013, Foxy's would be husband Kurupt opened up about his relationship with Foxy and their separation. He said- 
"Even though we weren't together, I got a genuine love for Inga and her entire family. I was concerned, but me and Inga are fire. Whenever we get together, we just blow up. I couldn't really call her, because we can't go five seconds without getting into a little bit of an argument. I was concerned. She's a good person most of the times. She can go crazy. She'll pop you, and you don't know why. That's one of the things I loved about her, though."
He added-
"I never had a girl fight over me. Inga tried to beat up on my fans. [Laughs.] Girls be like, "Hey Kurupt. I love you!" [And she'd say], "Woah, woah, woah. Do you know who this man is? That's my husband."
Talking about the end of engagement, Kurupt said-
"I was engaged to Foxy Brown. DMX and Foxy did their little thing, and I got offended."
No matter how Foxy's past relationship was, she is now living happily and parenting her daughter. We hope and pray that happiness never fades away from Foxy's life.
Stay with us for the latest updates on Foxy Brown!