Entertainment
Frances de la Tour Talks on Husband, Where She Met Him! Has No Thoughts On Getting Married Again?
Frances de la Tour is a famous actress, who has lit the stage and the TV by her acting prowess for more than five long decades. She has played some major roles and has been instrumental in making some of her projects the mega hits they're known to be.
When we take a look at her personal life; it is a no brainer that she once had a husband from the same industry who she was married to, until their relationship ended in a divorce.
So let us hear it from the iconic and legendary actress herself and know how the two first met, what happened in their married life and find out if she got married after her divorce from the first husband.
Frances de la Tour: How She Met Her Ex-Husband And Some Stories About Her Love Life:
Frances de la Tour, who has portrayed the towering Beauxbatons headmistress/half-giantess, Madame Maxime in several "Harry Potter" movies, is famous for her portrayal of Mother Hildegarde in "Outlander," a show in which she was cast back in 2015 during the second season of the show. 
She is no stranger to success in her career, as she has already earned Olivier Awards for her scintillating performances in English stage productions: "A Moon for the Misbegotten," "Duet for One," and "When She Danced."
But the woman does not seem to be as successful in her married life, as she has had two marriages in her life which sadly ended in a divorce.
She was formerly married to British playwright and actor Tom Kempinski. Despite the fact that they did not reveal when they got married to one another and why they got divorced, people got informed as to how they first met one another, and who better to do it than the iconic woman herself. 
In an interview back in 2013, de la Tour revealed about the time she and Tom crossed paths with one another.
I was really independent very young, and got a flat in Notting Hill Gate in the 60s when I was 23. I tended to live on my own, though I had boyfriends. A girlfriend did come to stay; I found her very irritating. Then I met my ex-husband, Tom [Kempinski] and I had my first child there. I was there for about seven and a half years, and I didn't even know it was swinging, but apparently it was. I thought, "Hang on, they're walking around in kaftans, can't blame them." When Ab Fab was on, my daughter decided that I was a mixture of Edina and Patsy.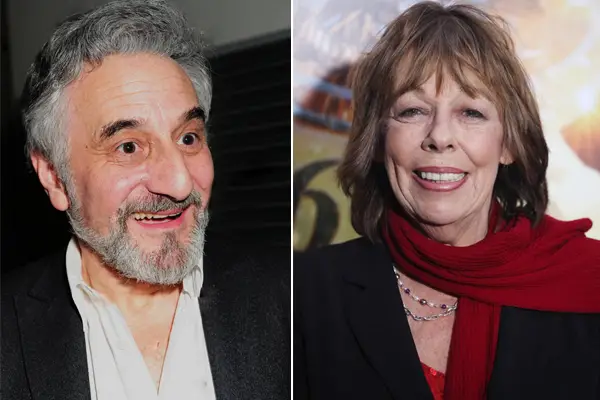 Caption: Frances de la Tour and her husband Tom Kempinski first met back in the 60s.
Photo Credit: liverampup.com
She continued,
I've known most of my closest friends from when I was a child, but I couldn't live with any of them. I think I'm just impossible because there's nothing about them where I could say that they were irritating. My boyfriends and husband always told me that I was sort of impossible really. But I knew they loved me very much.
De la Tour also revealed that she still was in touch with Tom. She said,
I speak to my ex-husband about dying. It's like we're on parole, isn't it?
Similarly, she was once married to David Godman back in 1968, which ended in a divorce as well. No significant details about the relationship between de la Tour and David have ever been revealed, which is why the relationship remains a mystery to the fans and the public. 
So does the legendary woman have no any further plans to get married?
Well, it seems like her failures in her marriages is the reason why she does not want to get married again. Maybe she just wants to do what she loves doing, and that is giving life to the characters through her acting.
Frances, previously, opened up about her will to work till she drops. In her own words,
 "Oh, there is". It's a very strange feeling. About five years ago I remember saying to the children, "I don't want to work any more, I'm going to stop now, I've had enough. I've paid my dues. I've spent 45 years on the boards, mainly the stage, and it's a long time."
She then added,
Then the next acting job I did I thought, "Well this is wonderful." It wasn't actually so much even just missing the audience; it was the comradeship, it was the colleagues at work. Now I've decided that I'm going to work until I drop, because it's very good for me to go to work. It won't be a question of whether I will give up work, it will give me up. I'd like to just keep going, even if it's just a tiny part of an old lady in whatever it is.
And if the people were unaware of this, she has a son and a daughter, who still remain out of the limelight. Moreover, when we take a look at her family, she is the daughter of Charles de la Tour and the sister of Andy de la Tour.
Think we're missing something? Do let us know in the comment section below!