Entertainment
Personal Battles Harder To Fight Than Professional Ones - The Life Of Frank Bruno
Frank Bruno Reveals Struggle Of Broken Married Life With Wife; The Hard-Hitter Has A Soft Spot And today we will be talking about the struggles of former world boxing champion, Frank Bruno. Frank looks like a tough guy in regards to his boxing skills, but his past holds a bitter divorce with his ex-wife, Laura Mooney. What was the main cause of the divorce and how long were the pair together? Let's read on to find the answers, while we also share if he has stumble upon a woman, with whom he can settle down.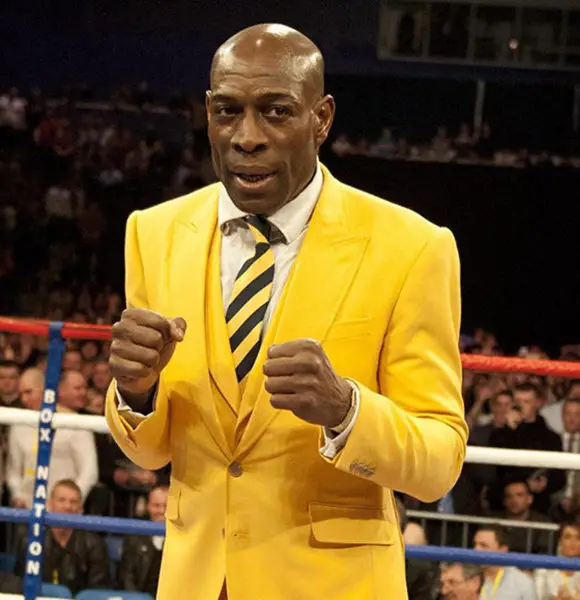 Quick Information
Son/s

1

Official Site

https://www.frankbruno.co.uk/

Instagram

https://www.instagram.com/frankbrunoboxer/?hl=en

Twitter

https://twitter.com/frankbrunoboxer?ref_src=twsrc%5Egoogle%7Ctwcamp%5Eserp%7Ctwgr%5Eauthor

Height/ How Tall? 1.9 m
High School

Oak Hall School

Career

Professional Boxer

Awards

BBC Sports Personality of the Year Lifetime Achievement Award

Net Worth

10 million

Wedding Date

1990

Divorce/Split

Laura Bruno

Relationship Status

Single

Children/Kids

4

Daughter/s

Rachel Bruno, Nichola Bruno, Freya Bruno

Date of Birth 1961
Sister/s

Angela Bruno, Faye Joanne Bruno

Brother/s

Eddie Bruno, Michael Bruno

Mother

Lynette Bruno

Father

Robert Bruno

Zodiac Sign

Scorpio

Nick Name

True Brit

Birth Name

Franklin Roy Bruno

Profession

Professional Boxer

Home Address

Brentwood

Birth Place

Hammersmith, London, UK

Nationality

British

Birthday

November 16

Birth Year 1961
The British boxer Frank Bruno has shared a massive success in his life. Having won 40 out of 45 fights in his lifetime, he has proven himself to be one of the most successful boxers of all time. However, his fights in his personal life have seen severe losses.
After having multiple failed relationships, he might have now found the love of his life. 
Battles Outside The Ring
Franklin Boy Bruno, age 59, had a pretty rough time in his personal life while being at the height of his success. Suffering from depression and battling it for a long time alone, he was taken to Hospital to undergo psychological and psychiatric tests in 2003. He was later diagnosed having bipolar disorder. 
With substantial abuse being a reason for his accelerated mental health problems, the media then took an opportunity to only garner the attention to themselves. Prestigious magazines labeled the boxer with names that would only go to degrade his fame and character more. 
But being the fighter, he is he overcame all the negatives and used the energy to fuel his advocacy towards mental health. The 59-year-old has been openly vocal about his struggles with substance abuse and mental health.
He supported former footballer Paul Gascoigne back in 2008, but sadly he sectioned again in 2012. However, the fighter fought back that battle as well, and he now runs an organization, "The Frank Bruno Foundation," to raise awareness and help mental health targeting men worldwide. 
In regards to the struggle of mental health, talking with Daily Mirror, he said.
 "Mental illness is a terrible thing to have to cope with but I've learned it's a fight you can win if you live your life the right way"
Thinking he could impact lives more than once, he resealed a book, "Frank: Fighting back," talking about his experiences with mental struggles. Little did he know, the book would win the best autobiography under the British Sports Book Awards category.
Failed Relationships; Has He Found Love Finally?
As much as the English boxer has divulged his personal struggles, he has not given the same energy to his relationships and marriage. 
Even though his linkups and marriages to women have been known, the structure and details have been kept long hidden. Except one, Frank got married to his first wife, Laura Bruno, Now; Laura Mooney. 
His first relationship is also his most talked about relationship. Having an interracial marriage was itself a challenge for these two love birds, but they still decided to get married after dating for a whole near-decade in 1990. 
After enjoying a live-in relationship for around ten years, they married back in 1990 at a small church in Hornchurch, Essex. Frank and Laura shared three children, two daughters, Nicola (35) and Rachel (30), and a son, Franklin (22).
What seemed like a promise of a lifetime got broken down after only a decade. His wife, then; Laura Bruno, went on to be a victim of the player's mistreat.
His behavior only amplified after him losing a match with Mike Tyson in 1966, whereupon getting severely injured; he had to retire from his career. Experiencing a big loss, Bruno could not handle it within himself, and as a result, the frustration was cascaded towards his wife.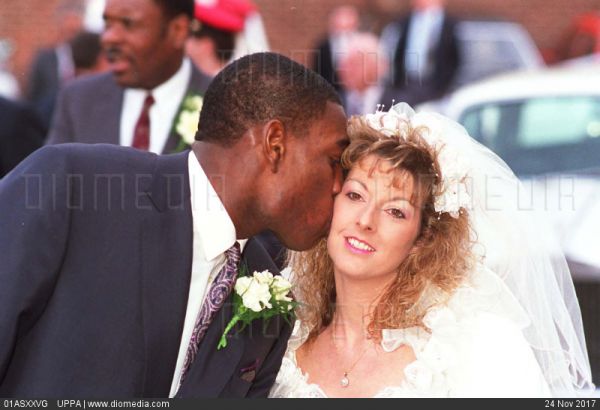 Caption: Frank Bruno and ex-wife Laura Mooney during their wedding
Photo Credit: Diomedia.com
After his painful loss, Frank had to retire from the sport of boxing after being warned that one more punch in his head could cost his eyesight and turn him blind. As a result, he poured his frustration and anger upon Laura. He later confessed his guilt as,
'The worse I felt the more I took it out on my wife,'
But Laura didn't endure the domestic violence for long!
She got a court order in November 1997 against Frank, banning him from "assaulting, molesting or harassing" her. The pair tried to resolve their problems, and their lawyer, Henri Brandman, expressed that despite 'experiencing marital difficulties,' they were not hinting at a divorce at the time as they were still in love.
"Frank and Laura are still very much in love. They are trying desperately hard to resolve some difficulties that have arisen in their marriage, particularly with the welfare of their children in mind."
But Laura called it quits by June 2000 and knocked the court's doors to put an end to their rows. As per Laura,
"I thought that, by going to court, it would force both of us to behave and to end our rows. We were tearing each other apart with our rows. They were growing increasingly ferocious and I was scared of the look in Frank's eyes. I've only seen that look before, in the ring. He would tower over me, waving his arms around, and I kept thinking, 'Oh my God, something's going to go bang here'."
The pair decided to end the decade-long marriage after the media frenzy that went on in divorce!
Frank Bruno's Romantic Union
After his failed marriage, Frank had a brief romance with his old friend, Yvonne Clydesdale, and the brief association gave him his fourth child, a daughter named Freya Bruno, born in 2006.
Moreover, the reports of Frank dating a hairdresser, Nina Coletta, surfaced in the media back in May 2012. The pair were reportedly introduced to each other at a wedding. The reports even claimed that Frank moved in with Nina in her Glasgow home. Nina played an essential role in Frank's life, named under the Mental Health Act in 2003, as she helped him deal with bipolar disorder.
Frank guessed about his then lady love Nina as,
"I've met someone else and I'm happy. She is a great girl. We're taking each day as it goes. I can finally see light at the end of the tunnel."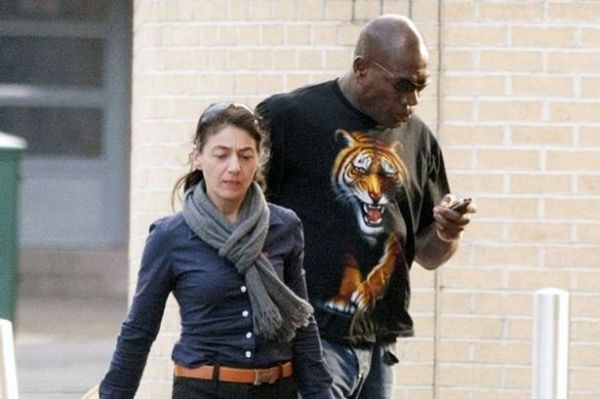 Caption: Frank Bruno with his former girlfriend, Nina Colletta
Photo Credit: DailyRecordco. the UK 
However, the relationship could not survive more than four years and drifted apart in early 2016. In an interview, Frank shared,
"You always miss a little puddy cat until the right one comes along. I'm looking for a woman, a nice princess to settle down with. Every time I come to Glasgow I have good fun — I had a girlfriend here for about four years and she was very special. I also boxed in Glasgow and they were very warm and very nice people. They are straight people and if they don't like you they tell you and if they do, they tell you."
But Frank hasn't publicly been seen with a new romantic partner since his affair with Nina and seems to be searching for a partner now!
Accumulated Net Worth Of The Professional Boxer
The Boxer has won 40 matches out of 45 played, which is a dream for many boxers. He has been in the industry for as long as people can remember and has accumulated many assets and money from his boxing career. 
Bruno's personal life has been nothing but a rollercoaster, but the irony of it is that he opened the world's longest roller coaster of that time in 1991. Apart from that, he has ventured into singing, writing a book, made several TV appearances, and filmed a documentary with his daughter back in 2013. 
With his boxing career and many extra ventures, this former English boxer has accumulated a net worth of $10 million. As much as personal struggles he has endured, we wish nothing but the best for the boxer's personal and professional life.
Keep visiting to stay updated on the life of Frank Bruno!