Entertainment
Frankie J. Grande From Big Brother Reveals His Moment Of Gay Revelation! Dating Someone Now?
Frankie J. Grande From Big Brother Reveals His Moment Of Gay Revelation! Dating Someone Now? Publically gay Frankie J. Grande shared the big moment of his life when he came out as gay, but the reaction which he received from his sister was the most adorable one.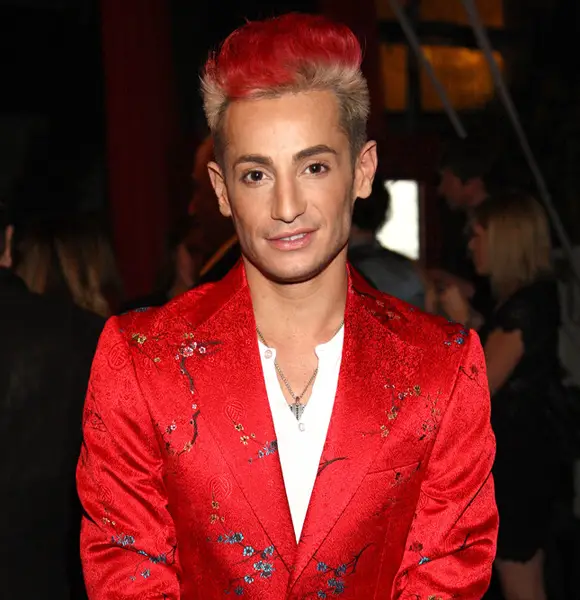 When an individual belongs to sexuality which is not widely accepted in the society, then one becomes intimidated to acknowledge his/her sexuality. But how long can a person live inside the closet? Eventually, the person would value his/her freedom and accept his/her sexuality in front of the people. Moreover, if you have a supportive family, then life becomes a bit easy!
Publically gay Frankie J. Grande shared the big moment of his life when he came out as gay, but the reaction which he received from his sister was the most adorable one.
Curious to know more? Let's dig in!
The Reaction of Frankie J. Grande's Sister When He Came Out As Gay!
Frankie J. Grande and his half-sister, Ariana Grande shares a close bond, and while talking fondly about his sister, Ariana in an interview with Attitude Magazine, Frankie said,
"She's my best friend and probably the person who makes me proudest on this planet," 
While Ariana supports his brother in expressing his sexuality, Frankie supports his little sister in her music career.
Frankie is ten years older to his half-sister, Ariana and when he revealed about his sexual preference in front of his sister, she was just eleven years old. In an interview with Harper Bazaar, back in December 2016, Frankie shared the reaction of young Ariana as,
"There's a 10-year age gap and I came out to her when she was just 11 years old — and she said: 'Great, when do I get to meet your boyfriend?'"
Frankie reasoned on the instant acceptance of her younger sister and stated that they were raised in an open-minded family.
"She was raised in a family where gay was not only accepted, it was celebrated. The fact that some people are in families who throw them out because they're gay or they're being told they're wrong because of who they are, it's a tragedy and both she and I feel it's our responsibility to educate those people and help them see that we're all the same."
Moreover, Frankie highlighted the fact and shared why his sister cares deeply about the LGBTQ issues.
"because she has a gay brother."
Frankie was a contestant on the CBS reality show Big Brother in 2014 and the homo-hetero relationship of Frankie with his housemate Zach Rance grabbed a lot of attention. Also, the relationship sparked the conversation about the never seen bonding of two men on television.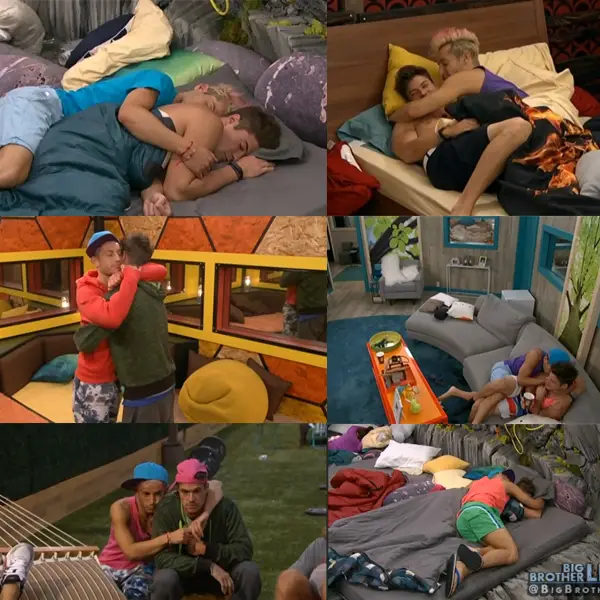 Caption: The glimpses of the most talked about the relationship between Frankie J. Grande and  Zach Rance.
Photo Credit: Self, Liverampup
Frankie talked about his relationship with Zach in an interview with 'Out' back in October 2014. And when asked to define his feeling for his fellow housemate Zach, he expressed,
I would say they are genuine, and there's definitely an attraction. Absolutely.
Also, when asked whether the feeling are both ways Frankie said,
Both ways. For sure. Zach kept saying, "I wish I were gay so I could be with you," and I was eventually like, "Yeah, I wish you were gay, too." That's unique for me. I usually turn off the switch if you tell me you're straight. I don't pine after people I don't have a chance of being with. But in this situation there was no other option, and it was like, "I see you every single day and I enjoy being with you, so I want to be with you all the time." I don't know how else to define it. Curiosity on both sides. I became curious because I was like, what is this attraction with this straight man? I've never felt that—it was completely new for me, too.
Moreover, Frankie was asked to comment on the strong love between a straight man and a gay man which was beyond tolerance, and he stated,
It's representative of progress for sure. I was shocked by how many people all over the world were rooting for two boys to fall in love on TV, even if not necessarily a physical love. I am kind of honored to have been a part of it, and I think it's a great thing for kids to see. I think it shows strides toward acceptance of homosexuality in many forms. I think people just saw how genuinely we felt about each other. It was a non-threatening love. Even though I didn't know it was genuine, the world did, and I think because of that people started to root for it and get behind it.
The connection of Frankie and Zach gave a new dimension to look upon a bond!
Talking about Frankie's romantic union, the rumors of his dating affair with his rumored boyfriend sparked, when he posted a picture via Instagram along with a caption which hinted on a possible romance between him and Dominic A Crossey.
Frankie also gave a Vogue pose with Dominic A Crossey and shared the photo via Instagram back in July 2016.
The rumored romance died as a rumor without any confirmation of the affair from both the end.
It's unclear if Frankie is dating someone or not as he has not spoken on his romantic union yet.  Frankie could be possibly single, also in contrary, he could be secretly romancing with his boyfriend with some hesitancy to acknowledge him in front of the world.
Whichever the case maybe, his fans hope that he would speak about his love life soon!