Entertainment
Freida Pinto Reveals If She Is Married Or Still Dating! Talks On Former Boyfriend And What Ended Things Between Them
Freida Pinto is awaiting her 33rd birthday celebration that is arriving soon in October. Whoa! It just seems like only a few years back she had her big break in the movie, Slumdog Millionaire.
But friends, she has aged enough to tie a knot and has already committed to having a beau. Thence, there is nothing more for you guys to get excited about, as she has someone to accompany her in her good as well as bad times.
However, Freida's relationship is quite a mystery, and that's what we are revealing here in this session.
Married To Boyfriend Or Still Dating?
The love life of Freida didn't start with her current boyfriend, but it dates back to 2003 when she was just nineteen. Well, Frieda was in a relationship with Rohan Antao since 2003, when they were at a university in Mumbai, although, their proper dating started only from September 2007.
The relation took a serious turn when they got engaged later in December in an engagement party among friends and families in Goa. However, the couple couldn't make up to the wedding for a good reason of seeking careers, and sadly, they got separated in January 2009 as proposed by Freida through a phone call from Los Angeles.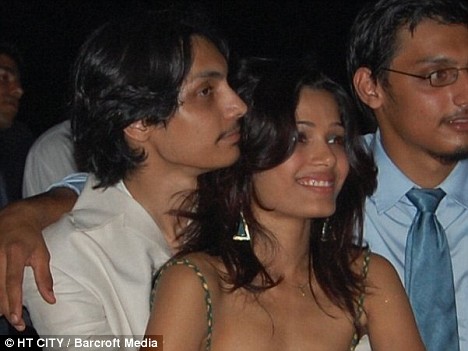 Caption: Ex-couple Freida and Rohan in their engagement party in Goa (2007).
Photo Credit: dailymail.co.uk
The reason behind the separation from Rohan was her co-star from Slumdog Millionaire, Dev Patel, whom she started dating since February 2009. Their love grew older and deeper with the time, and they began seeing each other more frequently.
They even made their visits to public places and were mostly spotted together by the paparazzi.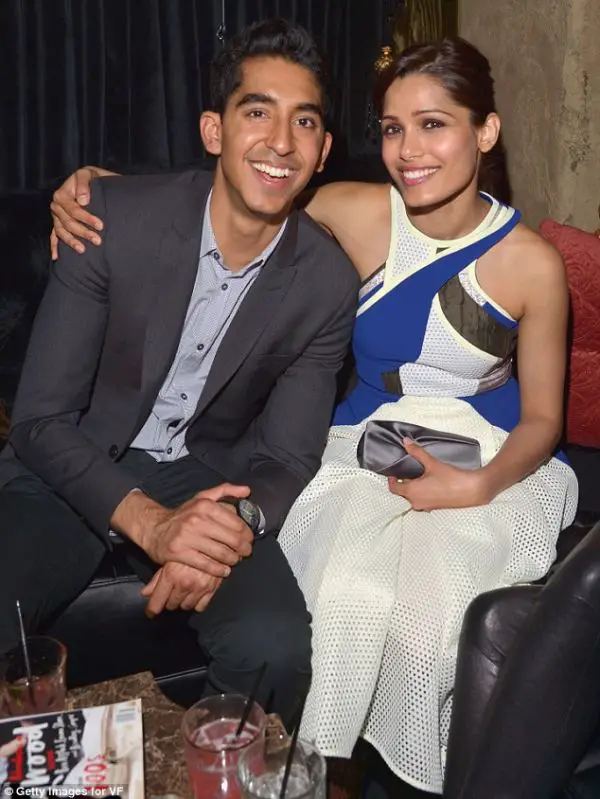 Caption: Freida and Dev at the Vanity Fair event in 2013.
Photo Credit: Getty Images
But sooner, Freida felt that their love wasn't working out well for her, and thus, the relationship had to end up in December 2014 like before. The actress felt a sort of existential crisis at that moment and started living a single life searching self-satisfaction.
Recently, she revealed all those stuff with Mail Online, where she said:
'There comes a point where you've got everything you want – career, love, family – but you've ignored yourself. Life hits you and you think, "What about me? What do I really want?"'
That wasn't all; she further added:
'For the first time, I finally understand the concept of self-love and self-care,' she says. 'I'm single and happy, and busy. I haven't been single for a long time. It's like being born again.'
Furthermore, she talked about her ex-boyfriend, Dev to end up on a positive note:
You can be with someone and it can be really good for your growth,' she says. 'That's what Dev was for me. The seven years I was with him were so impactful. But I ended up being single when I started thinking about these other things.'
They are now good friends and play the well-wisher's part in each other's life. Freida also took her Instagram to flaunt a picture of Dev, supporting him for the Oscars 2017.
Talking about Dev, he is currently dating an Australian actress, Tilda Cobham since January 2017. On the other hand, Freida is having her fun with her new polo player beau, Ronnie Bacardi.
Freida and Ronnie made their official red carpet debut at Vanity Fair's Oscar Party 2016 on February 28.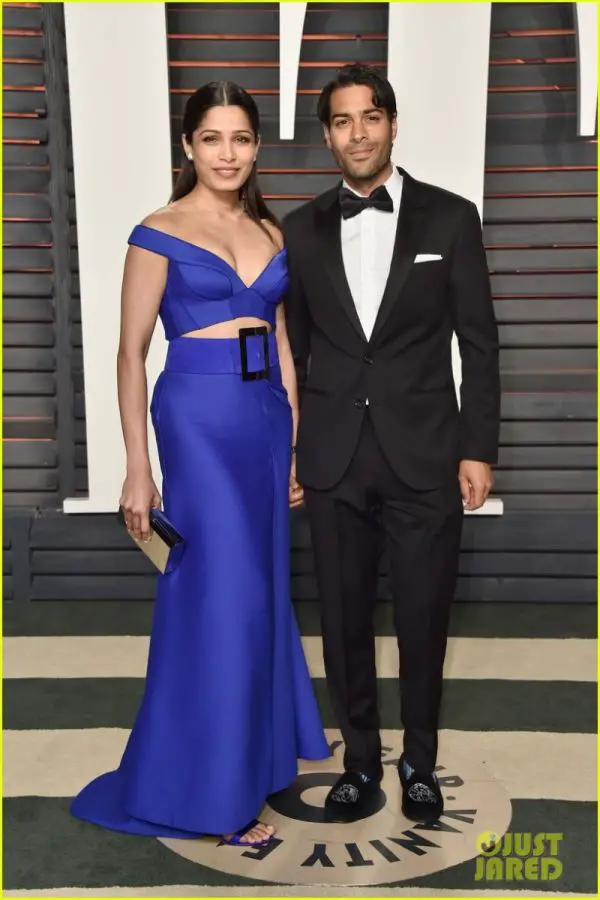 Caption: Freida attended the Vanity Fair's Oscar Party 2016 with her beau Ronnie.
Photo Credit: justjared.com
A month after the event, the couple was again spotted at Nice Guy Club in West Hollywood, keeping a low-profile while they exited the happening place. Their relationship is probably strengthening, as they get spotted enjoying each other's company.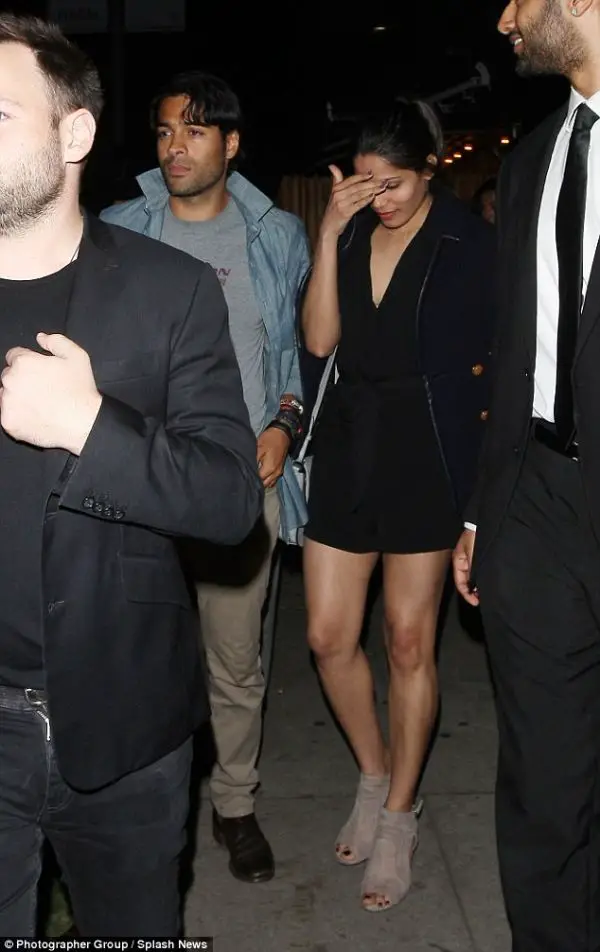 Caption: Freida, making an exit with her beau from Nice Guy Club on March 25, 2016.
Photo Credit: dailymail.co.uk
The couple has the maximum probability to uplift their relationship to a higher level of husband and wife.
Let's hope for the very best for the couple's future!
More About Freida And Her Family:
Freida Pinto was born in Mumbai, India back on 18 October 1984 to Frederick Pinto, a senior bank branch manager and Sylvia Pinto, a school principal.
Her parents are from Mangalore, a coastal town in southern India which makes her ethnicity Mangalorean. She also has a sister named Sharon Pinto, who is a producer with an Indian news channel, NDTV.
The actress is a trained Indian classical and Salsa dancer, and she is also a member of Academy of Motion Picture Arts and Sciences (AMPAS) since 2016. She is well known for her 2008 smash hit Slumdog Millionaire, which was indeed her debut movie and has performed in many TV series and films since then.
Her current projects are Jungle Book: Origins and The Path: Season 3. Pinto revealed her role in the movie 'Jungle Book: Origins' at the Film Independent Spirit Awards in April 2016.
She expressed her happiness and excitement for the film and her role of Mowgli's adoptive mother in the movie. Besides her, the director of the film, Andy Serkis, along with other famous actors like Christian Bale, Cate Blanchett and Benedict Cumberbatch star in the project.
Stay with us for the emerging updates on Freida Pinto!