Entertainment
Gabby Epstein Wiki: Has a Perfect Dating Affair with Boyfriend at Young Age
If it's the perfect example of early success and young love your thoughts are juggling with, maybe it's time to turn your heads to one of your beloved celebrity, Gabby Epstein. In times when you can't just decide between the two, Gabby Epstein's life can be a perfect memo to catch. 
The Instagram sensation, Gabby Epstein has such good management that she is taking both her modeling success and handsome boyfriend hand-in-hand. Whether it's about stunning looks in the Instagram frame or quality time with her boyfriend, Epstein always brings forward her A-game!
Well, like every successful story, there is behind-the-scenes that made everything possible. Epstein also shares such background stories, which can be your next fuel to kindle a fire of curiosity in you. 
So why don't you save yourself and scroll down below before the fire burns you more!
Gabby Epstein's Wiki: How a Full-Time Model Became Insta-Famous
The Insta famous, Gabby Epstein was born on February 19, 1994, in Australia. Before she rose as an Instagram star, she first used to do part-time modeling when she was at the age of 15.
After high school graduation, Gabby turned into a full-time model. As for education, Gabby got herself the degree of Biomedical Science at Bond University. 
The beauty's talent may surprise you, even more, to know that she was also a swimmer who competed at the state and national level, but a shoulder injury served as the full stop for her swimming career.
Despite such talents, it was the Instagram that gave a massive boost to Epstein's career. Instagram companies began recruiting her as their business' ambassador, and she subsequently became the envoy for Women's Best Fitness products and also worked with brands like 'Young & Reckless.'
The Instagram modeling became the major turning point in her career, and as per Gabby herself, she earns more than being a full-time model. Gabby explained the same to Dailymail as, 
"I definitely earn more money from Instagram, 100 percent"
"About a year and a half ago I was traveling to Brisbane a lot for work and by the time you take out the agency's 20 percent, GST on commission and then tax, the model is left with little."
Known for her beautiful body, the model is also an all-time inspiration to many beginners on Instagram career and dieting; she provides many exciting lessons on "how to make money from Instagram" and diets secrets.
Gabby explains her side of diet philosophy as, 
"I try and follow the 80/20 rule, which is my approach to maintaining a healthy lifestyle rather than a diet philosophy. It's pretty simple, I try and eat well 80% of the time, and then 20% of the time I let myself enjoy a bit of indulgence. It isn't about counting calories, denying myself certain foods or cutting out entire food groups, and allows me to enjoy life without feeling guilty about breaking my "diet.""
Aside from her diet, the Instagram sensation, now made the travel her a full-time job that comes from collaborating with different brands of swimwear, fashion, travel, hotel, and lifestyle. 
The Beauty's Dating Affair: Young in Age But Still Perfect!
The Gold Coast beauty may be 23 years of age but not a rookie when it comes to dating affairs. She began her romance story first in 2014 after she met her boyfriend, Conner Malan, who is A Ray White Sales associate by profession.
She was on her way to gather followers and admirers at the time where she had already garnered around 20,000 fans. 
Epstein recalls her early days with Malan,
"He used to be the typical boy who would only take on photo when I asked."
Like every Instagram sensation's boyfriend, Conner soon became the loving boyfriend who would also take the role of part-time photographer as most of the Instagram spouse does. Epstein says,
"But now he knows his angles and lighting and will even tell me where to turn."
The couple's popularity, filtering skills soon took over Instagram that led to the invitation on luxury holidays by different brands. In 2016, Conner also joined the four of the eight international holidays.  
The couple was enjoying their time with each other, which was evident on their Instagram. In 2015, the duo went for the swimsuit wear challenge where both, Epstein and Malan flaunted their beautiful body in tiny swimsuits.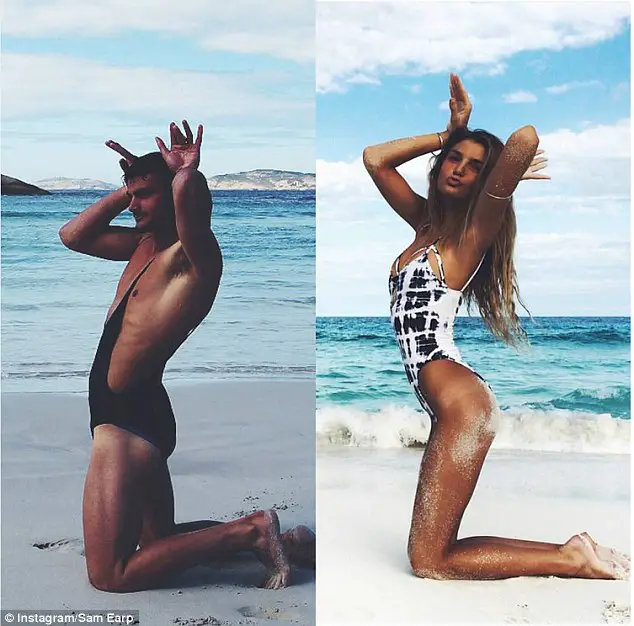 Caption - Gabby Epstein with her Conor Malan in swimwear challenge
Photo Credit - daily mail
However, things even get more interesting on 2017 as Gabby Epstein is suddenly seen with a new man, James Roberts. To the fans who are accustomed to seeing Conner and Epstein as the pair, might have felt a little bump!
Though the Insta beauty spoke nothing of the breakup with Conner, her recent Instagram pictures are enough to point towards her new dating life. Epstein first uploaded an Instagram image with James Roberts, a professional swimmer who attended 2012's Olympics, on August 5, 2017. 
But the first was never the last for Epstein and Roberts. James Roberts, who is also an Australian, was seen many times throughout 2017. Gabby also posted the date moments that speak of their Pokemon themed evening. 
As Epstein's Instagram speaks itself, the duo is having the time of their life whether it's about sharing vacations or occasions. Despite the fact that Epstein is yet to come and spill the beans of her new dating life herself, she seems to have found herself a handsome hunk who just adds perfection in her Insta-filtered posts.