Entertainment
Gabriella Papadakis Has A Boyfriend? Dating Status Of The World Record Holder
Figure skater and ice dancer, Gabriella Papadakis won the world champion for two times. However, she wasn't single while holding the world champion title, as her dance partner Guillaume Cizeron helped her to win the championship.
Well, everyone knows they are a dance partner, but some people claim that Gabriella is in a romantic relationship with Guillaume Cizeron.
But does it hold any truth? Let's take a closer look at the matter to find that out!
Does Gabriella Papadakis Have Boyfriend?
The French ice dancer Gabriella Papadakis has been together with her dance partner Guillaume Cizeron since she was at the age of 10. Papadakis and Cizeron got skating training at the same club in Clermont-Ferrand, and now, they have gained immense success as dancing partners.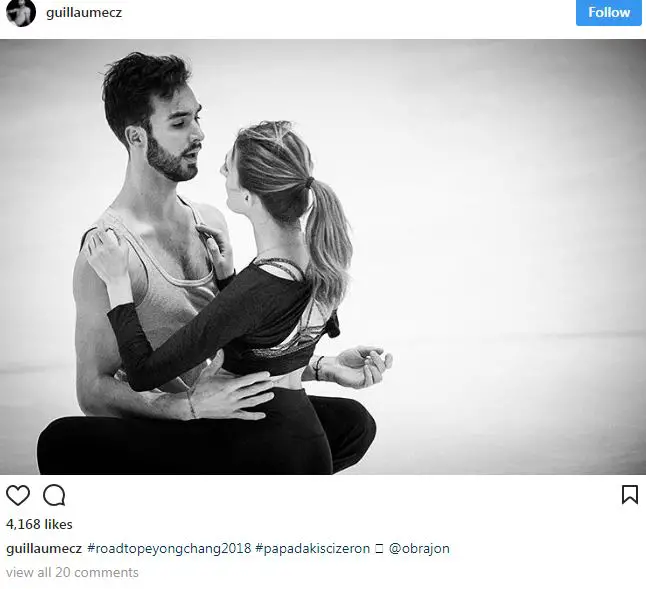 Gabriella Papadakis and Guillaume Cizeron's ice romance (Guillaume's Instagram)
After looking their scorching chemistry on the ice, most of the people assume that they might be dating each other. Well, they also spend most of their time together and even share a couple of pictures on their respective Instagram accounts.
Apart from their dance, there is nothing which proves that Gabriella and Guillaume are real couples. Though there are many rumors about her secret love affair with her partner, she hasn't made any official statement about the matter, keeping the truth in mystery.
Gabriella Papadakis's Dress Ripps At Winter Olympics!
The French star Gabriella Papadakis, 22, suffered a wardrobe malfunction on Tuesday, that left her overexposed during her figure skating short dance routine with her partner Guillaume Cizeron at Gangneung Ice Arena in PyeongChang.
The pair, who is acclaimed as the best pair dancer of the earth, faced a nightmare during their path to Pyeongchang as Papadakis' costume came undone.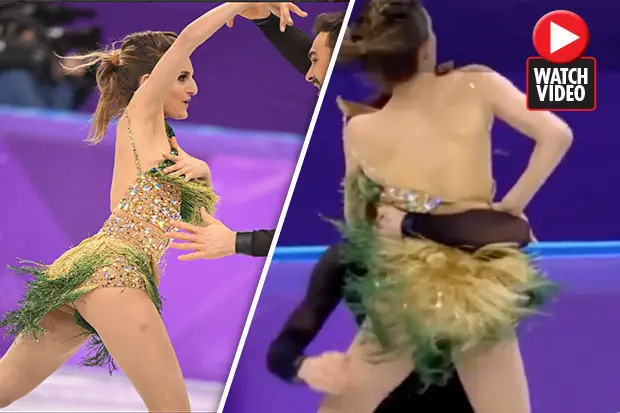 Gabriella Papadakis with her Partner while dancing in PyeongChang (Dailystar)
Despite the malfunction, the two-time world record champion continued her performance to its conclusion. Papadaki settled her dress with one hand to avoid her dress slipping down again, and her partner Cizeron posted a score simultaneously.
Eventually, they managed to achieve the second posting by scoring 81.93 despite passing through the stressful situation. The French duo is just two points behind of Canada's Tessa Virtue and Scott Moir, who scored 83.67 garnering the first position.
Besides that, the couple even managed to gain level-four marks for all their elements in a dance competition.
After completion of dance, Gabriella talked about the malfunction by saying,
"It was pretty distracting. My worst nightmare at the Olympics. I told myself 'you have to keep going'.

That's what we did, and we have to be proud of ourselves, delivering a great performance with that happening."
The exposer of Gabriella Papadakis got in the spotlight in every media group across the world. The video of her exposer was even broadcasted on live television, additionally with slow motion.
Gabriella Papadakis's Short Bio!
Gabriella was born on 10 May 1995, in Clermont-Ferrand to parents Catherine and Emmanuel. While gushing about her family profession, her mother was a skating coach, and her father owned a food truck.
Her mother was inceptive for pursuing her career in ice dancing and through her encouragement, Gabriella started skating at the age of 9.
Till this date, Gabriella has won two Junior Grand Prix Series events of the season along with her dance partner Guillaume Cizeron, in Courchevel, France, and in Linz, Austria.
After her early success at the junior level, she stepped to senior-level skating competition back on 2013-14. Then, she moved to Montreal from France with her dance partner, ahead of the 2014-15 season and began working with coaches Marie-France Dubreuil, Patrice Lauzon and Romain Haguenauer, and is moving up in her career to achieve the success she aspires!
Think we're missing something? Do let us know in the comment section below!