Entertainment
Gail Porter Is Looking For Boyfriend; Reveals Her Husband Deserved A Better Partner Before Her
Scottish TV presenter and former actress Gail Porter is now all alone following her famous split with her ex-husband. So what is next regarding her love life? A new partner perhaps as she is looking for a dream man now. Also, we take a look at her views on her split with her ex-husband.
Views On Her Broken Marriage. Looking For A New Boyfriend Now?
It was back in 2015 when Gail revealed her desire to have a new man in her life after her previous married life with ex-husband Dan Hipgrave, which lasted from 2001-2005. But, she was afraid that she could not differentiate between a good guy and a bad guy. With full of confidence after seeing her hair grow again, Gail revealed her desire in such words,
'Now my hair is growing back, my confidence is growing too and I want to find my dream man. I'd join a dating agency but I think Tinder might be too much.'

'For the first time in years I've got eyebrows and eyelashes again. I now always carry three different mascara in my purse, just because I'm so excited about wearing it.'
Moreover, Gail revealed that she spent the 2015 Christmas alone when her daughter was with her ex and his current wife.
I spent Christmas Day with my cat, watching TV and eating Marmite on toast but luckily I got to spend New Year's Eve with Honey.'
Gail even explained that although she split with her ex-husband, they are still good friends and she is happy that Dan is married to someone else now. She also said that Dan deserved someone better than her.
'He's now extremely happy. He's got a gorgeous wife. He should have met her first, really. I remember when I first saw her I was like "that's the woman you should have married, not me." We get on great and it's all fine now, but it's a bit sad though because I'm now thinking "I'm 43 and I'm bald, it's not going to happen again now is it?"'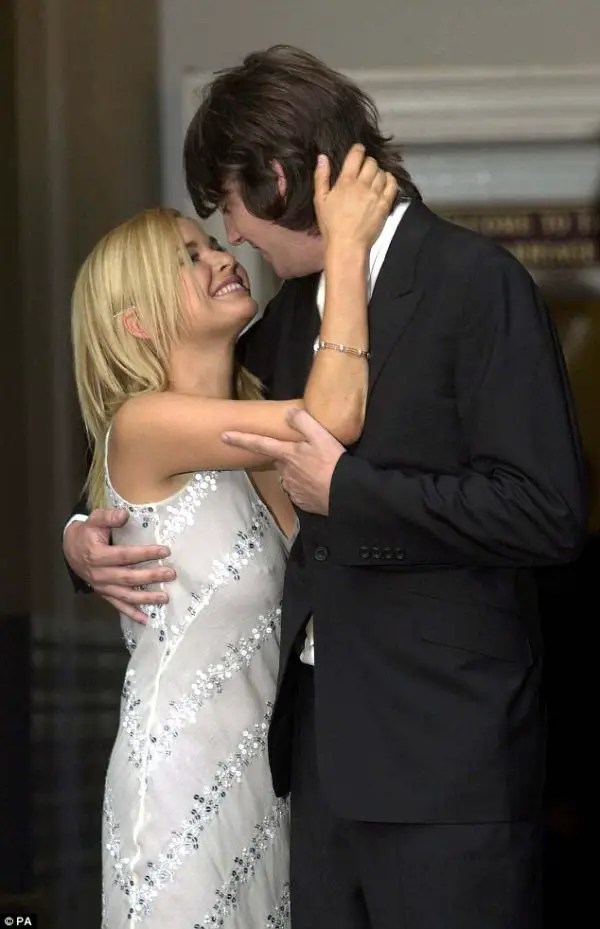 Caption: Dan and Gail are still good friends despite splitting in 2005.
Photo Credit: dailymail.co.uk
Nice to know that the falling apart of their marital relationship has not affected their friendship!
Gail previously dated New Vinyl guitarist Jonny Davies back in 2010 but at present, she has not revealed if she has found anyone in her life who she can date.
Gail's Hair Loss And Cancer. Then And Now:
As per now, Gail is bald and is on the path to regaining her lost hair. But many might think that she lost her hair because of cancer which is not true. This rumor that she was affected with cancer and that is why she lost her hair first sparked when columnist Katie Hopkins said that Gail had cancer.
"Yes, alright Gail. You lost your hair. Get over it. It's only bloody hair. Some people have cancer. Get a grip or get out,"
Addressing the statement, Gail replied,
"To put it on record, I've just read something that Katie Hopkins has written about the fact that I'm just bald and I don't have cancer."

"I've totally talked about the fact that I'm just bald and I don't have cancer, and I think what she's said is disgusting, because I lost my mum to cancer, and don't bring that up."
Not fair right?
But as we all know, Gail before her hair loss ruled the world with her beauty when she was young with hair and graced any magazine covers as well. But back in 2005, she suffered from alopecia that resulted in her complete hair loss.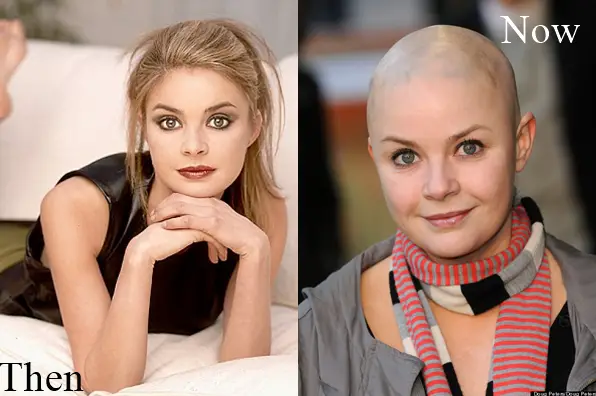 Caption: Gail Porter then and now.
Photo Credit: dailymail.co.uk
Losing the hair is hard, and elaborating the feeling, Gail expressed,
I feel extremely ugly and I have dealt with having no hair for a long time but sometimes you don't feel as pretty as everyone else.'
But she did not just suffer hair loss, she was anorexic in her twenties, and during her marital life, she also went through post-natal depression following the birth of her daughter Honey Hipgrave. That culminated in her attempting suicide in 2005 when she mixed pills along with iced vodka while Honey was at school.
All of these things are hard to cope for anyone and thus, to show the courage to now come and feel more confident than ever is a tremendous effort, and we all should respect that.