Entertainment
Gaite Jansen With Boyfriend – Dating Adorable! Looks Like That
Gaite Jasen, a Dutch actress, is not thriving for fame but instead is looking to contribute to the world of entertainment all her life, as she has her own share of happiness doing that. 
Moreover, apart from doing what she loves the most, Gaite also likes sharing precious moments with her boyfriend, as they are bound in a blissful relationship.  Interested in knowing more about the relationship she shares with her man? Keep reading!
Gaite Jansen's Relationship Update
Gaite Jansen, who believes there is nothing she is willing to do except for acting has put herself in a spot where her fans want to know more about her love life. Gaite is in a romantic relationship with her boyfriend Mees Peijnenburg, who is a filmmaker represented by Iconoclast.
Even though the duo has not opened up much about their relationship, Gaite does not hesitate in posting pictures of them kissing in her social media account.
(Photo: Gaite Jansen's Instagram)
Moreover, Gaite who started posting pictures of Mees on her Instagram since 2016, posted a picture of him while tagging him with a heart emoji on this year's Valentine's Day. 
Meanwhile, as the two are seen sharing quite an adorable moments together, they have not revealed anything more about their affairs.
More About Gaite Jansen
Gaite Jansen was born on 25 December 1991 in Rotterdam, Zuid-Holland, Netherlands. Native to Holland, Gaite was raised by her parents along with her brother. Even though Gaite has not revealed much about her family, she does provide glimpses of them on her Instagram.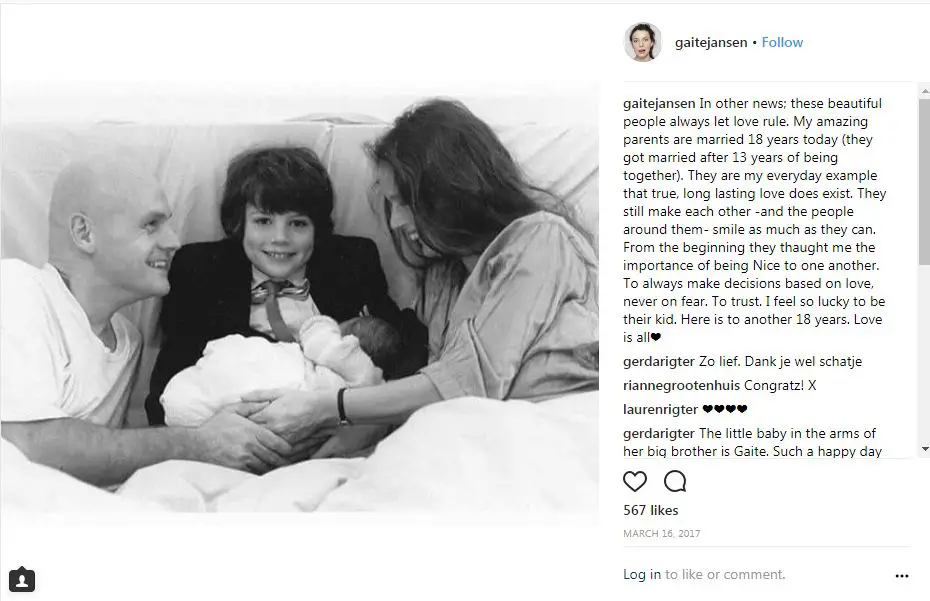 (Photo: Gaite Jansen's Instagram)
Gaite who started acting classes at the age of 6, was already into sets of short-film at 15 and joined drama academy at 18.Likewise, two drama academies eventually accepted Gaite in The Netherlands, and she chose to go to the Maastricht Theatre Academy to pursue her career.
Gaited revealed how she fell for her love for acting in an Interview with Interview Magazine. She stated,
 "I remember watching Sesame Street and desperately wanting to be the people in it,"
Well, her step towards the world of entertainment did work out for her as in 2008 Gaite was awarded the Best Actress Award at the 48 Hour Film Project that took place in Amsterdam for her cast is Luwte. 
Moreover, Gaite later was nominated for Best Actress category for her role as a deaf teenager in 2011 drama, 170Hz at the Netherlands Film Festival. Gaite after her domination in her native Holland movie industry swiftly made a leap to the global stage.
Gaite gained herself a role in BBC period drama Peaky Blinders as Princess Tatiana Petrovna in 2016 which earned her much recognition. She even played Hana Reznikova in television series Line of Duty in 2017.
However, her upcoming Rotterdam, I Love You is in its pre-production which is set to get released in 2019.