Grey Worm is a loved character in the fantasy epic, Game of Thrones, despite his manhood no longer in existence.
The man who portrayed the role, Jacob Anderson is a great actor and a singer, who performs under the stage name "Raleigh Ritchie." 
Along with his professional life, the UK native has been equally successful in his personal life as he is married to a long-time girlfriend, who loves him with all her heart. So, who is the girl who succeeded in stealing Jacob's heart? Let's find out!
Existing Love And Married Life Of Jacob Anderson
Jacob has been with War and Peace actress Aisling Loftus for quite some time now. The two were not much open about the pivotal details of their relationship, but their relationship as boyfriend-girlfriend made anyone envy for the couple.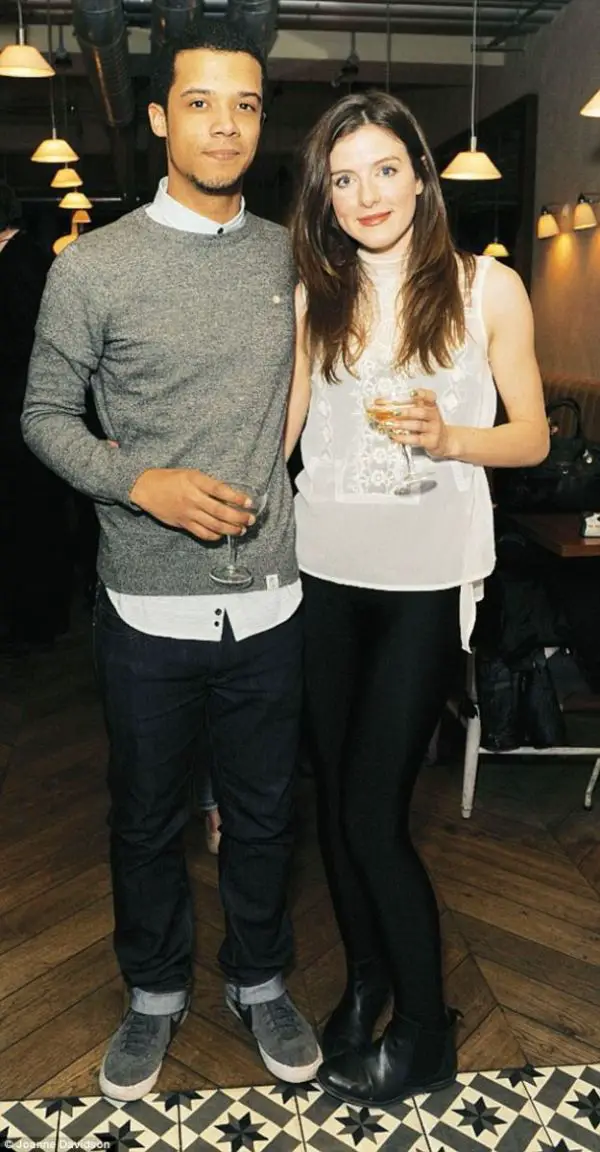 The ultimate couple; Jacob Anderson and Aisling Loftus pose for a picture. (Photo: dailymail.co.uk)
Moreover, both of them were seen supporting one another. An example of that was seen back in 2015 when Loftus revealed that they were both happy doing great with their respective careers. She said,
"It allows us to take so much joy in what the other is doing. Aside from his role as Grey Worm in Game of Thrones, Jacob is also a musician who performs as Raleigh Ritchie. I recently went to one of his gigs in London, which was packed to capacity with 1,500 people. He was amazing."
Aisling also added that she would always choose a Brit over any other men to be her boyfriend.
"Despite having been romantically involved with a Frenchman and now a Russian character on screen. I suppose I just love British humour, our way of whingeing about things and being so self-deprecating, our preoccupation with manners. Jacob's very British in all those ways. But he is also, of course, just very much himself. "
Jacob too shared some details about the first time he saw Loftus.
"I'll never forget first setting eyes on my girlfriend, the actress Aisling Loftus, because it all seemed to happen in slow motion. We've been together five years. She's intelligent, sensitive and empathetic, and I've never met anybody who cares about people as much as she does. We never run out of things to talk about and our relationship has always felt very natural."
Jacob then concluded saying that he feared becoming parents with his partner.
"The idea of being a parent is scary, but Ash will be a wonderful mum. Ash and I often talk about the kind of parents we'd like to be. It's an exciting prospect – another journey for us."
With him dating Loftus for a decent amount of time, it smacked down possibilities of him being a gay. 
Jacob and his long-time girlfriend eventually upgraded their romance, getting married in 2018.
The wedding ceremony was not much hyped, but it was perfect for both the bride and groom.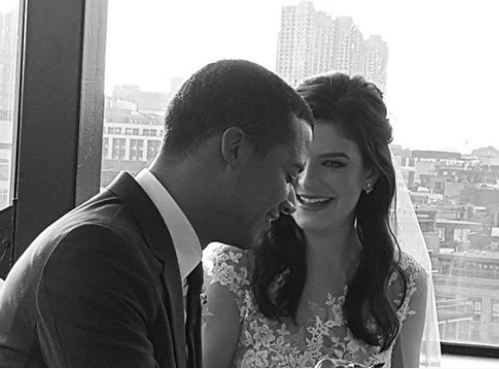 Jacob Anderson and Aisling Loftus get married in 2018 (Photo: Jacob Anderson's Instagram)
Jacob seems like the perfect boyfriend-husband material, and it is shown through his relationships not only in real life but also on camera.
Girlfriend On Game Of Thrones, Parents
Despite having his manhood cut off by his former slave master, Jacob's character Grey Worm leads a romance on GOT. Grey Worm and Queen Daenerys' advisor Missandei have maintained a passionate affair onscreen. 
Grey Worm even asked Missandei to be with him after the battle in the North is done, to which Missandei agreed. Fan's will be disappointed to know that the onscreen couple is limited to the show. Missandei played by Nathalie Emmanuel is happily in relation with Alex Lanipekun, also an actor. 
Missandei's Lover In Real Life:- Nathalie Emmanuel Refuses To Say If She's Single Or Dating! 
Back in 2016, Jacob talked of his mother, an adopted child, revealing that he was close to her. Further, he also told learning music from his father. Jacob also explained that his parents were divorced when he was only 18 months.
"They haven't always been the best of friends, but they were good at keeping that stuff away from me. Mum and I have always been close. Her adoptive parents died when she was 18 and she doesn't have any other kids, so I'm her only family. She lives life to the full and I envy her vitality. She has pink hair and is a younger spirit than me."
The actor and singer also expressed that he shares a strong bond with his father.
Dad and I are very similar. He's loyal, with a quirky sense of humour, but he's no pushover. I've inherited my love of music from him. He has diverse tastes and it can't have been easy, as a teenage black guy, listening to punk in 1980s Bristol. He's done all sorts of jobs to make ends meet and is currently working as an undertaker for the Bristol coroners office. I'm proud of him because it can't be an easy job.
Good to know that the actor has a great family life accompanied by a romantic love life!
Jacob Anderson's Career In Brief
In "Game of Thrones," Jacob Anderson plays the character of Grey Worm. Jacob was announced in the role on 20 August 2012.
In the series, he is a warrior for Daenerys Targaryen (Emilia Clarke) after she recruited him from the land she captured. While he has been enjoying his character's success in the series, he also added that he was not recognized publicly for some period after the 3rd season aired, until someone in public yelled out his name at the NY subway.
Since then, Jacob has been recognized more often, and fans conflict between calling him by his real name, his character name, and his stage name.
Whom He Protects:- Emilia Clarke Boyfriend, Married, Family
Knowing that he has been a great addition to the show since his first appearance; the fans expect to see him one of the final survivors when the series ends.
Jacob also had a recurring role as Simon in the TV mini-series Injustice in 2011 and Dean Thomas in the television series Broadchurch in 2013.
Furthermore, the actor, who stands over 5ft 9 inches in height, is a successful musician going by the name of "Raleigh Ritchie" and has released an EP in 2013 called The Middle Child along with "Black and Blue" and "Black and Blue Point Two" in 2014. Jacob's single "Stronger Than Ever" reached #30 on the UK Chart. He has also planned to focus on his music interest after wrapping up from Game of Thrones.
The success of his career as a musician and as an actor has helped him earn an ample amount of money which is evident in his net worth, that dwells around $3 million.