Entertainment
Gavin DeGraw Isn't Married; Lovingly Dating - Too Busy For Anything Else
There are people, who strike a balance between their personal life and professional life like a pro, but when an individual cannot maintain a composure between two significant part of their life; either one is certain to suffer.
Similarly, Gavin DeGraw, an American singer, and songwriter hasn't been able to enjoy the perks of significant halves of a person's life, as he has tasted success in only one. So today, let's find out about his love affair along with the other details of his personal. Without further ado let's get started!
Dating With Actress; Address Dating Rumors
It is difficult to believe that Gavin, who frequently talks about love through his songs, doesn't have a love life. But it could be the case that he is not willing to share about his dating life with his fans. 
However, it came to light that Gavin took his good professional bonding to a dating life with the fellow songwriter and singer, Colbie Caillat. But the confirmation later came when Gavin went to gave an interview with Fuse TV on July 2013. When asked by the interviewer whether the pair was dating or not, he clarified that the duo is good friends instead of a romantic couple. 
Moreover, Gavin expressed that they share a 'special connection' as "they do a similar thing for a living."
Besides Colbie, the musician was reportedly dating American actress Amanda Loncar. However, both of them kept quiet regarding dating rumors and never addressed the rumors themselves. 
Romantic Gestures For "Girlfriend"; Tour As "Current Love Affair"
In 2014, Gavin cleared his opinions towards dating in an interview with VH1, where he is all about romantic gestures. "Like showing up outside somebody's window and saying "I love you."" would be one of his romantic gestures for his special one.  
Further, he also disclosed that unlike so many beautiful artists in the industry, he prefers not to date the celebrity.
Similarly, the South Fallsburg, New York native also gave an insight into his love in the form of a tweet, where he mentioned that his love affair was his tour, back in August 2017. Well, while it might have made his fans who love to hear him live, overjoyed, at the same time many would have sympathized him for not having a love life.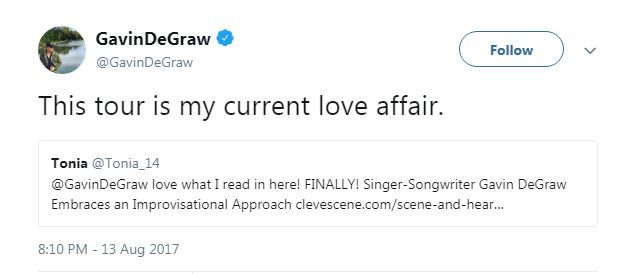 Gavin DeGraw sheds light on his love life (Photo: Gavin DeGraw's Twitter)
Meanwhile, Gavin, who has preferred to remain mum about his romantic connection is yet to exchange wedding vows and get married. And his tendency to hover suspense over his love life hints that he could surprise his fans with an announcement of a wedding and a wife any day!
Also, the absence of a girlfriend in Gavin's life has intrigued gay rumors. But can one be considered gay just for an obscure love life? Also, he hasn't addressed the speculation yet, so, it won't be fruitful to arrive at any conclusions.
As of now, Gavin is busy with his upcoming tours lined up for March and July. He would be performing at The Beacon Theatre - Concert for Dreams, New York on 23rd March 2018. Also, he is scheduled to perform at Arranmore Farm, Oswego, IL on 14th July 2018 followed by a performance in Darien Lake Amphitheater, New York in  21st July 2018.