Entertainment
Gay Comedian Josh Thomas: Wondering Who is His Boyfriend? Secret Dating Life With Partner!
Being gay and coming out later in life can be surprising to people around you. What's more difficult is when you come in front of your parents. Sometimes society doesn't make it any easier when you feel like coming out about being gay.
Josh Thomas Australian comedian, actor and tv writer also went through something like that. He came out later in life about being gay. Josh revealed being gay to his dad via text message when he was 19.
Josh Thomas Boyfriend and Dating History:
1. Josh Thomas and Tom Ballard: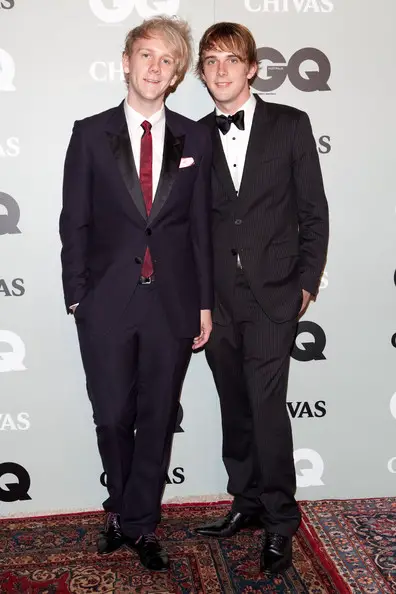 Caption: Josh Thomas with ex-boyfriend Tom Ballard at the 2010 GQ Men of The Year Awards.
Source: zimbio.com
Josh fell in love with Tom Ballard when he was 20 in November 2009. Ballard is a comedian and radio presenter. The couple dated for about 2 years before calling quits in 2011. When in an interview with Sydney Morning Herald, Josh said,
"For a lot of people who come out later, that's what encourages them - falling in love. So much of the conversation about homosexuality is around sex, but falling in love is the clincher for lots of people."
Josh also said, "Tom was much more assertively open and gay and earnest. He was doing stand-up about it, and he was passionate about gay rights and things which for me weren't a priority. I think it takes a while after you come out to feel you have authority to talk publicly about issues."
2. Josh Thomas and Josh Schmidt:
Josh Thomas is currently dating Australian actor and co-director of Australian series "Twentysomething" Josh Schmidt. The couple began dating in 2012. Thomas met Schmidt at an ABC workshop when he was in a show, called 'Twenty Something.'
When in an interview with Sydney Morning Herald in 2015, Josh talked about Schmidt and how he started dating Schmidt saying, "I met him at an ABC workshop when he was in a show called Twentysomething.
Years later, I was going on a date with another guy I'd been seeing for a week or two and quite liked. But he dumped me - can you be dumped after a week? - So I booked in a rebound date with Josh. I can't be alone for more than seven minutes! So that worked out well.
"Josh is the most lied person I've ever met and he's kind and much funnier than me. Whenever I take him to meet friends, they always say afterwards, 'Josh is really lovely' and they say it in this way where they're not so much happy for me, more concerned for him. He's like a cocker spaniel; people hug him and pass him around. That's what it's like to go out with him."
Now that the couple has partnered for almost four years, fans are eagerly waiting for the couple to get married soon
Please Like Me ends with a sad note
Please Like Me, the show which can be easily said the best work of Josh Thomas has come to an end and the production has confirmed that the show will not be returning.
The comedy show known for its strong depiction of Homosexuality and its issues, Mental health, and other such controversial topics was not only a favorite in Australia but was a loved shown around the world.
Even to the point when their original network Pivot went down, Hulu instantly picked up the fan favorite. The show has received various favour favorable Ws and criticisms and has even won 8 awards in its lifetime.
However, it was confirmed recently that there would be no Season 5 for the show. The reason behind this was apparently because Josh and his co-producers felt that they show complete and that they could add nothing more. A perfectly fine decision, considering the large number of overrun, long-running shows that have long lost their charm and beauty.
A perfectly fine decision, considering the large number of overrun, long-running shows that have long lost their charm and beauty.
Thomas personally thanked his fans for the journey that lasted years together and hopefully; he'll be back for even more.
"This show is so intensely personal, it recreates the most intimate moments of my life and lays them out for anyone to watch/ Seeing how people have connected with this show has been tremendously confidence-building for me and I'm really grateful for that."
Josh Thomas' Short Bio:
Joshua Michael Thomas AKA Josh Thomas was born on 26th May 1987 in Blackwater, Queensland. When he was 17, he lived in Chapel Hill and Westlake in Brisbane's western suburbs. He also attended Kenmore State High School and graduated in 2004. Thomas is an Australian comedian, actor and tv writer.
At the age of seventeen, he became the youngest ever winner of Raw Comedy Festival held in Melbourne International Comedy Festival in 2005. He not only stars but acts in Australian comedy tv series, Please Like Me.