Entertainment
Openly Gay Steve Sabados' Married Life Tragedy, How Is He Coping Up With That?
The worse nightmare anyone faces is evidently the sudden death of their loved ones. But though the loss brings an unbearable pain and suffering, the individual can't stay mourning forever. Instead, he searches one way or other to solace that unbearable pain.
Similar is the story of television host, Steve Sabados who is trying to cope with the agony he has been experiencing after the partner's death.
A Canadian television host, designer and writer, Steve and Chris Hyndman shared a wonderful romantic relation for nearly three decades since 1988.  The couple used to run a television talk show on CBC television, "Steve and Chris" from 2008 to 2015.
Steve and Chris were seen laughing and radiating great affection towards another in the show. It was obvious that the gay couple who married in 2008 could never be apart on their own.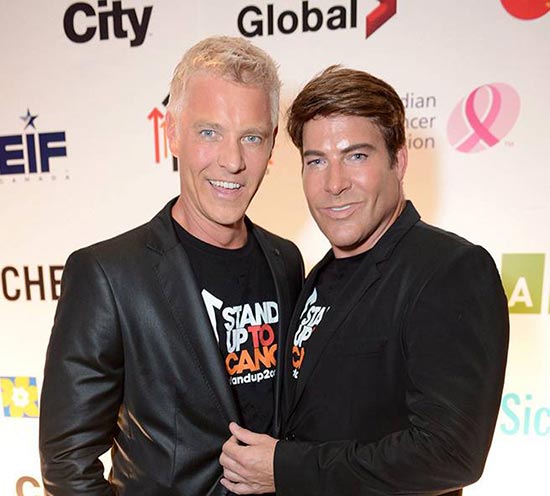 Caption: Steve Sabados and wife, Chris Hyndman attending Stand Up To Cancer Canada in Toronto in 2014.
Source: 680news.com
The Tragic Death of Chris Hyndman:
The inseparable, Steve Sabados and Chris Hyndman became detached from each other about a year ago. In August 2015, Chris Hyndman was found dead without any kinds of injuries in the alleyway of their apartment in Toronto, Ontario, Canada. The incident obviously rattled the world of Steve and his fans as the death was unanticipated. Chris did not have any kinds of health problems or illness that would cost his life.
Initially, the police and detectives searched the reason for Chris's death, but everybody became stagnant after his mother, Glenda Hyndman, revealed about his illness of sleepwalking. However, Steve isn't still convinced that his partner died of sleepwalking.
Steve gave an interview to CBC in May about their relationship and ordeal he faced after Chris death. Chris shared that he is still thrilled to type his and Chris name in Google and read those story. He said,
"I was not aware of anything. Press, rumors, you name it. And I didn't want to know. And I don't want to know. And I still don't Google my name. I don't Google his name,"
Chris claims that the accident has shattered his life and filled him with the never ending anxiety. Here we have an interview with Steve talking about the tragic death of his partner and the changes that occurred in his life.
Caption: Steve Sabados was taking about Chris's death and the changes that occurred in his life since then, published in May 2016.
Coping with the pain of Partner's Death:
As you heard in the video above, Steve is engaging his time much on the painting to solace the pain.  Chris has shared that he writes very profound words in those painting which are beyond the grasp of many people. He said,
Some of them are very painful. Some of them I paint with a lot of words — I do a lot of script. And I like things: my imagery is always shrouded or hidden or cloaked in some way. So I don't want people to read the messages and I made sure that it's unrecognizable, but they're there."
The open gay, Steve claims that he never finds himself away from Chris. They may not be physically close now, but Chris is always awake in his imaginations. Steve shared in an interview with etalk.ca in May 2016 that he constantly communicates with his beloved and try to feel his presence.
"I come home and say hello. And when I leave I say goodbye, and when I go to bed I say come on, let's go to bed. I talk to him every day. Every second"
Similarly, Steve has now come out from the torment and returned to doing his daily chores. He confessed that the work without Chris wouldn't seem vivid, but he has to keep moving. He said to CBC,
"It's hard to sort of plan something forward. You don't ever look forward to anything, you just kind of cope every day and you just find the strength to go through stuff
Steve, with net worth $5 million has announced plans to launch a new website in April that consists design and decorating brand S&S collection which was made by him and Chris in 2007. Steve is assured that the designs will smell Chris and keeps him alive. He is also the co-hosts of a daytime talk show on CBC television, The Goods.