Entertainment
Openly Gay Writer Ted Allen's Blissful Married Life With His Longtime Partner Turned Husband!
"Love was in the air on 2013". That year has made a lot of happy couples even happier ! Well ,talking about it, that was all because of the legalization of gay marriage. So, that year specifically has made gay couples much gayer.You will be pleased to know about the famous gay couple Ted Allen and Barry Rice.
We all are very much familiar with the 'Buzz' created by this gay couple. Yeah! We are talking about 'Chopped' host Ted Allen and his partner Barry Rice.Let's know more about their ride from their relationship to marriage.
Famous gay couple's ride Towards Marriage:
It was no different with every gay couple who have been very impatient about the legalization of the same-sex marriage.Same was the situation with Ted and his spouse Rice. Ted, openly gay journalist have asserted how long he has been waiting for that day when there's equality with the couples (i.e. both straight and gay couples).
 After lingering relationship of two decades,the couple wasn't sure about whether their relation will move further to marriage or not. They were waiting for the law to allow them to be legally together.Finally, there came news which brought 'Full-stop' to this couple's wait.Supreme Court finally approved the gay marriage on 2013.There was no doubt about their impatient wait for that specific day and happiness brought by that announcement and Ted  Allen proved  his happy gesture by tweeting it.
Proud to announce on this historic day that my partner of 20 years, Barry Rice, and I are engaged to be married. :)

— Ted Allen (@TheTedAllen) June 26, 2013
On which, he got lots of concerning replies and one of those  includes Mario Batali, who replied on Ted's tweet.
Yay!

RT. @ChopTedAllen: Proud to announce on this historic day that my partner of 20 yrs, Barry Rice, and I are engaged to be married. :)

— Mario Batali (@Mariobatali) June 26, 2013
According to the article posted on The Huffington Post he mentioned,
"We discussed it for years."
He further added,
"As celebratory as it is to have states permit marriage, we've always wanted to wait for the real thing when it was genuinely recognized by the federal government of the greatest country on earth"
He compiled,
"I don't think by any means our movement is finished, that our work is done 'but this was an enormous hurdle."
He humorously added,
"DOMA has been chopped, sir."
The host of famous food show 'chopped,' Ted Allen Rice announced his engagement on 26 June 2016 and later tied his knot with his longtime love, interior designer, Barry Rice on 30 July 2013.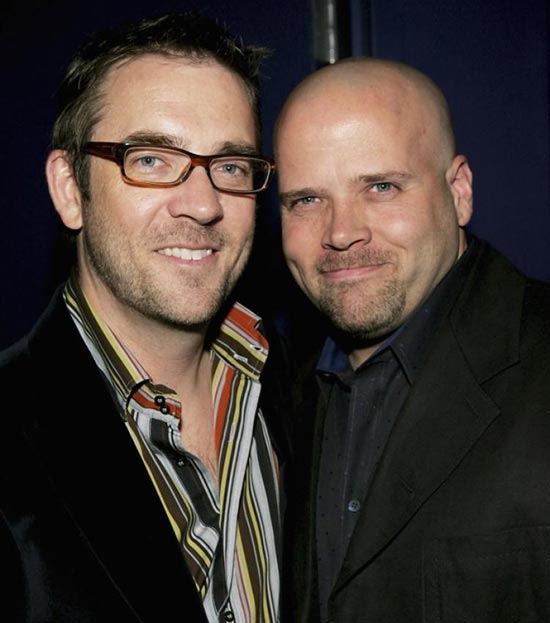 Caption: Ted Allen and his partner Barry Rice (2013).
Source: foodgossipnetwork.com
No matter love found its path.We can see Ted's love and care for Rice in his tweets from which we can say how happily they are moving on their married life.
More about Ted and Rice :
 Ted Allen was born in Columbus, Ohio on 20 May 1965.He enrolled at the Purdue University and graduated with a degree in Psychology and eventually received  MA in Journalism from Science And Environmental Reporting Program at New York University.
Ted Allen is a tv personality, chef, writer and author of the cookbooks like; 'The Food You Want To Eat:100 Smart' and 'Simple Recipes.' and has also acted in  movies like  Uncorked!: Wine Made Simple: Vol. 1, Uncorked!: Wine Made Simple: Vol. 2, Uncorked!: Wine Made Simple: Vol. 3.He has appeared in  TV shows like 'Queer Eye For Straight Guy,''The Best thing I Ever Ate' and 'Chopped.' which has increased his net worth resulting $5 million.
Talking about Rice, he is an interior designer who designs modern interiors emphasizing on the custom-made furnishings.In 2013, he opened Full Circle Modern which includes the  vintage furniture designs.
It's already been three years, the couple is legally together. Now, the couple is staying in New York. It seems that they are quite supporting each other which has made their relation this strong and are able to stretch it this far.We wish them long live healthy relation.